Dip in Overall Inflation Figure Masks Rising Food Prices
Inflation is heading in the right direction for Americans, with a decrease in the headline figure giving President Joe Biden's administration a little respite ahead of the upcoming midterm elections.
Biden and the Democrats are facing tough task in November—persistently high inflation is very likely to remain a key issue with voters with less than three months until election day.
The headline figure for July was 8.5 percent, following the previous month's reading of 9.1 percent. The expected figure was 8.7 percent. Core inflation remained at 5.9 percent, which was also lower than the expected 6.1 percent.
The minor fall in inflation was driven by a decline in the cost of gasoline, with prices still rising in the food and shelter categories. "Food at home" was up 13.1 percent year-over-year, following July's reading of 12.2 percent.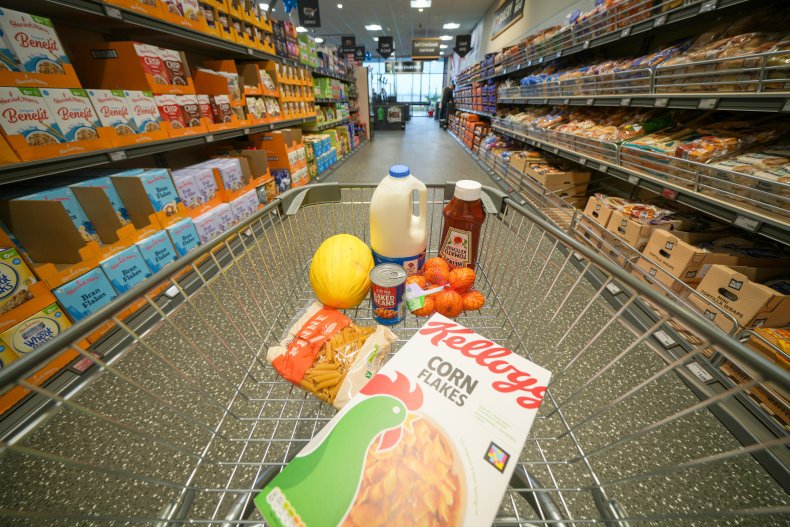 Within the breakdown of food costs, there are some very high price increases. The typical breakfast is a lot more expensive than in 2021. These items have seen the following percentage increases in their prices year-over-year:
Milk: 15.6%
Bread: 13.7%
Breakfast cereal: 16.4%
Bacon: 9.2%
Eggs: 38.0%
Coffee: 20.3%
Other favorites such as potatoes and chicken are up, respectively 13.3 percent and 17.6 percent more expensive than in 2021.
In terms of increases month-on-month, the Bureau of Labor Statistics said: "The index for all items less food and energy rose 0.3 percent in July, a smaller increase than in April, May, or June. The indexes for shelter, medical care, motor vehicle insurance, household furnishings and operations, new vehicles, and recreation were among those that increased over the month. There were some indexes that declined in July, including those for airline fares, used cars and trucks, communication, and apparel."
Of the metro areas that reported inflation for July, Tampa-St. Petersburg-Clearwater in Florida experienced the highest with 11.2 percent. Phoenix has the highest inflation rate of any metro area in the mainland U.S., at 12.3 percent, although it is in a group that will report next month.
Inflation is still well ahead of the Federal Reserve's annual 2 percent target and will add to the belief that the Fed will continue to raise interest rates through the rest of 2022, but perhaps less aggressively. At its last meeting, the Fed raised the target funds rate by 0.75 percent, or 75 basis points. The next decision is in September.
Although inflation is still a problem, the direction of the headline figure is better news for Biden. Earlier in August there had been some good signs for the U.S. economy, with nonfarm payroll numbers increasing by 528,000 in July, well ahead of forecasts.
Despite the reduction in the headline figure, inflation at 8 percent is still high compared with the average over the last 40 years. And it still means prices are rising, just not by quite as much as in July.
There is further good news for inflation prospects from the American Automobile Association (AAA). There has been a tipping point in the price of gas, with 26 states now with average gas prices under $4, and 25 (including the District of Columbia) with regular gas over $4. A month ago, all 50 states were above $4.
The lowest average price is in Texas, $3.512 per gallon. Only California ($5.397) and Hawaii ($5.414) are over $5.
Bitcoin jumped nearly $1,000 on the inflation news, going from $23,055 to $23,915 in 25 minutes.
Independent economic research company Capital Economics said of the inflation data: "Consumer prices were unchanged in July and there's a good chance that prices will fall outright in August. With core consumer prices increasing by a more modest 0.3% month-on-month, which was a 10-month low, we still think the Fed will hike interest rates by 50 basis points at the upcoming meeting in September."