Diplo Denies Living With 19-Year-Old TikTok Star Quenlin Blackwell, Says He Is Her 'Landlord'
Diplo is facing scrutiny today after it emerged that 19-year-old influencer Quenlin Blackwell said that she was living with him in Los Angeles.
The 41-year-old producer, whose real name is Thomas Wesley, is now facing questions about the nature of their relationship and has since denied that he lives on the property with the TikTok personality, claiming to be her landlord.
Blackwell, who has more than four million followers on TikTok, told her fans in a live video on October 23: "I live with Diplo right now, and he fully supports my endeavors." She then proved this by going and standing next to him.
"Why do I live with you?" she reportedly asked in the clip, per Too Fab. "I have no other friends," Diplo replied."It's the truth."
Both Wesley and Blackwell released further statements on Twitter addressing the controversy.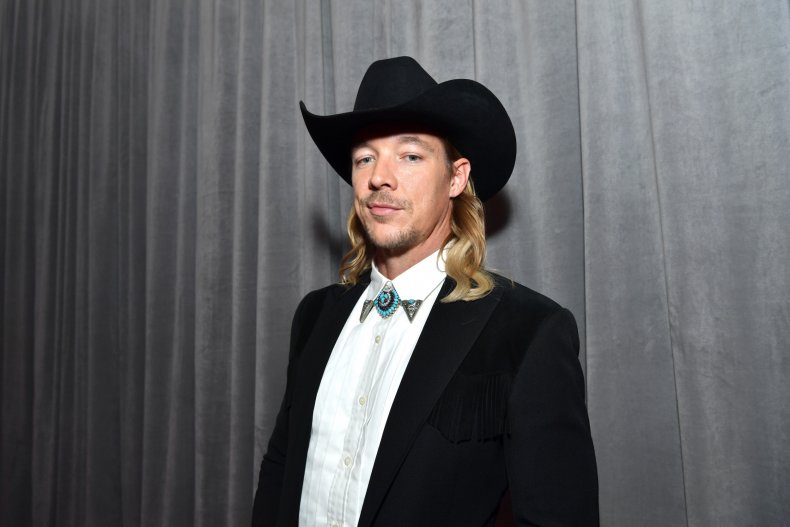 Addressing his 2.5 million followers, Diplo tweeted: "OK so I rent one of my properties to @quenblackwell. And yes I use the studio that is in that building.
"Her social media is sarcastic and chaotic and I can see you can get a twisted idea but there is nothing but friendship between us."
He continued: "As a landlord I don't really consider age or race as a qualification. U just gotta pay security deposit. And don't poke holes in the walls or ruin my carpet."
Blackwell denied rumors that she is romantically involved with the Major Lazer producer, tweeting: "I'm an adult. I'm not being groomed. Platonic relationships exist. I've been living here for over a year..."
"I'd rather break both my legs and be forced to walk than pursue Diplo romantically and he'd rather choke," she said. "Diplo has given me opportunity and the security to create."
She added: "Diplo and his team have saved me numerous times from the weirdos in LA. My parents trust him. I trust him."
She also joked in a tweet: "okay time to tell y'all the truth...i'm mixed and diplo is my father."
Blackwell has taken the opportunity to make content of off all the drama surrounding her living situation and started a new TikTok series, 'Living With Diplo.'
"Since y'all care so much about me living with Diplo, I just started a series called living with Diplo'," she says in the first video. The short episodes feature a look at her home life withe Wesley.
Back in May, Wesley revealed he had a baby son named Pace with model Jevon King who was born in March this year.