Diplo Speaks Out After He's Accused of Sexual Misconduct, Revenge Porn
Diplo has spoken out about accusations of sexual assault and distributing revenge porn, among other allegations.
The DJ and producer took to Instagram on Wednesday to share a lengthy statement as he hit out against the list of accusations leveled at him, including allegations he intentionally gave the woman a sexually transmitted disease.
His post came one day after Buzzfeed published an article stating that the star was possibly facing criminal charges for sexual misconduct, stemming from the same complainant's accusations—all of which Diplo's lawyers have denied.
Accusing the complainant of being a "stalker," Diplo—real name Thomas Wesley Pentz—shared messages that he said came from the woman in question, while also claiming she "harassed" him and members of his family after their encounter.
In his slideshow of messages, the star stated that "it was my goal to never address a stalker. I will refer to her as 'SA' (and you can find anything easily online). She was an obsessed fan of mine, and after I relinquished all contact with her, it appears that only purpose in life has been to disrupt my work, my business, harass me and my close friends and attack me and threaten my family.
"To be clear, SA was not a minor when I had conversations or sexual intercourse with her. Her own text messages admit this."
Diplo went on to state that he had "a night of consensual sex" with the complainant, after initially declining her suggestions that they meet.
"After that experience, we had exchanged texts for a few months, there was small talk, sexual flirting, she would send me pics and videos," he wrote. "Eventually it got too much to handle and, I stopped contact with her when I realized she had started to become obsessed with me."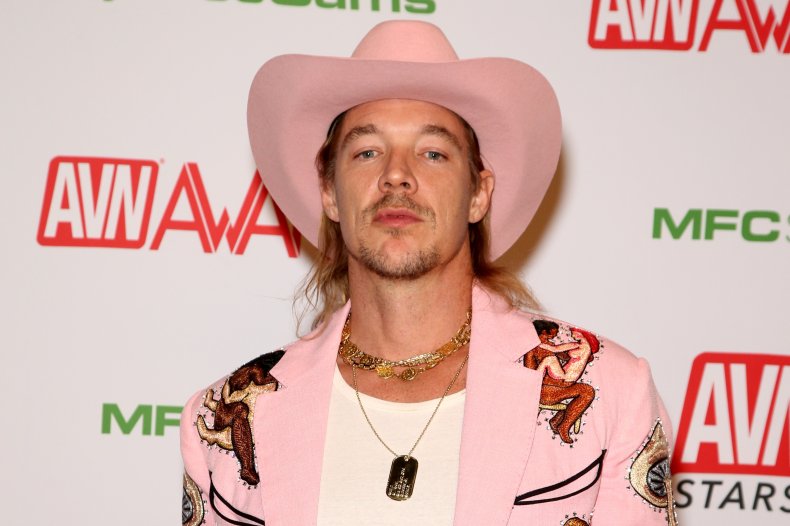 He added that severing contact with the complainant "began a nightmare of almost three years of her harassing and threatening me and my family and my friends."
Among the numerous messages Diplo said were sent to by the woman were disparaging comments directed at Jevon King, the mother of the star's third son, born in 2020.
"This is so frustrating and embarrassing," Diplo wrote. "I am not this person and I won't be extorted by anyone no matter how stinging the press can be.
"Even over the past two years I've never been bothered by these rumors, if anything it has made me stronger and smarter, all of my friends and partners have never questioned me and that was what has been important to me.
"The people in my life know me for who I really am. I will continue to do everything I can to end this in the most respectful way but I will not give in to lies and harassment."
According to Buzzfeed, Diplo took out a temporary restraining order against the complainant, and also sued her for stalking, trespassing, and distribution of private materials.
Buzzfeed reports that the woman accused Diplo of recording sexually explicit videos without her permission, before distributing at least one without her consent.
The outlet also reports that the woman told police that Diplo raped her after one of his concerts in Las Vegas, though no criminal charges have been filed in relation to the alleged incident.
Responding to the allegations, Rob Wilcox, spokesperson for the Los Angeles city attorney, said: "We are reviewing the referral and have no further comment at this time."
Newsweek has contacted representatives of Diplo for comment.