Director Letia Solomon Talks About Hip Hop & Intimacy In 'The Cypher'
In an interview with Newsweek, director Letia Solomon talks about the themes of self-identity and sexuality within her short film, The Cypher, which had its online premiere at the recent Tribeca Film Festival.
The Cypher introduces audiences to rapper Khalil (Nigel Cox), who has been hiding a secret about himself. While taking the lead in the freestyle rap competition, Khalil suddenly discovers his reputation and record deal are on the line. In front of a crowd for all to see, Khalil has to stand his ground and defend his intimate feelings for Marc (Juan Gil) .
While studying at USC's School of Cinematic Arts, Solomon is also the co-founder behind the African World Film Festival in Detroit, Michigan. Due to the pandemic, the Tribeca film fest screened its entire slate online. As part of the festival's shorts lineup, Solomon's The Cypher has been nominated for Best Student Film at Tribeca.
During our phone conversation, Solomon talked about the origins of her thesis film, Khalil's struggles to come forward as a gay man, and how the pandemic has affected the film industry.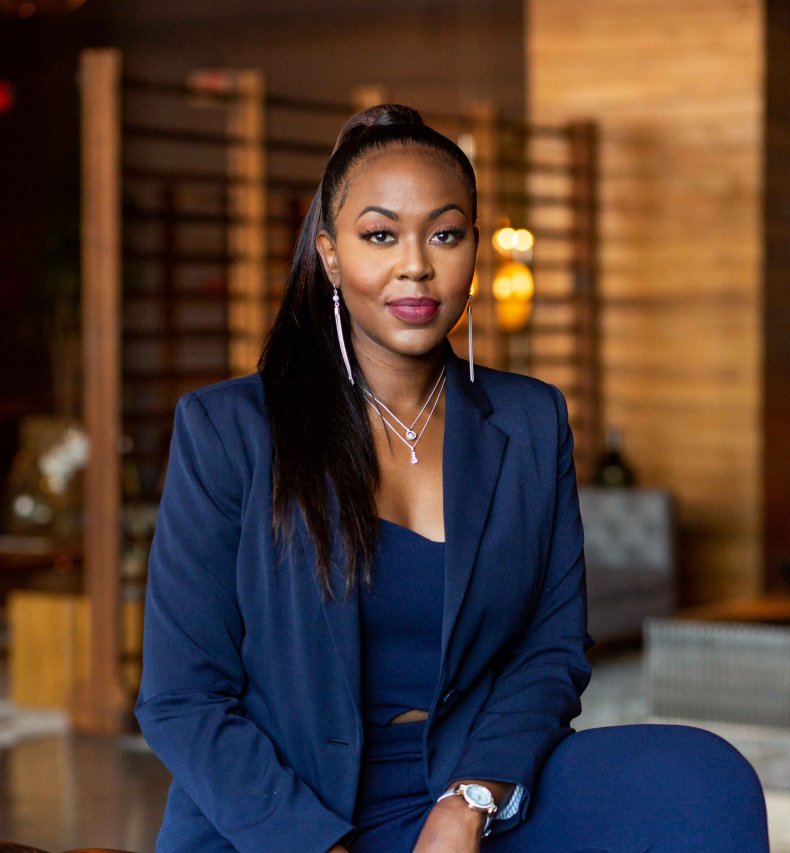 Tell me how The Cypher came about.
I'm currently in the MFA program at USC. There's different ways you can do your thesis film. This one is more from the advanced production course. The way you are able to direct is, we have to submit their script, submit our director's reel, and then you get selected down to the final ones. And then, I read writer Wes Akwuobi's script. I loved it immediately! I was just completely attached and I could see the film just by the way he wrote the first draft.
And from there, we pitched my version of the film to faculty and students. Then we were selected to be one out of three final films that were going to be filmed that semester. We got support from USC to make the film. We also put our own money to get it made. And we filmed, did post-production on the project, and completed it all within one semester. It was a really quick turnaround. We basically did a whole bunch of pre-productions the summer before. We found our locations, did casting right before school started. When school started, we just basically hit the ground running and we were filming at that point.
Tell me how Ben Cory Jones, the writer/producer behind HBO's Insecure, became involved.
During the pre-production part, that's when I reached out to Jones to be our executive producer. And he was more than happy to be a part of it. He is African American, queer, a showrunner, and a TV producer/writer and I think for him, this narrative really aligned with his experiences. He was also able to help with the script development.
The whole development part was awesome because we were all kind of telling our own experiences of having either siblings or family members, who might have gone through a similar experience of coming out. What does that look like when you are a person who is coming out? Or you're adjacent to the person who is coming out. And you are a loved one watching the process unfold. What is your role in that process? And so from there, we went to those post-production classes. And then it rolled into January 2020, and now we're in the Tribeca festival.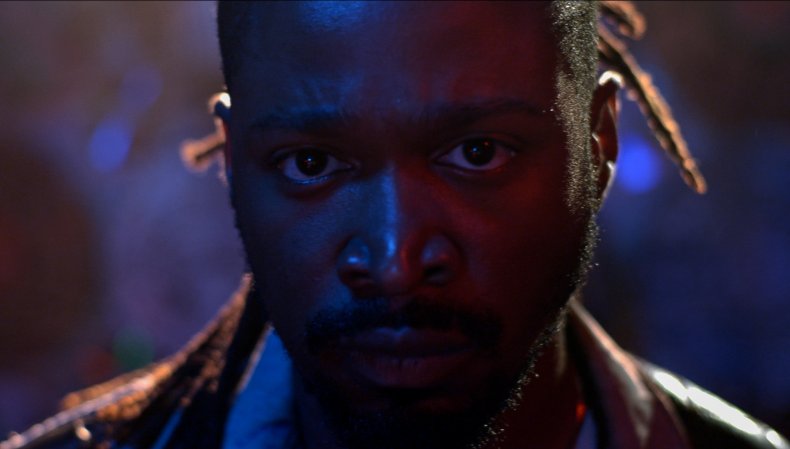 Nigel Cox gives a great performance as Khalil. He's trying to prove himself as a rapper as he comes to terms with himself. Tell me about the character arc.
Nigel was amazing! It was a godsend that we found him. The casting process was quite interesting. It was a little bit of an ordeal because Khalil is queer. We did have an intimate scene in the film. A lot of men didn't want to touch the role and not only just the role, not even be a part of the whole project. It was very illuminating for me throughout this process. So Nigel came in and he would be able to fluently fit in within the hip hop community, the hip hop space, but also understand what it means to be relaxed physically, mentally, and emotionally when Khalil's with his loved ones. What does that look like just on a man in general? As a woman witnessing men from the outside looking in, I feel like there is a persona or a mask that you have to put on when you step outside the house. And then when you're in certain spaces, you have to be a certain person, just based off of the pressure of that environment.
Khalil is a type of person who has to understand how to maneuver, take shifts, and blend in different environments. At the end, we need to see him finally get sick of having to change and accommodate for other people. When it came to casting for Khalil and his journey, we had to find someone who could show me all those levels. He needs to show me the vulnerability, but he also needs to show me the aggression when everything is on the line. He also has to show vulnerability, not only to a loved one, but what it looks like when he's physically attracted to someone.
We also had to find someone who understands what it means to fight for themselves and has the ability to either rap or at least speak poetry very well. And do it in a theatrical kind of way. Nigel was able to identify and connect with every facet of Khalil. He was just the perfect person.
What was more challenging, filming the rap battles or Khalil's sex scene? Because I hear those sex scenes are always nerve-wracking for the actors.
Oh, the sex scene! This is a good question! I haven't gotten asked this one. I'd have to say the rap battle, because I had two rap battles. There's the first one where we initially got to meet him, the semi-finals and then the finals.
The rap battles were more interesting to film. Instead of just working with two actors, we had 25 or 40 actors that we had to coordinate. And not only is it getting coverage of the two opponents on stage, you also have to get coverage of the environment. You have to get coverage of reaction shots of the crowd. There's so many other factors. And on top of that, there were a lot of moving parts and a lot more coordination than an intimate scene. It took three days to film the final battle and we took two days to film the first battle.
The final performance was much more intricate than the intimate scene. When it comes to intimacy, we did a lot of pre-production and many rehearsals between Nigel and Juan to make sure that they were comfortable, make sure they knew each other. We even went on a mock chaperoned date. I think we went to Applebee's or some restaurant. And we just kind of got to know each other. We were just cracking jokes. We had another rehearsal for certain intimacy exercises. I wanted them to be at the point where they were. This is not a one night stand or any kind of hookup situation between them.
Akwuobi was very clear about not wanting it to be a new type of situation. They've been with each other for some time and they are exclusive. They're at a point where Marc wants to be out and he wants to showcase their love freely. Khalil can't at this moment. We wanted to make sure these two individuals know each other very well.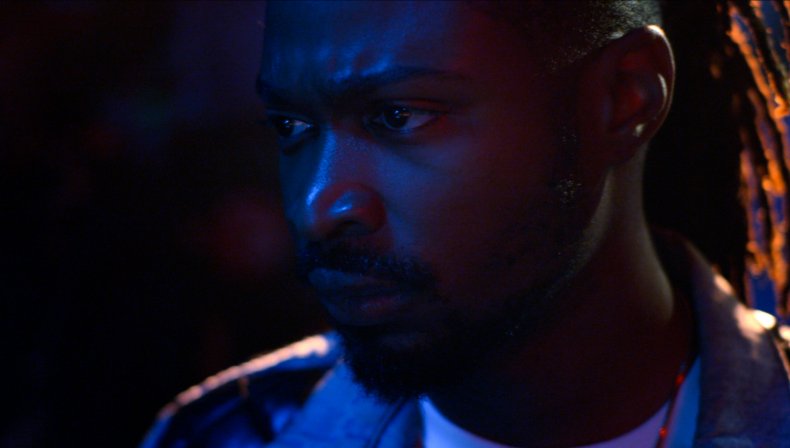 Tell me about your short film being part of the Tribeca's online film festival. The Cypher was nominated for Best Student Film. Because of the pandemic, it feels like good news/bad news at the same time.
Every single day, we didn't know what to expect. I think universally the world just felt a bit in a shock during mid-March. At first, Tribeca said they'd postpone the film festival. And then they decided to go online, which was awesome. But then we were like, what does that mean online? Is it going to be online and public for everyone or only certain industry professionals? Tribeca decided to keep it exclusive. So, only press and certain industry professionals got access to the film. For us as a team, at the time we still weren't sure if it was the best move to make. Do we want to go public and have as many eyes on it as possible?
We weren't sure, but we went the exclusive route. As of now, it's been fine. We still get to keep our exclusive status. We are still able to work with distributors that are very much interested in the film, to put it on different platforms. We can maintain our certain premiere status for other festivals as well. So overall, it's been pretty good and Tribeca allowed us their internal library to show the film and then that's it. The fact that they have a certain limited window, I think for everyone has benefited, instead of it just being online and out there indefinitely. We are still pushing through to other festivals.They communicate with us all the time and they were just very supportive, I've got to say.
They know that filmmakers in the entire industry are kind of emotionally up in the air. They would do what they can to comfort us. So that's been pretty good! A few distributors are already looking at the film. Akwuobi is writing the feature right now. We are looking for investors. We're looking for the next step to make this into a feature. Once the industry comes up and creates safer standards to be on set, we're going to be ready and willing to go and move forward with production.
Has the pandemic changed how you view making movies?
Definitely! It's interesting because I think as a whole, we're still trying to figure out the safest practices on set and protocol. We're hoping maybe a vaccine can be created in time, within the next six months to a year. So that way, we just have a better handle on if you do get sick. There's just so many unknowns because the virus affects different people at different ages, in different ways. We just really don't know at this point. And when it comes to filming, definitely sex scenes or intimate scenes are going to have to change a little bit.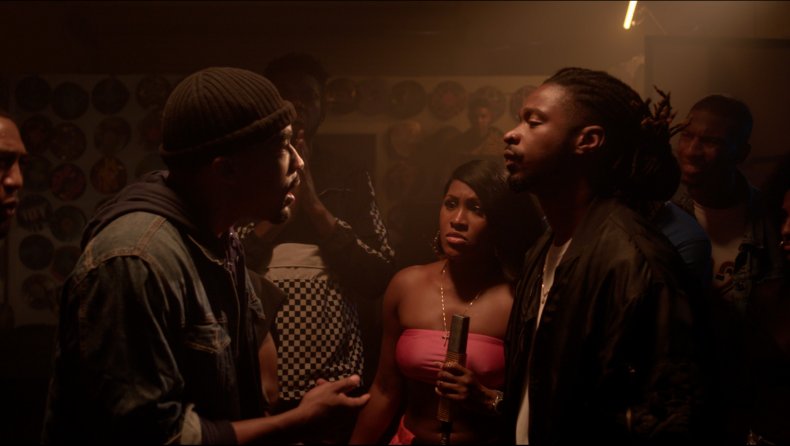 What are you working on next?
I do have another feature that's a bit more drama/romance. And then I have another feature idea that is dealing with animation.