'Dirty John' Season 2: Where Is the Real Betty Broderick Now?
Dirty John: The Betty Broderick Story is the second season of the true crime show, streaming now on Netflix after airing on The USA Network in summer 2020. The show is a fictionalized take on a true crime story.
Betty Broderick (played by Amanda Peet) is a double murderer who killed ex-husband Dan (Christian Slater) and his new wife Linda (Rachel Keller) after a bitter and lengthy divorce. Dan managed to get sole custody of the children, withheld support payments, and even got his wife committed. Betty, in retaliation, began sending him obscene messages, spray-painting inside their former home and ramming his door with her car.
This escalating divorce battle was brought to a bloody end by Betty on November 5, 1989. Using her daughter's key, she entered her ex's bedroom and started firing. She killed Linda with a bullet to the neck and to the chest, and Dan with one to the back.
Where is Betty Broderick now?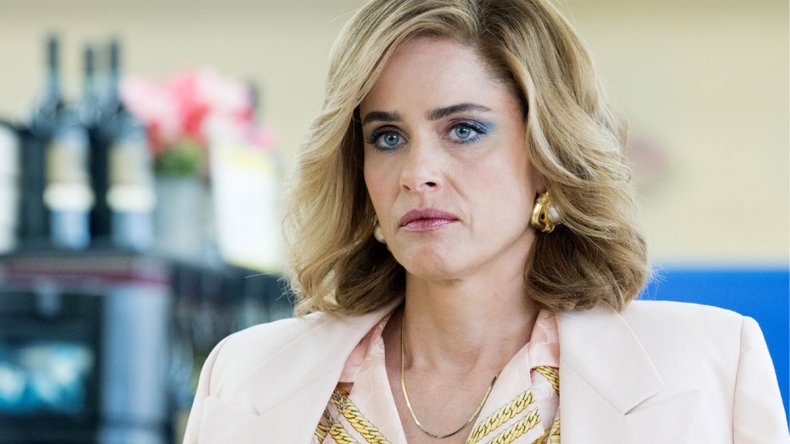 Broderick's first trial ended in November 1990, when she was 43, but ended in a hung jury. However, the question was not whether she had fired the shots—she admitted she had in court—but over what exactly to convict her of. After four days of deliberation, per the L.A. Times, the jury was split between 10 jurors who sought a murder conviction and two who wanted one of manslaughter.
Per the L.A. Times report of the trial, the jury could not decide if Broderick had the premeditated intent to kill Dan and Linda.
The second trial, which was one of the first shown on Court TV, concluded in December 1991, 25 months after the murders had been committed. At that trial, she was convicted of two counts of second-degree murder.
In February 1992, she was sentenced to 32 years to life in prison, the maximum possible term achieved by making the two 15-year sentences consecutive. She received an additional two years for the illegal use of a firearm.
California state law states that inmates have to serve two-thirds of their sentence before being eligible for parole. Including the two years she spent in prison while her two trials took place, this meant she was first eligible in 2010.
This parole hearing came in January 2010. Broderick said at the time: "I allowed the voices in my head to completely take over. I took the lives of two wonderful people who were loved by many."
Parole was denied that time, and again in 2011 and 2017. That last time, parole was denied for a maximum of 15 years, meaning she is not eligible again until 2032, when she will be 84 years old.
Until then, Broderick remains an inmate at the California Institute for Women in Chino, California. Among the other noted current and former inmates are former America's Next Top Model contestant Renee Alway, Joe Pesci's ex-wife Claudia Haro and former Charles Manson "Family" members Patricia Krenwinkel and Leslie Van Houten.
Dirty John: The Betty Broderick Story is streaming now on Netflix.