'Dirty John' Season 2 on USA: The True Story of Betty Broderick
The USA Network's true crime anthology series Dirty John is returning on Tuesday, June 2. This time, the show is telling The Betty Broderick Story, with Amanda Peet playing the socialite turned double murderer and Christian Slater cast as her ex-husband and victim Dan Broderick.
The true life story of Betty Broderick and her two murders began in 1985, when Dan filed for divorce after 15 years of marriage. Prior to then, the pair had been prominent members of society in La Jolla, California, with Dan a malpractice attorney and Betty a glamorous housewife.
Their divorce became infamous in local legal circles for its acrimony. Dan raised Betty's anger with hardball tactics that saw him win sole custody of their children, withholding support payments and selling their house. Betty, meanwhile, began committing erratic acts like spray-painting inside their house, ramming his door with her car and sending him obscene answer machine messages.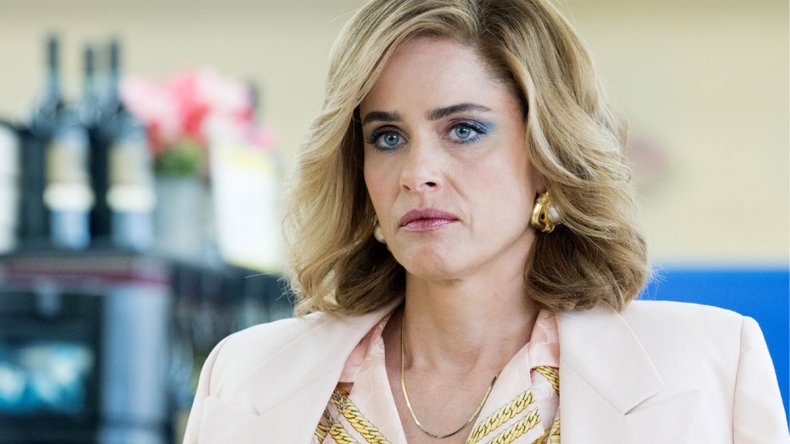 As a response to these attacks, Dan had Betty arrested and committed to a mental hospital, as well as ordering a restraining order against her. When he sent legal papers to her house after threatening her with criminal charges for the answer phone messages on November 3, 1989, Betty decided to end things for good.
The following day, she used her daughter's key to Dan's house to let herself in, and entered the bedroom Dan shared with his new wife Linda (played in Dirty John: The Betty Broderick Story by Rachel Keller). There, she began shooting, hitting the couple with three bullets: two in Linda's neck and chest and one in Dan's back.
Speaking to the L.A. Times, Broderick said of her crime: "I have never had emotional disturbance or mental illness—except when he provoked a 'disturbance.' My 'emotional outbursts' were only a response to Dan's calculating, hateful way of dealing with our divorce. He was hammering into me and everyone else that I was crazy… How long can you live like that?"
Betty's initial trial in 1991 ended in a hung jury, and she was then retried the following year and found guilty of two counts of second-degree murder. For this she was sentenced to two 15-year terms as well as two further years for the illegal use of a firearm, leading to a total of 32 years to life.
Now 72 years old, the real Betty is incarcerated in the California Institute for Women. She was denied parole in 2010, 2011 and 2017, and is now not eligible again until 2032, when she will be 84.
Speaking to Variety, Dirty John Season 2 showrunner Alexandra Cunningham said that what drew her to Betty's story was the fact that: "The two of them look like the American dream and yet they couldn't even treat each other the way they wanted to be treated by strangers. I wanted to re-examine the whole, 'Here's a crazy, evil woman who did this purely out of jealousy' — and then to put yourself in her place in the narrative she constructed herself."
Dirty John: The Betty Broderick Story premieres Tuesday, June 2 at 9 p.m. EDT