'Our Daughter Has a Disability. We Transformed Her Life With One Change'
"Beep! Beep! Beep!" That was the sound I heard as the wheelchair van began to reverse. In the center of the cab were many giggles. My daughter, Jess, was waiting for an adventure before I set off driving the van that belongs to the group home she lives in. It was our first outing with me behind the wheel and I felt like a new driver taking out my parents' car.
Jessica was born in 1982 with a rare chromosome deletion. She needs total assistance with all daily living skills, from when she gets up until she goes to bed. Jess has caretakers to help with her every need.
When Jessica was born, we didn't know that she had a diagnosis. She was our teeny first baby. She was born near her due date, but came home from the hospital weighing less than five pounds. We called her "peanut" at the time. We later found out that Jess was delayed in all her milestones. She is unable to care for herself, uses a wheelchair, is non-verbal and has a severe intellectual disability. Our daughter Jess is also the brightest star in any room.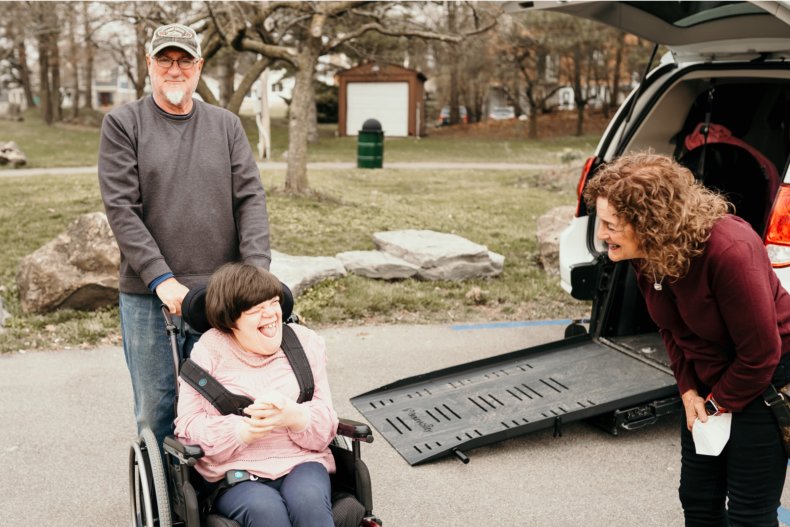 Raising Jess came naturally to my husband and I. We accepted Jess for who she was, and had two more children after her birth. There were many hardships as Jess was growing up, from a seizure condition to exploring educational opportunities and ensuring her siblings were able to experience typical childhood activities.
Now, she is 40 and lives in a group home two miles from our house as independently as she can. To me, Jess is the quiet giggle in the silence; she is the gentle hug when most needed. Her beautiful smile, robust enthusiasm, loving hugs and sense of humor are just a few of her many endearing qualities.
Before I gave birth to Jessica, I did not realize the challenges that families have when their child needs additional support. Going out for family adventures was like packing for an overnight stay. It was equivalent to what new parents bring they take their infant out in the community, except this didn't end when their child was 2 years old or 3 years old. Our bags included bibs, multiple changes of clothes, pureed food, juice boxes, plastic bags, briefs and other equipment.
Sometimes I think we made it look too easy. We may have given the illusion of having it all together, but it was a hot mess trying to do anything. Our motto: "We will do everything, it will just take longer." We tried to live by that for the most part.
Adapting to driving with Jess
When I was in college, my parents gave me a Datsun 280Z sports car, which I kept until we had our son Alex in 1987 and needed a back seat. Before that, Jess and I drove around town in my hot rod, her acting as my baby co-pilot. That was before car seats needed to reside in the back seat of the vehicle.
I believe my husband and I were naïve about the need for an adapted vehicle. It felt like once you go down the road of needing a converted van, there was no turning back. We believed that making that decision was akin to saying Jessica would need a wheelchair permanently. Perhaps we weren't ready to admit that fact.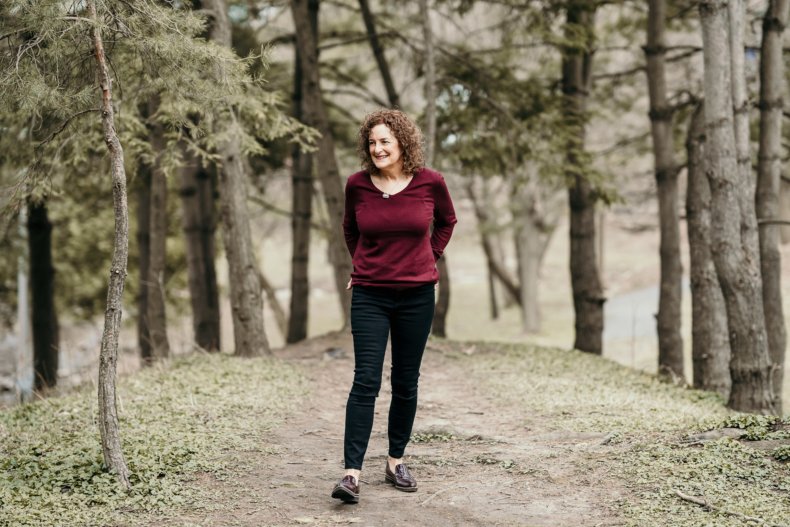 There was a level of freedom prior to purchasing our accessible minivan. It was easier, albeit not on our backs, in terms of time it took to lift Jess into the standard car versus using a motorized wheelchair ramp and various attachments. Families learn to accept accommodations at their own pace. One may understand intellectually the need for additional supports; however, emotionally it's often hard to admit that caring for your child is getting harder.
Fortunately, we had therapists and experts in the field who knew it was time for us to take the leap and purchase a wheelchair van. The professionals saw the bigger picture, and warned us about the future of our backs if we did not do something to ease the lifting.
Buying our first wheelchair van
The decision to cross over to an accessible vehicle was monumental. To me, it meant we were envisioning our future without pretending that our circumstances would someday change. We knew we needed help, which came in the form of a three-ton truck with many modifications.
I once told my husband, Mitch, that I never wanted to drive a station wagon or similar suburban vehicle— but I guess karma's a beast, because not only did we end up with a few minivans, we eventually ended up with a wheelchair minivan.
The company removed the middle row of seats and added supports, harnesses, a side-door wheelchair ramp, and other adaptations that are beyond my scope of automobile expertise. We were genuinely excited and grateful to receive our new ride. We imagined the ease we would have in getting Jess around town, the fun it would be to arrive quickly and perhaps not be late for everything.
But skill, expertise, patience, and a sense of humor were prerequisites for acquiring the finesse of strapping Jessica into the new van. Our transportation learning curve may best be highlighted by an outing with our friend, Sheryl, who was invited to join myself, Jess and our youngest daughter, Carly, at the local ice cream stand to celebrate our new modified van.
Sheryl got in the front seat as I attached Jess to all the harnesses, clamps, and hooks. Time was ticking, and I was sweating profusely, trying to secure Jess to the van. Meanwhile, Sheryl was joking that if she knew it would take so long, she would have brought an overnight bag. She continued: "Perhaps I should call my boss to tell her I will be late for work tomorrow morning."
Sheryl's monologue only worsened my fumbling. Because I was laughing so hard, I couldn't do anything right. Thirty minutes passed before Jessica's wheelchair was secured to the van. We finally got ice cream, and it got easier each time we drove.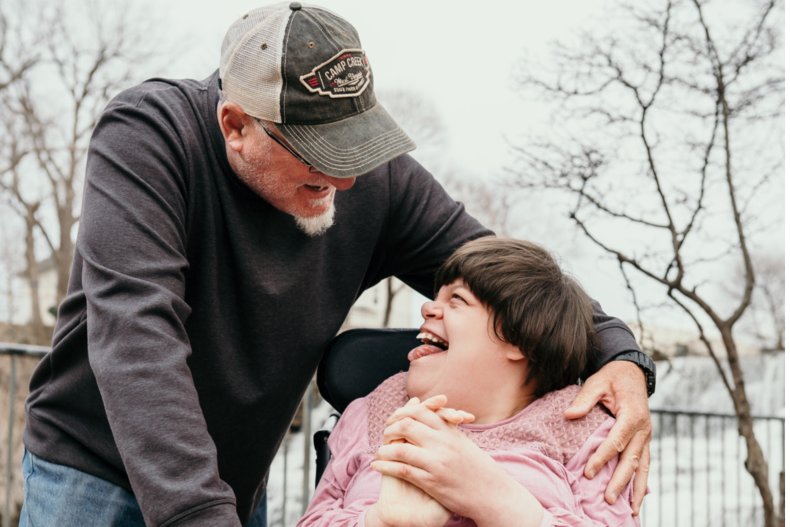 The moral of our story is that we were able to laugh, and that was much better than self-pity. We overcame a lot, endured much, dreaded some but survived all of it. Most experiences that begin as insurmountable tasks become doable over time; unfortunately, that is often another lesson learned in hindsight.
Having Jess changed the course of my life. She changed Mitch's life and paved the road for the lives of her siblings. Jessica's diagnosis moved me from a somewhat "over-indulged" young woman, whose priorities were cool clothes and designer purses, to a regionally known champion for families of children with special needs—who still loves a fancy purse.
This did not happen overnight. Families raising children requiring additional services need hope from those surrounding them. Medical professionals, teachers, clinicians, friends and other family members have a powerful tool when supporting the family of children with special needs. Helping that family choose hope, for without hope, you have despair.
Jess moved into a group home when she was 25 years old. Many families say they will not think about a group home for their child. But unless the family intends to live forever, plans need to be made prior to an emergency situation. We were fortunate that Jess was able to successfully transition to her home and live as independently as possible while my husband and I provided support and guidance.
Learning to drive Jess' group home van
And now here I am again, driving Jess again. Except this time she is living independently.
So, how is mom driving an official group home van? Well, it took a long time.
First, I became a volunteer for the human service agency that owns the van. The application process included numerous paperwork, fingerprinting, online classes, and exams. I received a road test to confirm that I was a competent driver. I re-learned how to attach the straps, belts, and other safety paraphernalia—again.
The application process required a lot of effort, but was worth all the prerequisite work. The result is additional freedom and outings. I understand the need for the regulations. I am grateful that there was enough flexibility within the rules to allow me, as a parent volunteer, to transport Jessica.
In September 2022, we were able to take our first trip from Jess' group home. Mitch and I took Jess out to dinner and I was the official driver.
Pulling out to the main road was unnerving, but we made the three-mile trek to dinner and back. Our maiden voyage was a success. Jess and I have traveled several times since our first outing.
Jess is non-verbal, but she has plenty to say without words. The first time I put Jess in the group home van and I started the engine, she screamed with joy. On one outing, we took my Vizsla dog to an activity—Jess was beside herself with laughter that the dog was also in her van. Becoming a volunteer and completing all the forms and exams is worth every bit of time spent.
Prior to getting a license to drive the group home vehicle, I would make arrangements with staff at the house to transport Jessica to and from an activity. There were limitations to this plan based on staff availability. Acquiring the skills to transport Jessica has opened up a new world of freedom for our family.
The ability to take Jessica on outings in her van has opened up the world for both of us. The independence and freedom for both of us are gratifying, though I still have trouble with the complicated straps.
Vickie Rubin is an author and mother. Her memoir Raising Jess: A Story of Hope is available now. You can purchase her book here.
All views expressed in this article are the author's own.
Do you have a unique experience or personal story to share? Email the My Turn team at myturn@newsweek.com