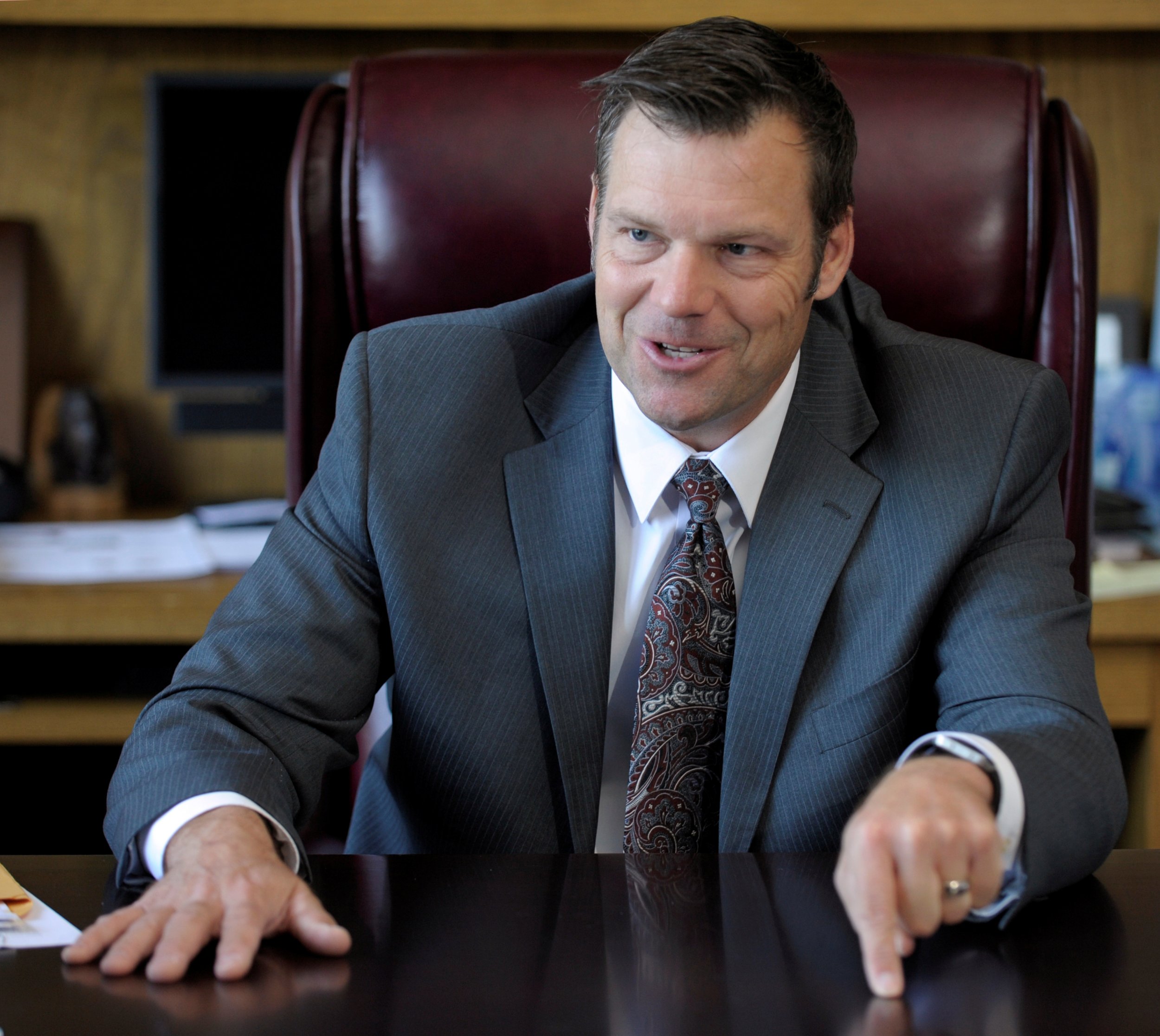 The head of President Donald Trump's election fraud commission drafted a law as a Kansas official that led to 23 disabled people not having their votes counted in a recent local election.
The disenfranchisement occurred in Sedgwick County and was a direct result of a law pushed by Kansas Secretary of State Kris Kobach, a member of Trump's voter fraud commission, which requires disabled voters' signatures on their ballot envelopes. Until Kobach's Secure and Fair Elections (SAFE) Act passed in 2011, ballots were not tossed if a disabled person's signature did not exactly match one on file or if someone else signed on behalf of a physically unable voter.
As a result, 23 unsigned ballots from disabled people were tossed in a local election where only 24,120 votes were cast according to deputy elections commissioner Laura Bianco. Some of the races in the county were decided by far fewer than 23 votes.
"If you're a person with quadriplegia or a senior and don't have the same ability to mark a ballot as you did when you were younger," the ballot would be thrown out, Rocky Nichols, executive director of the Disability Rights Center of Kansas, told Newsweek. "It's really a problem for people with disabilities. We need to get it fixed."
Jim Howell, a member of the Sedgwick County Commission, which acts as the board of canvassers, said he believes it is an "unintended consequence" of the law.
Despite the result, Howell actually voted for the SAFE Act while on the state legislature, he told Newsweek.
Another county commissioner agreed that depriving disabled voters of a voice in elections is unjust, but that the SAFE Act otherwise is a good law for Kansas.
"We need to have voting requirements that are logically legitimate and make sure that we have people registered to vote before they vote, but I think in our zeal to make sure this is a good, strict law that perhaps we've gone overboard," county commission chairman Dave Unruh told Newsweek. "It's the only one that I have had a personal issue with."
Director of Elections Bryan Caskey, who works under Kobach, said that the November 13 election was the first time he had been made aware that disabled voters' mail-in ballots were not being counted. Changes in state law must go through the legislature.
"If we decide to introduce a bill, the secretary [Kobach] will make the decision, and we can go before the legislature—just like anybody else," Caskey told Newsweek.
State Representative Blake Carpenter, who lives in Sedgwick County and is vice chairman of the elections committee, said he plans to introduce a bill that can remedy the problem in some way.
"I would think this is not a partisan issue," Carpenter told Newsweek. "I think that both Democrats and Republicans will be able to agree that this is an issue and will be something that will be able to get fixed pretty quickly."
Nichols of the disability rights center, which provides free legal services to the disabled, requested the names of the voters whose ballots were discounted and said he left a meeting with Caskey "feeling good about the fact that the secretary of state's office seemed legitimately and rightfully concerned about this issue."
The "unintended consequence" is perhaps the only statue of the SAFE Act that stakeholders in the state and voting rights activists are on the same page on.
Most state lawmakers and county commissioners back the more controversial parts of the law—that Kansas residents must prove U.S. citizenship when registering to vote and provide a photo ID when casting a ballot in person—while disability rights activists were opposed to the act as a whole since Kobach introduced it.
People with disabilities struggle significantly more to gather and present such documents, Nichols said.
"We think that's an artificial barrier, and we think it's a barrier to everyone, but it uniquely harms people with disabilities," he told Newsweek.
Little evidence has surfaced that noncitizens were voting in Kansas, as Kobach claimed to justify the SAFE Act. Trump convened his Presidential Advisory Commission on Election Integrity in May to come up with evidence that millions of noncitizens voted in the 2016 election. The panel, led by Kobach, requested voter information from all 50 states but faces multiple lawsuits and will not meet for the remainder of this year.
Howell last week introduced an item for the county's legislative platform that would cause the state legislature to review and update the procedure for someone with total disability to successfully complete the mail ballot process. It was approved 4-1 by county commissioners last Wednesday.
County Counselor Eric Yost acknowledged the disabled voters' ballots was a "serious issue."
"I'm still kind of investigating to see what the cause of it is," Yost told Newsweek. "If it's our election commissioner or secretary of state or just the law itself, if we're following it too faithfully."