Disabled Councilman Suffers 'Public Humiliation' in Crawl to Debate Stage
Denver City Councilman Chris Hinds says that he was forced to endure "public humiliation" to participate in an official debate and avoid losing $125,000 in campaign funds earlier this week.
Hinds, who uses a wheelchair for mobility, took part in a debate at the Cleo Parker Robinson Dance (CPRD) school on Monday afternoon. The councilman said that he was forced to choose between his reelection campaign and his "dignity" when he arrived at the venue and learned that the debate stage was not accessible, despite it being required under the 1990 Americans with Disabilities Act (ADA).
"I am incredibly disappointed and disheartened after the public humiliation I endured," Hinds said in a statement on Wednesday. "The lack of wheelchair accessibility on the stage at the debate culminated in an extremely uncomfortable outcome: I had to climb out of my wheelchair and attempt to crawl onto the stage in front of a crowd."
Hinds added that he was also "alarmed and frustrated" that the Denver Clerk and Recorder's Office and event organizers had not informed him of the debate until shortly before it took place. Under a law passed by Denver voters in 2018, he was required to take part in the event or forfeit about $125,000 in public election funds.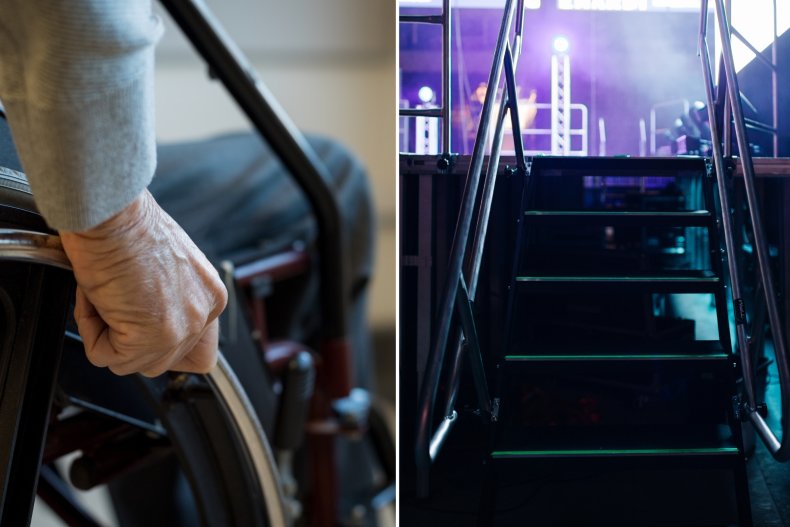 Event staff said that they were unaware of the councilman's disability and had planned to lift him and his 400-pound power wheelchair onto the stage when he arrived minutes before the debate was scheduled, Hinds told Westword.
"They never actually got the wheelchair onto the stage. I got on the stage," Hinds told the publication. "I got out of my wheelchair and was laying there on the stage. They gave me a chair that I just hugged. I can't move most of my body. I'm paralyzed."
"We ended up having the debate in front of the stage," he continued. "I would say I was clearly rattled....I am not certain as to who made the call. They just said, 'Hey, do you want to just sit in front of the stage?'"
CPRD said in a release obtained by Newsweek that the "event team reviewed all logistics and requests" prior to the event and had not received "requests for additional or enhanced accommodations" from Hinds, going on to suggest that the councilman would have been accommodated if he had arrived two and a half hours before the debate.
"We are working diligently on a long-term solution," said CPRD Executive Director Malik Robinson. "Our team will continue to work with the Denver Clerk & Recorder's office on candidate profile updates and contact information....We will continually check on campaign contact updates and information so that we can plan as far in advance for necessary accommodations, even if they might be at the last minute."
Denver Clerk Paul López said in a statement obtained by Newsweek that he had "apologized to Councilman Hinds personally" and regretted that he "had an adverse experience." López also said that CPRD had indicated that it met ADA accessibility requirements on an application to host the debate.
A CPRD spokesperson told Newsweek that the "facility as a whole is ADA compliant," while noting that there are "immediate short-term plans" to specifically "remedy CPRD Theatre stage access."
Wednesday's statement from Hinds, Denver's first wheelchair-using elected official, concluded that his debate experience was a "stark reminder" that the ADA had not solved accessibility issues for disabled people.
"This is another example why we need disability representation," said Hinds. "People often think that the ADA solved accessibility problems, but here is a stark reminder that serious issues still persist."