Disabled Migrant Children Deported From U.S. Face 'Torture' in Mexican Facilities: Report
Migrant adults and children with disabilities detained in facilities in Mexico after being deported from the U.S. face a high risk of death and torture, a new report from Disability Rights International (DRI) warns.
In a report titled "At the Mexico-U.S. border and segregated from society," DRI sounds the alarm on how researchers uncovered "grave instances of torture and abuse" at four separate facilities in Baja California, Mexico, during trips in November 2018 and February 2019.
Accompanied by the Human Rights Commission of the Mexican State of Baja California (CEDH), DRI researchers said they visited four residential private institutions for children and adults with disabilities. Migrants with disabilities were among those being held.
"In these institutions, DRI found grave instances of torture and abuse, including use of prolonged restrains and isolation rooms," the disability rights advocacy group said.
"Particularly worrying," the group said, was the high death rate of children with disabilities they discovered at an institution near Ensenada, Baja California, called Casa Gabriel.
Citing staff at the facility, DRI reported that three minors and one adult were recorded as having died in February 2018. In two of those cases, minors who had to be fed using feeding tubes died due to complications related to that process. It is unclear whether any of the four who died were also migrants.
However, DRI asserted that "the fact that the institution is still operating, one year after the deaths, and that there has been no serious and exhaustive investigation into the deaths, raises serious concerns for the safety of the children detained in Casa Gabriel and in institutions across Baja California."
'Prolonged restraints' and 'bed cages'
The rights organization said it also noted at Casa Gabriel the use of "prolonged restraints of children" as well as the use of "bed cages," where children are confined.
In one case, the organization described how a six-year-old boy who was forced to spend all of his time lying down in a crib with high rails.
"He was described as having soft bones, but the coordinator did not seem to know his diagnosis," DRI said, adding that one researcher had observed the muscles in the boy's arms and legs appeared to be "severely atrophied."
The organization said staff at the institution had been told that the boy "must remain flat in his bed, except for very short periods in a chair."
"This is contrary to accepted medical standards of treatment for conditions of children with soft bones, for which physical therapy and exercise should be prescribed," the organization said.
At the same facility, researchers described seeing a three-year-old child being restrained in a wheelchair because he was "hyperactive" and trying to walk around the facility.
In an interview with Newsweek, Casa Gabriel Director Marisol Flores, who grew up at the facility herself as someone who suffers from spina bifida, accused DRI of misrepresenting the situation at the facility on several counts.
In the case of deaths at the facility, Flores said not only did DRI get some of the names of the children who died wrong in its reporting, but it also ignored the fact that investigations had been carried out in the wake of the deaths and found no signs of wrongdoing on the facility's part.
Flores said that police had also come to investigate Casa Gabriel after the DRI allegedly reported its concerns for the safety of children staying at the facility and found no wrongdoing.
The Casa Gabriel Directorr said the bed described in DRI's report had been donated to Casa Gabriel by a hospital in the U.S. and was not a "cage," but a standard hospital crib. She also said that following DRI's visit, she decided to stop using the crib because researchers had "made me doubt" whether it was safe.
The Casa Gabriel director did admit that in certain cases, children are restrained at the facility. However, she said the institution uses wheelchair restraint belts and did not tie any of the children down.
In its report, DRI said, however, that unless the life of a child is at risk, the organization maintains that "there is no excuse for tying a child down because he is hyperactive."
"Doing so constitutes undue restraint and a form of abuse," the organisation said.
Flores repeatedly asserted that it simply was "not true" that any abuse was taking place at her facility and maintained that she cared deeply about the children staying at Casa Gabriel.
Her husband Scott Huddleston, who was born in the U.S., said that Casa Gabriel is doing "the best we can with what we have" as a facility that relies on donations to stay running.
Huddleston said that he could "see how people from different countries where there's enough money might see some of the things we do as shocking or different." However, he said, "there is nothing mean or vindictive or anything like that" in how Casa Gabriel treats the children staying at the facility.
"There's no abuse...Their perception is off, you know," he said of DRI. "Do we need more funding? Yes. Do we need different things in different areas? Of course. We rely solely on donations...We're not hiding anything."
Casa Gabriel, however, was not the only facility that DRI flagged as raising serious concerns.
Locked up in 'detox rooms'
Of the institutions DRI visited, the organization found that two out of four were operating without a license and "arbitrarily detained children and adults with disabilities."
In one case at a private facility, DRI reported that minors and adults with disabilities were being detained and given the same programming as minors and adults with drug and alcohol abuse problems.
At Centro de Rehabilitación Fortalécete en Cristo A.C., DRI said it found two people with disabilities locked in a "detox" room, which researchers described as having "bare walls and a pungent smell of urine and feces."
"According to the director of the institution, people are put in this room for days at a time while they 'detox.'" However, "the people with disabilities were not 'detoxing,' they were just locked up there for no apparent reason."
DRI said the director of the institution also admitted that in the case of one patient, who was known to become aggressive, "he handcuffed them and placed them face down for hours" in the detox room "until they calmed down."
According to the National Migration Institute, as many as 3,000 unaccompanied migrant minors are deported every year from the U.S. to Tijuana. While most are returned to their families, some are forced to spend months in institutions while their families are being located. Others may end up staying in orphanages for years if their families cannot be found.
DRI said it was concerned "for migrant children for whom the only alternative is to spend months in institutions while their family is found, and who may end up staying in orphanages for years if their families cannot be traced."
"While children and adults with disabilities [comprise] the primary population subject to these abuses," the group said, "unaccompanied minors and persons with disabilities deported or stopped at the U.S. border and returned to Mexico are also at risk."
DRI stressed that the U.S. government should not be deporting any children or adults living with disabilities to Mexico as they have a clear "reasonable fear of persecution" and could be "subjected to pervasive inhuman and degrading treatment and torture."
The organization also called on Mexico's government to ensure that "people with disabilities and unaccompanied minors deported from the U.S. or turned away at the U.S. border are not placed in institutions in Mexico."
"Mexico must instead provide social supports and access to mental health treatment in the community," DRI said.
The organization also called on the country's leadership to "immediately adopt a moratorium on institutionalization" of any children with disabilities, period, and to aim to eventually deinstitutionalize all children and adults with disabilities in the state of Baja California, with the goal of developing community-based services instead.
The U.S. Department of Homeland Security and Mexican government did not immediately respond to a request for comment from Newsweek for this article.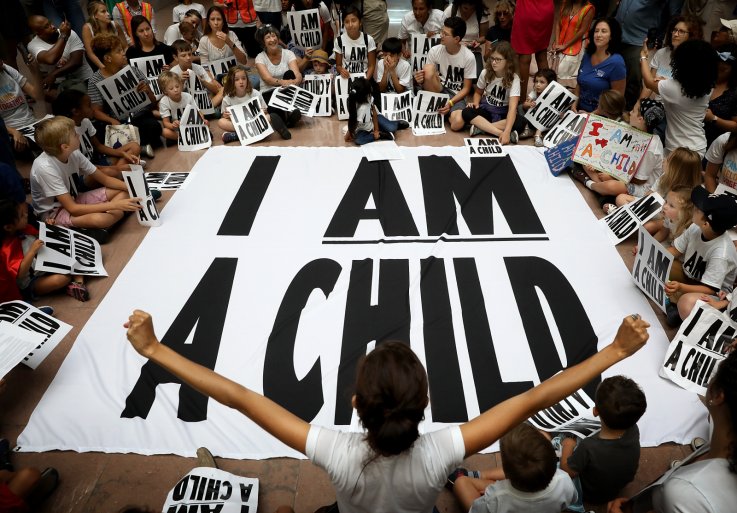 This article has been updated with statements from Casa Gabriel.
Disabled Migrant Children Deported From U.S. Face 'Torture' in Mexican Facilities: Report | World