Police Help Disabled Veteran Trying To Walk 96 Miles to Doctor's Appointment Carrying An Oxygen Tank: 'I'm Just Thankful'
Police helped a disabled veteran travel almost 100 miles for a doctor's appointment in the lead up to Veteran's Day after the man told officers he intended to walk the vast distance.
Walker County police in Alabama were called about Gerald Baldwin walking on the side of the road while carrying an oxygen tank last week, according to ABC 7 Eyewitness News.
The veteran from Cordova told police he was walking to his doctors in Huntsville, around 96 miles away, so he could keep receiving V.A. benefits.
"If I don't make it, I lose them," he said in a police film. Officers from several counties then teamed up to help the veteran make the trip in the back of their cars.
In a social media post that has gathered more than 200,000 reactions and more than 165,000 shares at the time of writing, Morgan County police in Alabama said Baldwin was given rides by authorities in Walker County, Cullman County, Morgan County and Madison County.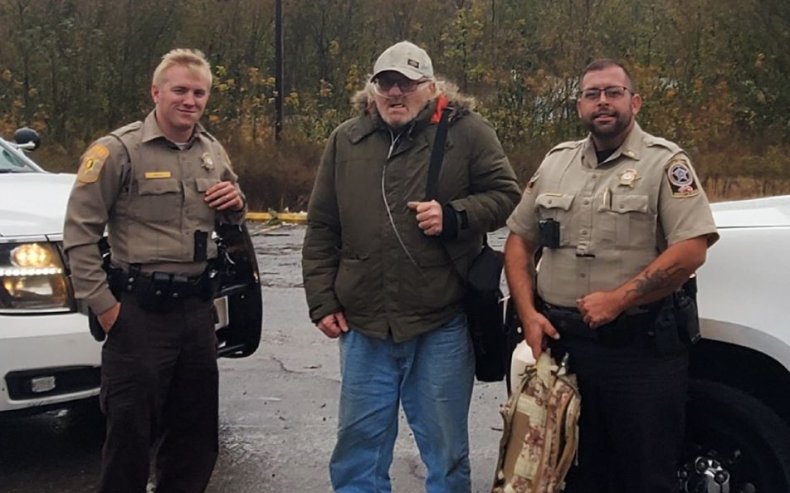 "After an overnight stay, we were happy to do it all again today... in reverse to help get the man back home," the Morgan County Sheriff's Office added.
"We are thankful for our Veterans and were honored to play a small role in supporting this man who gave a great deal for our country."
Baldwin told ABC 7 Eyewitness: "I made my appointment and I made it home safe. I'm just thankful for that."
It has also been reported that Baldwin's estranged son has tried to reconnect with his father after five years after a social media post about the assistance from police went viral.
"In an unforeseen turn of events, the man's son saw the post and recognized the disabled vet as his father who he had not seen or talked to in several years," the Morgan County Sheriff's Office said. "Hopefully they can reconnect!"
Speaking to ABC 7 Eyewitness News, Lance Baldwin said it was "really good" to hear from his father, adding: "Want to make amends for things in the past that stopped us from communicating.
"He's always been my superman. He's the strongest person that I know, and from his story, that hasn't changed."
Lance Baldwin also told Waff 48 that he was "thrown back a little" when he first saw the viral post and accepted that he "should've been there more."
A GoFundMe page set up for the Gulf Veteran's future transportation to doctor's appointments has raised more than $2,500 of its $10,000 target at the time of writing.