Disabled Veterans Park In Handicap Spot, Return To Find Racist Note Criticizing Them For Using The Space
Two veterans are speaking out after they discovered a racist note left on their car following a trip to the grocery store.
The incident occurred in Cypress, Texas when Kenneth and Marquenna Moore parking in a handicap space during their trip to H-E-B. The couple, who have been married for 15 years, returned to their car afterward to reportedly find a note that read, "just because you are black and have a nice car does not make you handicapped ;)," KHOU reports.
"(I was) Shocked. Then actually angry, because I'm like, the plates are right there! How do you not see?," Marquenna told KHOU.
The couple's car does not have a hangtag to designate their car as one for disabled persons, but the license plates — required by Texas law to be placed on the front and back of all vehicles — indicates that the car is registered to a disabled veteran. According to KHOU, the designation is noticeable by the "Disabled Veteran U.S. Armed Forces" text printed along the bottom of the plate.
Both Kenneth and Marqueena were injured while serving in the U.S. Military, they told the tv station. Both were stationed with the U.S. Navy and met while serving in Japan, Kenneth served for 12 years and Marqueena for eight.
Kenneth told KHOU that his time serving was "amazing" but added that "it does take a toll on your body mentally and physically."
Kenneth's injuries include a traumatic brain injury which created a stutter. Both say they suffer from PTSD.
The couple told the tv station that they hope their experience will remind people that you cannot always see an individual's disability.
"You may not physically see their disability. But everyone wears their scars differently. You just have to simply go back to the Golden Rule: treating people how you want to be treated," Marqueena said.
They also shared the experience on their Facebook account, with Kenneth writing, "My self [sic] and my wife served this country. So please before you are bothered or angry about seeing a Disabled Veteran plate in a handicap spot, this is to remind people of the sacrifice we made and should be thanked, not slandered with false information."
After discovering the note, the couple said they returned to the store and spoke to employees who helped them locate who left the message. They then contacted the local police department who is currently investigating the case, KHOU said.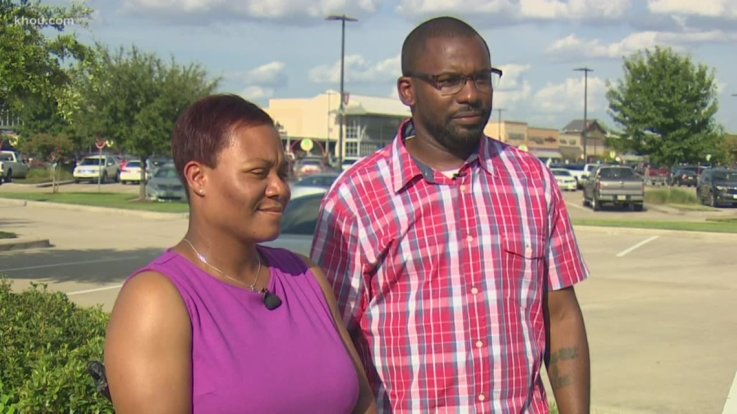 Disabled Veterans Park In Handicap Spot, Return To Find Racist Note Criticizing Them For Using The Space | News