'Disastrous': Donald Trump Blames Fox News Ratings Decline on 'Negative Guy' Chris Wallace
Former President Donald Trump revisited his feud with Chris Wallace on Saturday night by blaming the Fox News host for the network's ratings decline.
In the aftermath of the Capitol riot, Fox news fell into third place among cable news broadcasters for most of January, behind CNN and MSNBC, as conservative viewers turned to networks further to the right. Fox News recovered viewers in recent months, beating its rivals in April, but viewership of major cable news networks have dropped across the board under Joe Biden's presidency.
In a new interview on Newsmax, host Dick Morris asked Trump to explain why some conservatives have abandoned Fox News.
"It's because of Chris Wallace," the ex-president said. "He was disastrous. It was your basic disaster and he's just a very negative guy and the people don't want to hear that. That's why they tune out."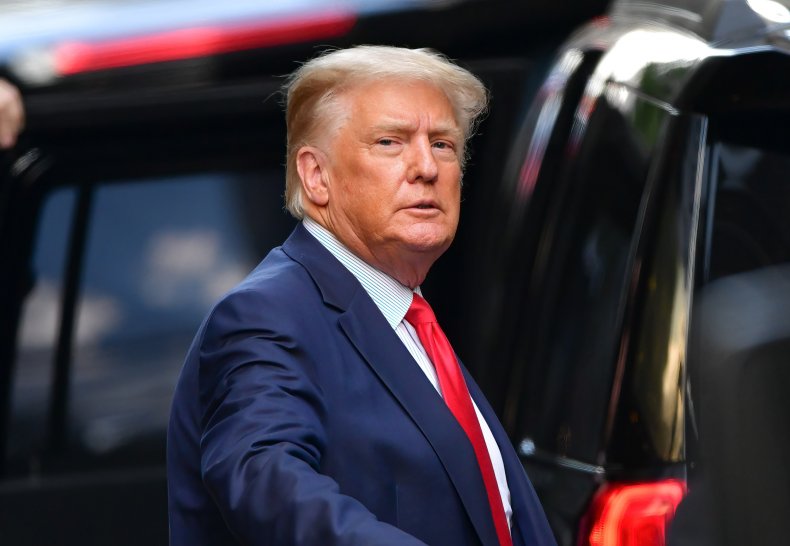 Trump also pointed to Fox News' coverage of the 2020 presidential election. "One of the biggest differences is in the election—even though I won 75 million votes, which is far more than I won the first time—if you look at Fox, how they did versus how they did in 2016. It was night and day, a big difference and people are very angry about it," he said.
Newsweek reached out to Fox News for comment. This story will be updated with any response.
Conservatives, disappointed by Biden's election win and frustrated at Fox News for acknowledging Trump's loss, turned to Newsmax after the ex-president encouraged them to try the network amid his efforts to overturn the 2020 results.
".@FoxNews daytime ratings have completely collapsed. Weekend daytime even WORSE. Very sad to watch this happen, but they forgot what made them successful, what got them there. They forgot the Golden Goose. The biggest difference between the 2016 Election, and 2020, was @FoxNews!" Trump tweeted on November 12.
Trump's remarks came about one week after Fox News called Arizona for Biden on Election Night, which many viewed as the final signal of his 2020 loss.
"Watching @FoxNews is almost as bad as watching Fake News @CNN. New alternatives are developing!" Trump tweeted in late December.
Newsmax topped Fox News in ratings in the key 25 to 54-year-old demographic for the first time ever on a Monday in early December, with "Greg Kelly Reports" beating "The Story with Martha MacCallum," according to The Independent. On any given day, Fox News still draws at least four times more viewers than Newsmax.
"We're here to stay," Newsmax CEO Christopher Ruddy said at the time. "The ratings are showing that."
Newsmax's Nielsen ratings have recently dipped from their post-election highs. Mediaite's Marisa Sarnoff reported that the outlet lost "more than half of its audience" at the end of February, compared to its peak week in November. While Fox News is on track to rank as the most-watched cable news network for the month of May.
This story has been updated to include Newsmax ratings details and Neilson data for the month of May.