Discord Exec on the Chat Service's Impressive Growth, Partnering with Xbox and More
Chat service Discord celebrates its third birthday this month, and the company has seen some monstrous growth in the last year. The number of users has more than doubled in that time, and now sits at over 130 million. The growth is almost entirely organic, thanks in large part to the company's drive to engage with its community and build on user feedback.
"Discord was built for me and my five friends to play Fortnite on the weekends," Discord's Chief Marketing Officer Eros Resmini told Newsweek. "From there it went cray cray."
That seems to be an understatement. The number of messages sent through Discord in a month rose from 6 billion in 2017 to 15 billion in 2018. Likewise, the number of daily users has rocketed up from 4 million last year to 8.2 million this year.
When asked how Discord has managed to build it's huge user base, Resmini joked "I'm pretty sure it was our memes." On a more serious note, he points out that Discord is inherently social; in his view, the beauty of the platform is that you need at least two people involved to make it work. "The vast majority of users that discover Discord are because their friends told them about it," he said.
Discord also hit a niche that had been vastly underserved. Chat programs for gamers had either grown old or bloated, interfering with the heavy computational power demanded by modern PC games. "We've built a product specifically for folks who want to play games. We've built a low-latency, low-performance heavy product," Resmini said. "We don't suck up your CPU or memory to run. We've also built in a tremendous amount of secure private-messaging features that allow you to have a tremendous amount of control around the way that you interact on Discord. That's unlike products in the marketplace that are performance hogs (like Skype) or aren't really built for gamers (like Slack)."
Celebrities and brand communities are another reason for Discord's meteoric rise. Popular streamers on Twitch and YouTube started using the service to interact with fans when not actively streaming. This led to game developers and publishers creating communities to interact with fans while games are in development, gathering feedback and ideas from fans to help shape the project.
"There was no deliberate point where we decided to go after game communities. It was the community itself who decided to use Discord for larger groups," Resmini said. "It's an example of Discord users telling us what they wanted out of the platform."
This led to further exploration on communities on Discord, and eventually the verified server program was created. There are over 850 verified servers on Discord right now, and more are coming. "Folks want to know the communities they're joining are official," said Resmini. "We've added within that program cool little perks, like vanity URLs. These really help companies market their game when it's just coming to the public eye."
The team at Discord is also excited about a new partnership with Xbox. "The Xbox team started to use Discord as a community experiment and very quickly saw the power of the platform. That led to conversations between the two teams, which led to exploring and implementing the ability for Discord and Xbox to talk to each other," he said. "Someone on Xbox can show in Discord if they are playing games similar to PC gamers. There's a lot more we can do with Xbox and other console manufacturers in the space. We'd love to see more action there."
With its strong placement in the gaming community, Resmini thinks other groups of potential users could be drawn to the platform. "First and foremost, we're really focused on gamers. That being said, there are a number of things gamers do on the platform that aren't games," he said. "We see people listening to music together on Discord. We're seeing musicians themselves using verified servers and the community features of Discord the same way game developers are. We're seeing co-watching on the platform for Netflix or YouTube. We're integrated on Twitch already, but would love to integrate more with other watching platforms."
Still, Resmini insists, gamers will always be first at Discord. "Gaming is the heart of what we do, but gamers do other things together and we want to support that," he said.
Resmini is thrilled with the growth Discord has seen recently, but doesn't think the company will do any drastic moves soon. When asked about what he sees happen in the next three years, Resmini figures the company will keep doing what it's doing while responding to ideas from the community. "We just want to keep on growing. We have 130 million users and that's amazing, but we want to reach every gamer out there if we can," he said. "We expect to do more with game publishers and developers. We want to do more and more where games are directly integrated directly with Discord."
For more crazy stats on Discord, check out the infographic below.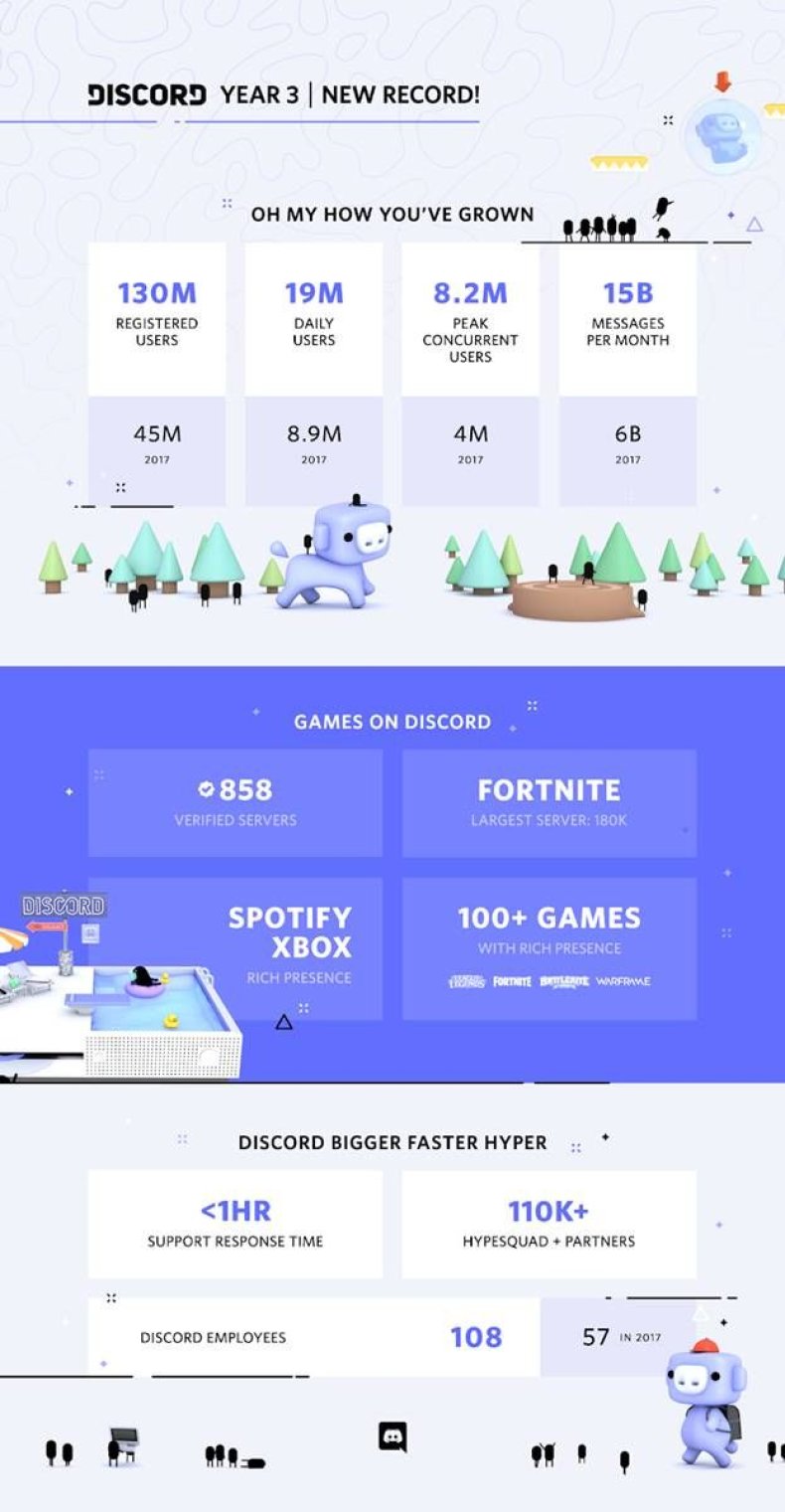 So what do you think? Have you and your friends used Discord to stay in communication while gaming? Do you have any ideas for the company to implement into the program? Let us know your thoughts in the comments section below.