Disgraced Former Trump Adviser Michael Flynn Returns to Public Life, Calls Ex-Boss 'Great'
President Trump's disgraced former National Security Adviser has returned to political life after pleading guilty to lying to the FBI.
Michael Flynn, who is currently awaiting sentencing, pleaded guilty in December to lying to the FBI about engaging in conversations with the Russian ambassador, and agreed to cooperate with the Mueller probe into allegations that the Trump campaign colluded with that country's government.
He kept a low profile following that decision, until Friday when he emerged in La Quinta, California to stump for congressional candidate Omar Navarro. The move appeared to signal that Flynn was mounting a return to politics, despite his ongoing legal woes.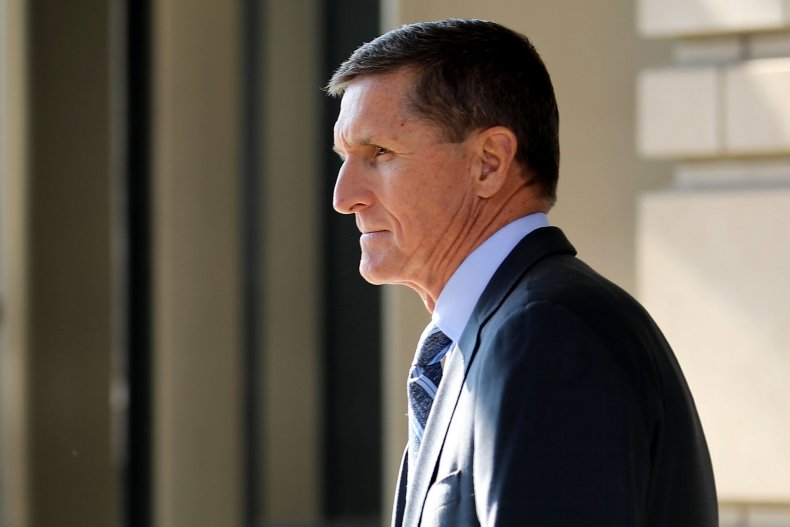 The retired Army Lt. General appeared to address those legal troubles when endorsing the Navarro.
"What I'm not here to do is complain about who has done me wrong, or how unfair I've been treated, or how unfair the entire process has been," Flynn told the gathering.
Flynn campaigned aggressively for Trump during the 2016 presidential campaign before becoming his National Security Adviser. He praised Trump again on Friday, calling his election "a great thing for our country," but suggested that he suffered as a result of his endorsement.
"If I'm paying the price for that decision, so be it and God can and will judge me at some point," Flynn told the small gathering.
Navarro is challenging Democratic Rep. Maxine Waters, who has served 14 terms. He is considered a long shot candidate. Waters has been a vocal critic of President Trump, and is frequently derided by his supporters nationwide. Waters is a member and of the Congressional Black Caucus, and is one of 12 black women serving in the U.S. Congress. Trump publically derided Waters last week, calling her "low IQ."
Waters referenced the appearance of Flynn at Nazarro's event, calling him an "indicted criminal" on Twitter Friday afternoon.
"Desperate, unstable, and convicted criminal Omar Navarro stoops low in soliciting help from another indicted criminal in a campaign against #MaxineWaters - what a campaign!" Waters wrote.
Flynn's sentence will be handed down this spring. He faces a five-year maximum prison sentence.