'Disgusted': Internet Supports Mom Keeping Baby From Chain-Smoking Grandma
Members of a popular internet forum were in staunch support of one mother who said she refuses to let her mother visit her new baby.
In a viral Reddit post published on r/AmITheA**hole, Redditor u/Routine-Customer2635 described her mother as a "habitual chain smoker" and confirmed that's why she's keeping her infant as far away as possible.
Titled, "[Am I the a**hole] for 'not letting my mom be a grandma'?" the post has received nearly 9,000 votes and 1,600 comments in the last 12 hours.
Writing that her mother was very excited about having a grandchild and talked "nonstop" about having the boy over when he's older, the original poster said she would love for that to happen but explained why she currently won't allow it.
"She is a habitual chain smoker," OP wrote. "She smokes in her car like nobody's business. She has a three season room with glass windows that she smokes inside of, so essentially a part of the inside of her house.
"It disgusted me as a child that she would smoke with me in the car and when I'd ask for her to stop she'd just say that she's the parent and she gets to do what she wants," OP continued.
"I don't want my child to visit and be surrounded by second and third hand smoke," OP added. "When I told her this she got very offended and she told me I was depriving her of being a grandmother."
Although every pack of cigarettes comes with a label warning that smoking can cause lung cancer and heart disease, smokers are not the only ones in danger when the lighter is flicked.
Secondhand cigarette smoke, according to the Centers for Disease Control and Prevention (CDC), contains more than 7,000 chemicals and has claimed the lives of more than 2.5 million nonsmoking adults since 1964.
Children—unable to distance themselves from the toxic plumes cast by parents, grandparents and other family members—are also subject to secondhand cigarette smoke and often face severe health problems, including asthma attacks, respiratory infections, ear infections and sudden infant death syndrome.
Over time, fewer and fewer adults in the U.S. have reported smoking regularly and in 2020, the CDC reported that just 12.5 percent of Americans are smokers, down from 20.9 percent in 2005.
However, for members of previous generations, smoking is as natural as breathing.
In the case of smoking grandparents, family website Very Well Mind recommends that parents set strict boundaries with their own parents, and keep all smoking far away from their children—no matter how contentious the process proves to be.
"Setting boundaries around parents smoking [is] particularly difficult, because smokers cling to their 'right' to smoke while exposing your child to...the health risks of secondhand and third-hand smoke," the website reads.
"As a parent, you have a responsibility to protect your own children from the harmful effects of smoke," it continues. "You must set boundaries with your parents smoking in order to protect your child."
But while Very Well Mind also recommends compromising with grandparents about smoke-free times and locations, the original poster said she has no interest in budging at all. If her mother continues to smoke, she won't see her grandchild—OP made that very clear.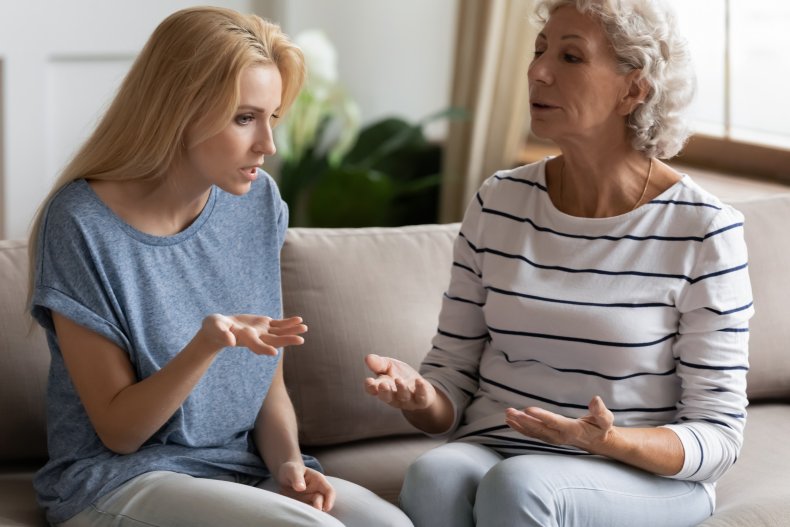 Throughout the viral post's comment section, Redditors commended the original poster for prioritizing her child's well-being and assured the mother she is well within her rights to deny grandparent visitation, especially if it means keeping her baby healthy.
"[Not the a**hole]," Redditor u/Sherbet_Lemon_913 wrote in the post's top comment, which has received more than 15,000 votes. "If there's ever a reason to stop smoking, it's this."
"Tell her you're the parent and you get to do what you want," they added.
Redditor u/PaganCHICK720, whose comment has received more than 1,000 votes, echoed that sentiment.
"Your child's health trumps her need to be a grandmother not the other way around," they wrote. "And that is what needs to be set as the hard line with no negotiation."
"Your mother is denying herself the right to be a grandmother due to her life choices," Redditor u/SassyPieHole173 added, receiving more than 2,300 votes. "It's ok for her to smoke, but it's also ok for others to make their own life choices about whether or not it affects them or not."
Newsweek reached out to u/Routine-Customer2635 for comment.