Senator Ben Sasse criticized the Department of Justice on Thursday after it concluded its investigation into a 2008 non-prosecution case involving Jeffrey Epstein.
Sasse, who is the chairman of the Senate Judiciary Oversight Subcommittee, attacked the findings for concluding that federal prosecutors exercised "poor judgment" in granting Epstein a sweetheart deal.
"Letting a well-connected billionaire get away with child rape and international sex trafficking isn't 'poor judgment'—it is a disgusting failure," the Nebraska Republican said in the statement. "Americans ought to be outraged."
The probe reviewed the conduct of former federal prosecutors, including Alex Acosta, President Donald Trump's former labor secretary, who oversaw a controversial plea deal made with Epstein 12 years ago.
In a statement following Sasse's response, the Justice Department said that its Office of Professional Responsibility (OPR) "concluded that former U.S. Attorney Acosta exercised poor judgment by deciding to resolve the federal investigation through the non-prosecution agreement and when he failed to make certain that the state of Florida intended to and would notify victims identified through the federal investigation about the state plea hearing."
The investigation also found that none of the federal prosecutors "engaged in professional misconduct" on the case.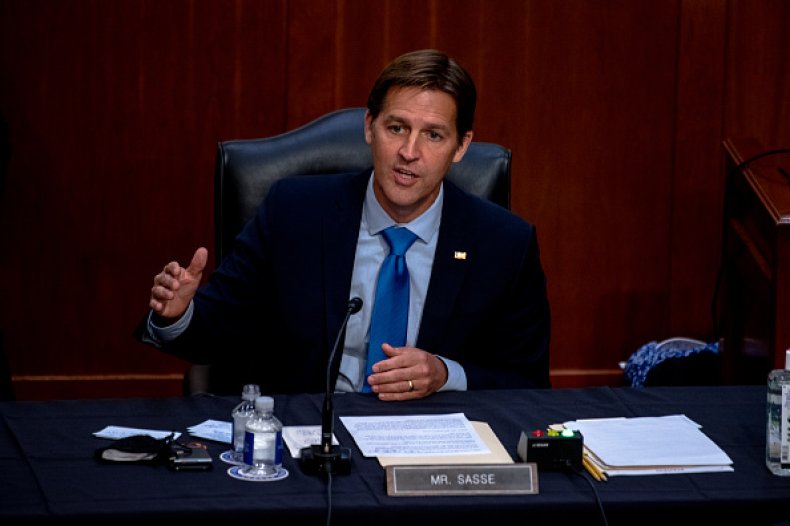 Acosta and the other prosecutors investigated allegations that Epstein abused dozens of teenage girls during the early 2000s.
Epstein pleaded guilty to state charges in Florida—where Acosta was the U.S. attorney for the Southern District of Florida at the time—involving one victim, which ended the federal investigation and allowed Epstein to forgo a lengthy jail sentence.
He ended up serving 13 months and was allowed to leave the facility almost every day through a work-release program. Last year, Epstein died by suicide inside a federal prison while awaiting trial on new sex trafficking charges.
"Jeffrey Epstein should be rotting behind bars today, but the Justice Department failed Epstein's victims at every turn. The DOJ's crooked deal with Epstein effectively shut down investigations into his child sex trafficking ring and protected his co-conspirators in other states," Sasse said in his statement.
Two other federal investigations connected to Epstein's activities remain ongoing. This past summer, New York federal prosecutors, who are still investigation his sex trafficking ring, charged Epstein's alleged co-conspirator Ghislaine Maxwell with recruiting young girls for Epstein to abuse.
"Justice has not been served. The full report needs to be released to the public. OPR might have finished its report, but we have an obligation to make sure this never happens again," Sasse said on Thursday.
Last year, Acosta resigned as labor secretary. Sasse voted to confirm him in 2017. Acosta's involvement in the Epstein plea deal was well known when his nomination was being considered by the U.S. Senate.
Newsweek reached out to the Department of Justice for comment and was referred to the statement cited above.