Dismal Jobs Report Sees Payroll Increase Fall 300,000 Short of Estimates
Employment in the United States grew at a slower rate than expected in September, with new nonfarm payroll numbers falling about 300,000 shy of estimates.
Economists polled by Reuters had forecast an increase of 500,000, while economists polled by the Wall Street Journal predicted a similar rise.
Figures from the Bureau of Labor Statistics (BLS) showed nonfarm payroll employment rose by 194,000 in September, more than 300,000 shy of those predicted numbers.
According to a release from the BLS, thus far this year monthly job growth has averaged 561,000.
The number marked the smallest gain since December 2020, The Wall Street Journal reported. It was way below the figure for August, which was revised up to 366,000. The July figure was also revised up from 1,053,000 to 1,091,000.
On another point detailed by the BLS, the unemployment rate fell by 0.4 percentage point to 4.8 percent. This figure remains higher than it was pre-pandemic, when it was at 3.5 percent.
The release noted: "Notable job gains occurred in leisure and hospitality, in professional and business services, in retail trade, and in transportation and warehousing. Employment in public education declined over the month."
Job losses in education were a factor which held back jobs growth.
Employment decreased by 144,000 in local government education over the month, and by 17,000 in state government education.
The lower than expected growth could also, in part, be attributed to the spread of the Delta variant across the U.S. this summer, which led to spikes in coronavirus cases.
However, the number of people who detailed they had been unable to work due to the pandemic had declined, according to household survey data.
In September, 5 million people reported they did not work at all or worked fewer hours at some point in the last 4 weeks due to the pandemic—down from 5.6 million in August.
The labor force participation rate, which marks the percentage of the population working or actively looking for work, was steady at 61.6 percent, having been within a range of 61.4 and 61.7 since June 2020.
Average hourly earnings increased according to the BLS release, with the figure for private nonfarm payrolls rising by 19 cents to $30.85.
"The data for recent months suggest that the rising demand for labor associated with the recovery from the pandemic may have put upward pressure on wages," the release states.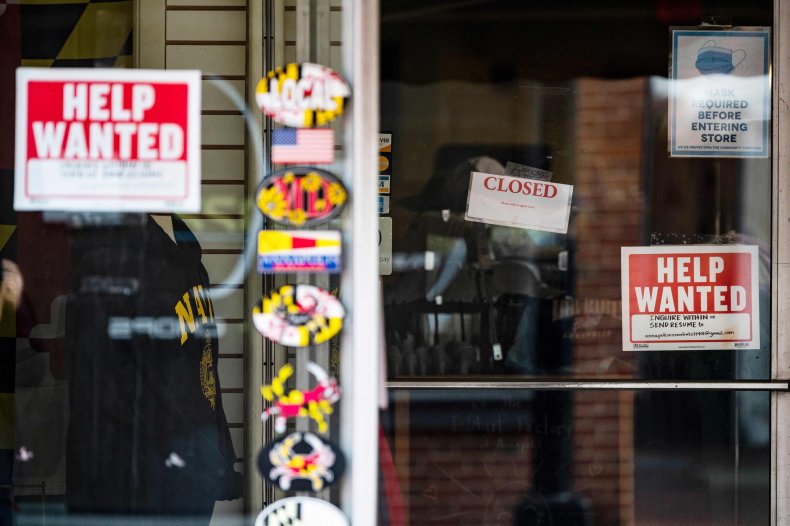 Update 10/08/2021, 10:30 a.m. ET: This article was updated with further context throughout.