Free College: More Than 53,000 Disney Employees Can Attend University of Central Florida
Thousands of Disney employees have attended college free of charge courtesy of their employer. Now over 50,000 people will be eligible to attend the University of Central Florida as well.
The Disney Aspire Education Investment Program, which launched in August 2018, covers the cost of tuition, registration fees and textbooks for Disney employees. At a time when over 40 million people have student loan debt and the cost of college has become a part of the 2020 presidential dialogue, Disney's program gives employees the chance for an education without the financial burden.
On Thursday, Disney announced that it was adding the University of Central Florida (UCF) to its list of education institution partners. In a joint statement, UCF and Disney said over 53,000 Florida-based Disney employees would be eligible for the program when classes begin in fall.
To qualify for the program, Disney employees must meet in-state residency requirements and gain admission to UCF. Once accepted, they can choose from 34 undergraduate and master's degree programs, 10 of which are fully online.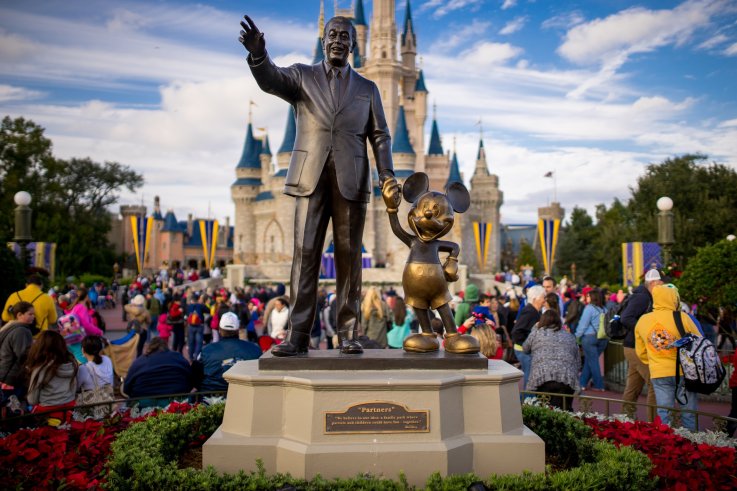 The University of Central Florida is in Orlando, Florida, where Disney World is also located. A student must be a legal resident of Florida for at least 12 months in order to claim in-state tuition.
"We could not be more excited to be working with Disney to make a high-quality college degree even more accessible," UCF Interim President Thad Seymour Jr. said in the statement. "Many of our students already are Disney employees who will immediately benefit, and this program has the potential to change lives in our community for generations."
Since launching the program in August, approximately 40 percent of Disney's 85,000 employees, equaling about 34,000 people, have signed up for the Disney Aspire program. Some of these people could be in the process of gathering the necessary documents, including transcripts, or waiting for classes to begin. Currently, over 6,000 Disney employees are actively taking classes.
Among the educational opportunities available through the Disney Aspire program are earning a bachelor's degree, master's degree, high school diploma and learning a trade.
"They're showing confidence in us," eCommerce Sales & Service Agent Craig J. Plummer, who took advantage of the program, told Disney. "There's no obligation to take a degree in the job you're already in—you can choose where you want to go with your education. So, for the younger people who are just starting off and don't know what they want to do when they are higher up in the company, this gives them the opportunity to work toward a degree."
Leanne Morgan, a sales coordinator at Walt Disney World Resort, said Disney Chairman and CEO Bob Iger wanted every employee to pursue education because "knowledge is powerful."
George A. Kalogridis, president of Walt Disney World Resort, credited the addition of UCF with providing Disney employees with even more options to "create the futures they imagine." In the statement, he added that the Disney Aspire program enables employees to "dream bigger and reach higher."