Disney Casts Halle Bailey as Ariel in Live-Action Remake of 'The Little Mermaid'
Disney on Wednesday announced that their search for an Ariel in their upcoming live-action remake of The Little Mermaid had come to an end, casting 19-year-old R&B singer Halle Bailey as the princess.
Rob Marshall, who will be directing the film, said: "After an extensive search, it was abundantly clear that Halle possesses that rare combination of spirit, heart, youth, innocence, and substance — plus a glorious singing voice — all intrinsic qualities necessary to play this iconic role."
Bailey has made a name for herself alongside older sister Chloe, 21, in the R&B group Chloe x Halle. The pair first rose to prominence in 2013 in when their cover of the Beyoncé song "Pretty Hurts" landed Bailey and her sister a music contract with Parkwood Entertainment.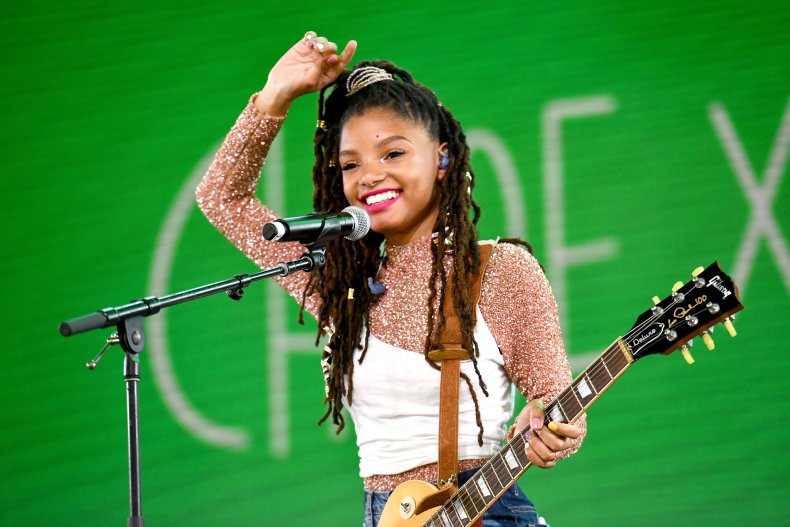 Working as Beyoncé's protégés, the pair went on to release a mixtape, The Two of Us, and a studio album, The Kids Are Alright. The duo opened for Beyoncé during the European leg of her 2016 tour. In 2018, the two would go on to open for Beyoncé and husband Jay-Z during the U.S. leg of the On the Run II tour.
This isn't the first time Disney has cast a woman of color in the role of a traditionally white human-princess character. In 1997, singer Brandy Norwood played the title role of Cinderella which aired as part of the "The Wonderful World Of Disney" made for television film series.
Many people took to social media to applaud Disney for the casting choice. Culture writer Evette Dionne tweeted: "Halle Bailey, a Black teens who wears locs, being cast as a Disney princess is what dreams are made of. Imagine what just seeing her onscreen will do for this generation of Black girls."
But not everyone took to social media to praise Disney.
In response to another tweet, @StonewallTabor tweeted: "How is it racist, out of curiosity? In EVERY representation of Ariel I've ever seen, including video games, Ariel has been a white female. I'm not saying she can't be black, but it's just strange. That's like having a white guy play Martin Luther King Jr. Just weird."
According to a press release, the film will feature music from the original 1989 animated classic, including songs by Alan Menken and Howard Ashman, in addition to new songs written by Hamilton creator Lin-Manuel Miranda.
The Little Mermaid is also set to star Melissa McCarthy as Ursula and Awkwafina and Jacob Tremblay. Production is expected to begin next year.