Disney CEO Called DeSantis to Oppose 'Don't Say Gay' Bill After Backlash
Following backlash over Disney's silence on Florida Legislature's "Don't Say Gay" bill, CEO Bob Chapek announced that the company is taking a public stance on the matter and that he has personally called Governor Ron DeSantis to oppose the measure.
During Disney's annual shareholder meeting on Friday, Chapek took time to address the controversy before the question-and-answer period, saying, "While [the company has] been strong supporters of the community for decades, I know that many are upset that we did not speak out against the bill."
"I called Governor DeSantis this morning to express our disappointment and concern that if legislation becomes law, it could be used to unfairly target gay, lesbian, nonbinary and transgender kids and families," the CEO said. "The governor heard our concerns and agreed to meet with me and LGBTQ+ members of our senior team in Florida to discuss ways to address them."
Disney has faced widespread criticisms since Chapek declined to condemn the bill, which would ban discussion of "sexual orientation or gender identity" in Florida public schools, earlier this week.
On Wednesday, Chapek said that the company had chose not to publicly address the bill in favor of working "behind the scenes" with lawmakers with whom the company has long-standing ties.
"We were opposed to the bill from the outset, but we chose not to take a public position on it because we thought we could be more effective working behind the scenes engaging directly with lawmakers on both sides of the aisle," the CEO said during the meeting. "We were hopeful that our long-standing relationships with those lawmakers would enable us to achieve a better outcome, but despite weeks of effort, we were ultimately unsuccessful."
Chapek announced that Disney would sign a statement from the Human Rights Campaign opposing other similar legislative efforts across the country and that the company would pledge $5 million to organizations working to protect the rights of LGBTQ individuals.
"As I wrote to our employees earlier this week, we are committed to supporting community organizations like these so they are better equipped to take on these fights," he said. "Meanwhile, we're also reassessing our approach to advocacy, including political giving in Florida and beyond. I understand our original approach—no matter how well intended—didn't quite get the job done, but we're committed to support the community going forward."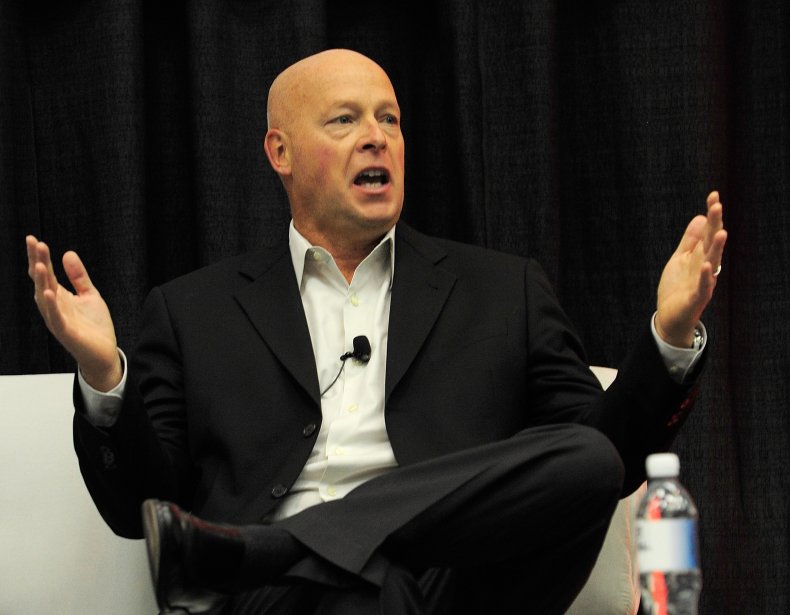 During the question-and-answer session, one shareholder asked Chapek how he plans to continue supporting Disney cast members should the meeting with DeSantis be unsuccessful in swaying the governor from signing the bill into law.
"Governor DeSantis committed to me that he wanted to make sure that this law could not be weaponized in any way—by individuals in the state or groups in the state—to, in any way, unduly harm or target gay, lesbian, nonbinary or transgender kids and families," the CEO answered. "He suggested that what we could do is take a look at the legislation as written…and come up with ideas and concerns of specific aspects of that legislation, which would lead to the, as I call it, the weaponization of it."
Other shareholders took issue with some of Disney's newer content, accusing the company of "indoctrinating children and attendees" with events and movies, such as the upcoming LGBTQ pride march and the potential casting of a transgender child actor.
"I think all the participants in today's calls can see how difficult it is to try to thread the needle between the extreme polarization of political viewpoints we have as shareholders," Chapek said. "What we want Disney to be is a place where people can come together and place their differences aside, and it's my goal to make sure that that continues to be the case where Disney as a unifying force, not a divisive force."
"My opinion is that when someone walks down Main Street and comes in the gates of our parks, they put their differences aside and they look at what they have [which] is a shared belief—a shared belief of Disney magic, hopes, dreams and imagination and bringing people together," he added.
Chapek also said that while Disney donates to money to political candidates across the spectrum, the company has "no idea" how they may vote in the future. He said the company will reconsider its political giving moving forward to ensure that those donations will be more in line with the company's values.
"We give to both sides of the aisle, to candidates across the board, in all states and all jurisdictions. Therefore, anybody can pretty much take any issue and do a cross-sectional slice of it and say Disney supports this group," he said. "I would also suggest that if you look at it you'll probably find that Disney supported the detractors from that particular piece of legislation just as well."
"It's a sort of a process that loops back on itself continually and will always get better but we appreciate your question," Chapek added.