Disney Dreamlight Valley: Iron Ore Location, How to Make Iron Ingots
Disney Dreamlight Valley has plenty of critters and items for you to collect as you upgrade your village and meet up with some of Disney's most iconic characters.
Released earlier this month, following the first Disney and Marvel Games Showcase, the life simulation title allows players to hang out with iconic characters like Elsa, Mickey Mouse and Goofy. You can also collect resources and craft special items, like Iron Ore and Iron Ingots.
When you aren't busy feeding foxes their favorite food or hanging out with your favorite Disney character, you'll need to collect these important resources. Some of these resources, like cooking ingredients, can be grown using the game's farming system. Others, though, will require you to collect them from around the island or craft them by combining multiple items together.
One such resource is Iron Ore. Iron Ore, like many of the other resources in the game, can only be collected from specific biomes. You'll need to mine for Iron Ore by equipping your pickaxe and traveling around the village to the different nodes that appear throughout.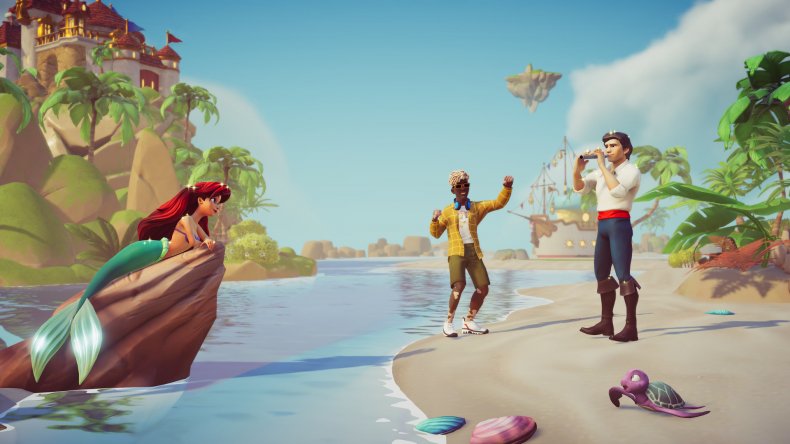 When mining for Iron Ore, you will also want to invite a villager along. Each villager you reach a high enough friendship level with can be assigned a different task to help with. Bring whoever you have a high level with who is assigned to mining, and you'll increase your chances of acquiring even more Iron during your gathering runs.
Once you're ready, head to one of the following regions to get started:
Forest of Valor
Frosted Heights
Glade of Trust
Sunlit Plateau
Forgotten Lands
If you haven't unlocked some of these areas, then you may need to farm for Dreamlight, which you can then use to unlock the different areas around the valley. These regions also allow you to unlock new characters in Disney Dreamlight Valley, so it is recommended to start unlocking them early on.
Mining nodes can usually be found along the sides of areas. These nodes often show up as dark, black-colored outcroppings, and they respawn fairly quickly—you can actually enter your house and then exit it to cause many of them to respawn faster.
The best way to farm for Iron Ore is to go around the mining nodes in the regions listed above and keep collecting all of the items they drop. After a while, you should stack up a nice collection of Iron Ore you can then turn into Iron Ingots.
Now that you've equipped yourself with some Iron Ore, it's time to start making Iron Ingots. To make this item, you must combine five Iron Ore with one Coal Ore.
Coal Ore can be gathered from mining nodes all around the game world, so chances are you probably already have a nice chunk of it saved up from earlier expeditions. If not, simply repeat the process outlined above to stock up.
You'll need to visit a crafting bench or workstation to craft Iron Ingots. Iron Ingots are used in many recipes and are often needed to complete friendship quests for certain characters.
Disney Dreamlight Valley is currently in early access on PC. It can also be played on Xbox, PlayStation, and Nintendo Switch consoles.