Disney Employee Running for Congress Says Company 'Straying' From Values
A Disney employee claims that the company is straying from its values by condemning Florida's so-called Don't Say Gay bill.
Jose Castillo, a congressional candidate in Florida, appeared on Fox News on Wednesday to discuss the company's response to the bill, HB 1557. He claimed that a "silent majority" of employees at the company support the bill, although corporate offices are listening to the loud minority of employees that don't.
He said that "Disney [is] straying far away from the values that made this company the household name" around the world.
"Floridians, including Disney employees, democratically elected Florida's state House representatives and state senators, and those elected officials passed this law," Castillo said, "and then, thank God, Governor DeSantis signed it into law."
The text of HB 1557 establishes that "classroom instruction by school personnel or third parties on sexual orientation or gender identity may not occur in kindergarten through grade 3 or in a manner that is not age appropriate or developmentally appropriate for students in accordance with state standards."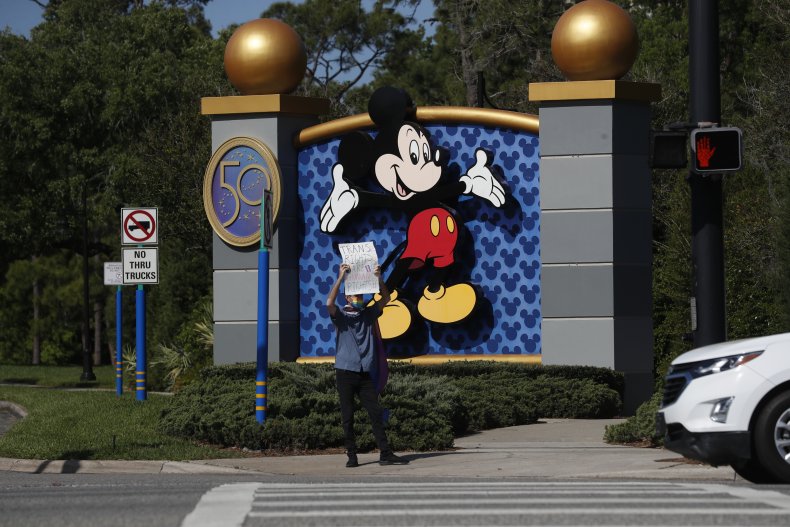 The bill seeks to reinforce "a parent's fundamental right to make decisions regarding the care and upbringing of his or her child in the public school setting."
Opponents of the bill argue that it creates an artificial panic, potentially setting the stage for more restrictive bills regarding discussion of LGBTQ identity in the future.
Castillo told Newsweek that he works as a resort hospitality manager at Disney World. Outside of supporting HB 1557, he said that his main drive to run for Congress was to ensure that hospitality workers such as Walt Disney World cast members are treated fairly.
"People in my industry need a voice," Castillo told Newsweek, "and I'm happy to be that voice."
Newsweek reached out to Walt Disney World for comment but has not received a response.
Shortly after the interview was published, the Human Rights Campaign released its Business Statement on Anti-LGBTQ State Legislation, which was signed by more than 200 companies. The Walt Disney Company was among the companies to sign, along with fellow Florida theme park operator Comcast NBCUniversal.
"We are deeply concerned by the bills being introduced in state houses across the country that single out LGBTQ individuals - many specifically targeting transgender youth - for exclusion or differential treatment," the statement says.
During his Fox News interview, Castillo said that Disney was prioritizing the "loudest voices in the crowd" regarding social or political issues, no matter how large the crowd actually is.
"There is immense pressure to toe the company line," the candidate said at the time. "The Disney cast members who support the parental rights defended by HB 1557 far outnumber those who are protesting against it.
"That is why I am standing up for our shared conservative values," he continued, "to show other conservative cast members like me that we need to speak up and stand strong."
Disney Do Better Walkout, which organized recent walkouts in Florida and California over the company's response to the bill, recently posted anonymous messages by cast members who participated in the protest.
"What is most interesting is the fake outrage over a company supporting their employees. The ones who abhor cancel culture are now trying to push cancellation. Ironic much?" wrote one employee.
"They have to take out of context clips and won't post the entire video because, it goes over the don't say gay bill in detail, it's history and effects and how it does nothing for parents," another wrote. "It's there only to campaign for the bigot vote."
Update 3/31/22, 10:45 a.m. ET: This story has been updated with additional information.