Woman Caught Sneaking Child Into Disney Using Her Pram Splits Views
A video of Disney theme park guests who allegedly hid a child in a baby buggy to avoid paying an admission fee for the kid has gone viral on TikTok, where it received eight millions views at the time of this writing.
The video, shared from the TikTok account Disney Stuff! in a duet with TikToker myfrienditsmebarbie, was overlaid with a message that read: "When Disney ticket prices go up."
According to the caption shared by Disney Stuff! alongside the video, the venue is the Magic Kingdom theme park at the Walt Disney Resort in Florida.
According to the Disney website, "children younger than age three don't need a ticket," while those aged 10 and older are charged adult ticket prices.
Newsweek contacted Disney, but the company declined to comment.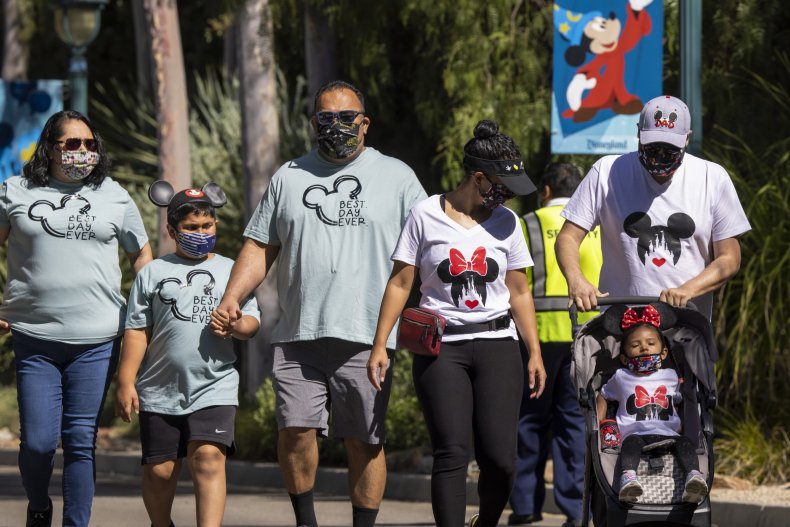 The price of certain attractions have hit a peak since 2017, according to research on theme park price hikes conducted by DealA, a free coupon codes website, the ConsumerAffairs website reported in March 2022.
Those visiting Disney World could be facing a bill of $154 per day for each child, according to the research.
In a 2022 survey of 30 theme parks across 19 U.S. states by the home rental company HomeToGo—which ranked the venues according to the total cost of a one-day adult ticket, parking and accommodation for the upcoming season—Magic Kingdom was found to be the least affordable.
The venue was reported to charge $129 for admission, $25 for parking and $126.80 per person per night, amounting to a total cost of $280.80.
Five of the ranking's top 10 most expensive parks were Disney venues, with California's Disneyland Park and Disney California Adventure Park both charging an admission fee of $149 (the highest among the parks surveyed).
Entry fees at Disney's Hollywood Studios and Animal Kingdom parks in Florida were reported to be $129, according to the survey.
The latest viral video showed two women near a pram covered with a blanket, as one of them scan a ticket in front of Disney workers. After the scanner lit up with a green circle, the two women were shown pushing the pram past the workers, while smiling back at them.
The clip later showed them on the park grounds, with one woman lifting a child out of the pram from underneath a blanket.
A caption shared alongside the video by myfrienditsmebarbie, one of the original posters, read: "Poor kid was in an infant car seat."
Several other TikTokers were amused by the latest video and several sympathized with the women in the clip.
In a comment that got 73,800 likes, Kayla Barilla said: "We just teach our kids to lie about their age [crying laughing emojis] but this is epic [crying laughing emojis]."
Vanessa Garcia said: "My parents use to make me do this [crying laughing cat emoji]."
In a comment that got 19,500 likes, user teresa said: "u know what's funny I took my son to Universal and for 3 of us was more than disney."
In a comment that got 12,400 likes, Maddy claimed: "Worked the front gates, trust me we know [crying laughing emoji] we are told to just let it go."
User iCKEST also said they "worked the entrance in the past" and "let me just tell y'all, they didn't pay enough to care THAT much. I see a stroller, kid says [they are] '2 [years old],' have a nice day."
In a comment that got 11,100 likes, Eva Salinas said: "It looks like the cast member [Disney worker] noticed but she pretended to not see the little girl but her smile says it all!"
Newsweek has contacted the original posters, Disney Stuff! and myfrienditsmebarbie, for comment. The latest video has not been independently verified.
Do you have a similar video to share? Let us know via life@newsweek.com and your story could be featured on Newsweek.