Disney has racked up $34 million in Black Friday ticket sales for Frozen 2, a sequel to its 2013 predecessor, Deadline reported.
Earlier this month, the movie earned $127 million in domestic box office sales during its opening weekend, which began on November 22. The profits have made it the third-highest animated feature opening of all time, behind fellow Disney sequels Incredibles 2 and Finding Dory, as reported by CNBC. The outlet went on to note that the movie earned $223 million in theaters outside of the United States in its first three days, generating a total of $350 million worldwide.
Meanwhile, Friday's $34 million earnings across the United States only added to its projected earnings for the five-day Thanksgiving stretch, which is estimated to be about $128 million, according to Variety.
"It speaks to Disney's ability to draw out families on major movie-going holidays," said chief box office analyst Shawn Robbins in an interview with CNN Business on Friday. "Frozen 2 appeals to all ages and with families together for Thanksgiving it makes perfect sense why the film would have a strong showing this weekend."
Frozen 2 showcases voice actors Idina Menzel (Elsa), Kristen Bell (Anna), Josh Gad (Olaf) and Jonathan Groff (Kristoff) reprising their respective roles with new songs from Kristen Anderson-Lopez and Robert Lopez such as "Into the Unknown," "The Next Right Thing," "Show Yourself" and "When I Am Older."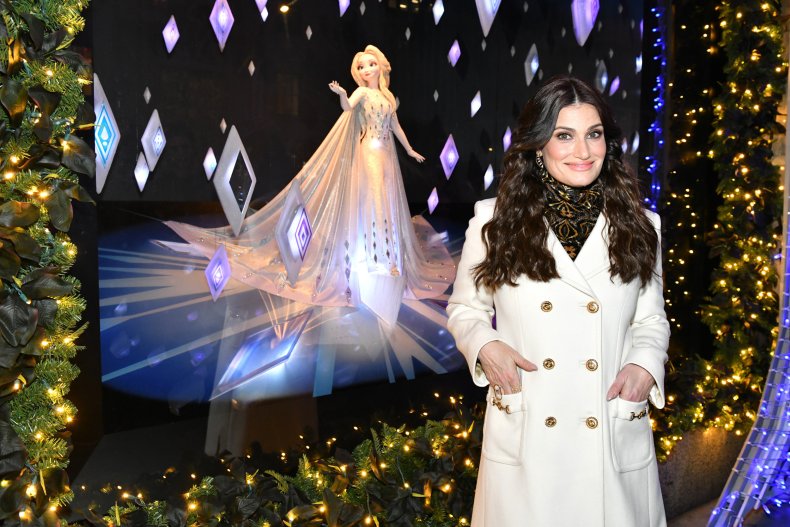 However, while Frozen 2 may have outperformed the original movie—which grossed $93 million during its opening weekend—in terms of sales, its critical reception seems a bit chillier. NBC wrote that while Frozen had garnered an "A+" on CinemaScore, the sequel received an "A-." Additionally, Frozen II only scored a 75 on Rotten Tomatoes, which is 15 points lower than the original's rating.
In fact, the first Frozen—which won two Academy Awards, a Golden Globe and a BAFTA—may be a pretty tough act to follow in more ways than one.
"I get cocky in the studio," said Menzel, who hits an E flat for "Into the Unknown," very much in the style of award-winning Frozen hit, "Let It Go." Speaking with USA Today, she continued: "I start to feel good. I go, 'I can hit that.' And then I wake up another morning, and I'm like, 'What did I do to myself?'"
However, in a November interview with Entertainment Weekly, Bell said she was not nervous about reprising her role or trying to duplicate the experience. "If you bake a cake and it's perfect and then you bake a second one with the same ingredients, statistics will tell you that you're gonna have a great cake," she said.