Disney has become the center of a media firestorm over its delayed criticisms of an anti-LGBTQ parental rights bill in Florida, dubbed the "Don't Say Gay" bill by its opponents.
The legislation in the Sunshine State isn't the only bill in the country that's recently been introduced in an attack on the LGBTQ community—but Disney has yet to take the stance against them in the way it has for the Florida bill, even though the company has well-known connections in those states.
While Disney CEO Bob Chapek finally publicly addressed the "Don't Say Gay" bill earlier this month, Disney employees seem unconvinced that Disney is as committed to advocating for the LGBTQ community as it has claimed in recent weeks. On Tuesday, Disney workers across the country were reportedly planning a full walkout in protest.
The bill in Florida is one of many that have been introduced across the country this year. In just the first three months of 2022, 38 states have introduced legislation related to LGBTQ discrimination, according to a tracker from Freedom For All Americans.
The "Don't Say Gay" bill is one of 12 that have been filed in Florida. It would ban classroom discussions of sexual orientation and gender identity in grades K -3 "or in a manner that is not age-appropriate or developmentally appropriate" for older students.
A similar bill, which would restrict these conversations in private schools, has been introduced in Georgia—a favorite shooting location of Disney's. The company has filmed dozens of blockbusters, like Avengers: Endgame, in what has been nicknamed the "Hollywood of the South."
Disney was also notably silent on the state's voting law last summer as companies and celebrities like Netflix, Amazon, ViacomCBS, George Lucas, Leonardo DiCaprio and J.J. Abrams signed a letter criticizing the law.
There have been six anti-LGBTQ bills filed in Georgia this year.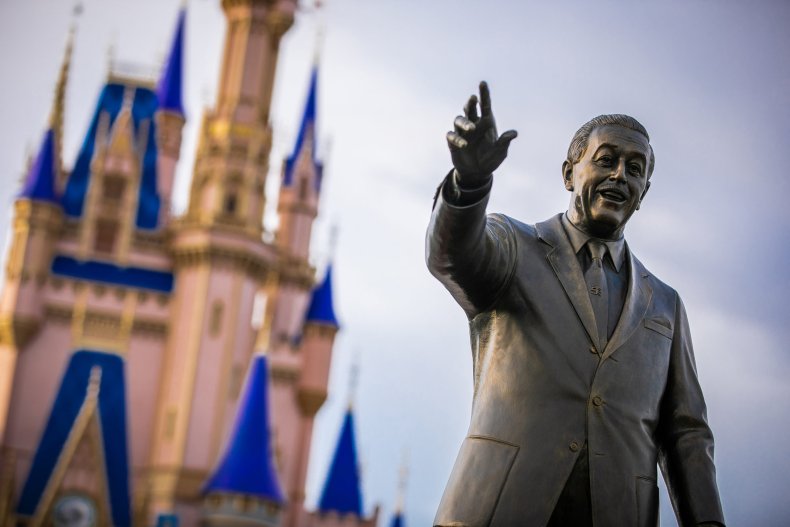 In Texas, where Disney has multiple business units, Governor Greg Abbott issued an order that would allow the state's Department of Family and Protective Service to take away the children of parents who allowed them to receive gender-affirming medical treatment.
Over 1,400 businesses that are part of Texas Competes, which describes itself as "a coalition of businesses and pro-business organizations united by the recognition of the business case for equality in our state and our communities," signed a letter condemning the directive, writing that "it is at stark odds with our members' values and competitiveness." Disney, which is not a member of the group, has not made any public statements on the order, which has been temporarily blocked by a Texas judge.
Radio Disney and ESPN, both owned by Disney, also have studios in Nashville, where state lawmakers have introduced a bill that would ban classroom materials promoting, normalizing or supporting issues "such as lesbian, gay, bisexual, and transgender (LGBT) lifestyles."
The legislation is one among 31 in Tennessee—the state with the highest number of anti-LGBT bills introduced in 2022.
"Disney has come under fire for not speaking up and taking substantial action in Florida because they are one of the state's largest employers," the Equality Federation's executive director Fran Hutchins told Newsweek. "Other businesses around the country in states where similar anti-LGBTQ legislation is moving should take note. Their voices are an important part of a chorus calling for an end to discrimination and harm against LGBTQ people."
The Human Rights Campaign, which Chapek named as one of the organizations advocating for LGBTQ rights that Disney would donate $5 million to, has also vowed not to accept Disney's money until it "build[s] on their public commitment and work with LGBTQ+ advocates to ensure that dangerous proposals, like Florida's Don't Say Gay or Trans bill, don't become dangerous laws, and if they do, to work to get them off the books."
On Tuesday, HRC's interim president, Joni Madison said the organization stands in solidarity with Disney employees participating in the walkout.
"These employees know that corporations like Disney have a real role to play in combating discriminatory legislation – not only the 'Don't Say Gay or Trans' bill in Florida, but also the attacks on transgender youth we're seeing in states like Texas and Alabama," Madison said in a statement. "We are grateful to the brave employees who understand the power of their voices to make real change, and whose actions have already generated progress. We are cheering you on."
Newsweek reached out to Disney for comment but did not hear back in time for publication.