Ranked: All of Disney's Live-action Remakes from "The Jungle Book" to "Dumbo"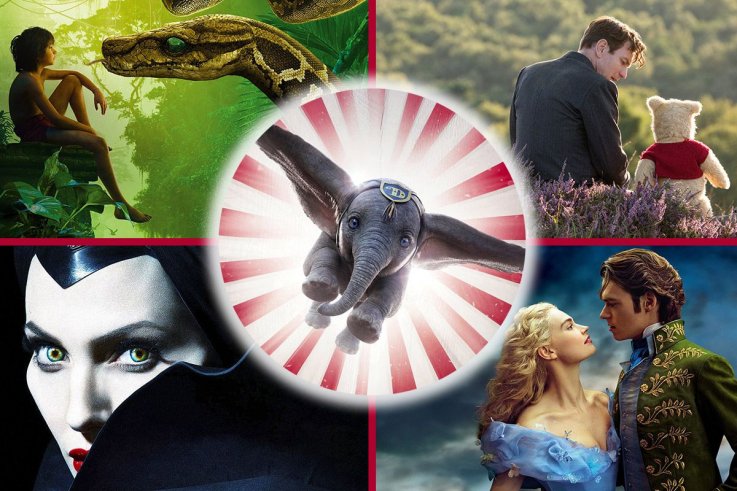 Tim Burton's Dumbo, which goes on general release this week, is Disney's latest live-action remake of one of its own animated movies. The 2019 version, starring Colin Farrell, Michael Keaton, Danny DeVito, Eva Green and a flying CGI elephant, is nearly twice as long as the 1941 original.
Early reviews have not been kind about the extended version. Peter Bradshaw of The Guardian wrote: "It is a flightless pachyderm of a film that saddles itself with 21st-century shame at the idea of circus animals, overcomplicating the first movie, losing the directness, abandoning the lethal pathos, mislaying the songs and finally getting marooned in some sort of steampunk Jurassic Park, jam-packed with retro-futurist boredom that had the kids at the performance I attended talking among themselves."
Ouch! Fortunately, some of Disney's beloved cartoons have had a far less painful transition into the modern world. Kenneth Branagh's Cinderella (2015) was praised for sticking closely to its source material. In a review, Ben Sachs of The Chicago Reader wrote: "The visual design is exquisite, coming remarkably close to replicating the original movie's Technicolor splendor."
Jon Favreau's 2016 version of The Jungle Book was almost universally praised as a rare remake that actually improved upon its predecessor—while setting a new standard for CGI.
And Bill Condon's faithful 2017 live-action remake of Beauty and the Beast was similarly garlanded with praise: "If you thought it was a bad idea to mess with a classic, Beauty and the Beast will persuade you that a tale as old as time is worth retelling," wrote Calvin Wilson in the St. Louis Post-Dispatch, while Brian Lowry of CNN added: "If all of Disney's live-action efforts are as exceptional as this one, by all means, be our guest."
Sadly, as Burton's Dumbo and Alice in Wonderland prove, they haven't all been that exceptional—and they aren't even the worst offenders. Yet there are plenty of live-action remakes in the pipeline. What fate awaits Guy Ritchie's version of Aladdin—with Will Smith stepping into Robin Williams's genie slippers—and Favreau's adaptation of The Lion King?
Newsweek has analyzed data from review aggregation websites Rotten Tomatoes, Metacritic and IMDb to rank all of the Disney live-action remakes released so far from worst to best. (We have not included the studio's remakes of animated movies made by other studios, but we have included the live-action/animation hybrid Pete's Dragon.)