Disney Parks Magical Christmas Day Parade 2021: Route, Time, How to Watch Broadcast
The Disney Parks Magical Christmas Day Parade broadcast will soon be airing, enabling everybody to vicariously live out what it's like to be at the happiest place on Earth over the holidays.
In case you are not familiar with this annual show, it ostensibly takes place on Christmas Day (although it is often pre-recorded) and sees iconic characters like Mickey and Minnie Mouse, Goofy, Donald Duck, Chip 'n Dale and Pluto all making their way through the Disney theme parks.
These mascots will typically be accompanied by musical performers, celebrities, marching bands, dancing troupes and even school groups as well. The parade then culminates with a special guest appearance from Santa Claus himself, who will be sitting atop his signature float.
The Disney Parks always take special occasions—like Halloween and Thanksgiving—very seriously, but they really go all out for Christmas. For its 50th anniversary year alone they have had the tree stroll at the Disney Springs shopping complex, the festival of the holidays over at EPCOT and, as per tradition, the California resort has temporarily renovated The Haunted Mansion into a Nightmare Before Christmas ride.
The Christmas parade is one of the biggest events though, especially when you consider that it now airs on December 25 itself. It's always been a pretty big deal, with even Walt Disney himself getting involved with the celebrations and acting as a tour guide for the 1962 iteration.
What Is the Disney Parks Magical Christmas Day Parade Route?
As always, the 2021 Magical Christmas Day Parade will be taking place at the two U.S.-based theme parks, those being Disneyland over in Anaheim, California and Walt Disney World in Orlando, Florida.
The latter is a full resort comprised of 40 square miles of land (comparable to the size of San Francisco) and several different parks. So, to narrow it down a little more, the Christmas Day Parade will be held in The Magic Kingdom area specifically.
In both cases, the parade will go down the Main Street U.S.A district of the respective parks, which is essentially the entrance path that leads up to the iconic Cinderella Castle. This land is designed to resemble an idealized turn-of-the-century American town, like the kind Walt Disney himself grew up in.
What Time Is the Disney Parks Magical Christmas Day Parade?
Both the Anaheim and Orlando Christmas Day parades are compiled into one broadcast that will air on Saturday, December 25.
In terms of the specific timing, it will start at 10 a.m. ET and last until 12 p.m. ET.
How to Watch the Disney Parks Magical Christmas Day Parade 2021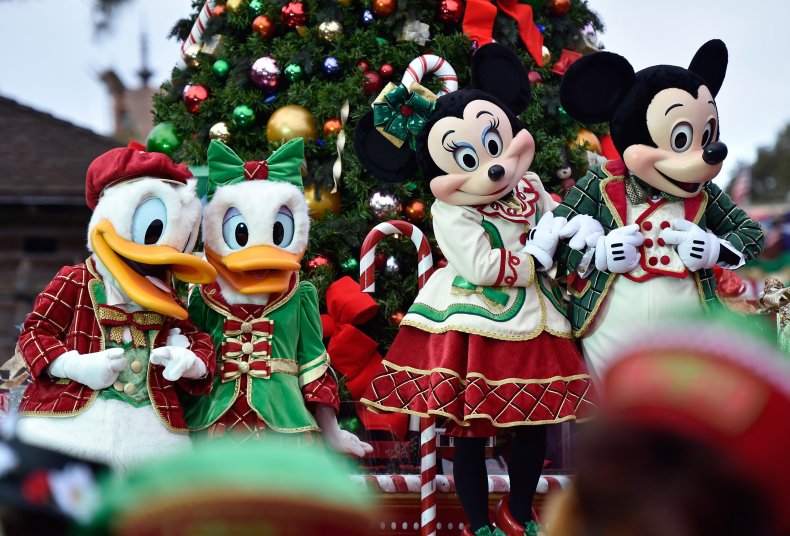 To watch the broadcast, you will need to tune in to ABC (which is a subsidiary of The Walt Disney Company) as it happens live.
The Walt Disney World Orlando coverage will be hosted by Derek and Julianne Hough, while Trevor Jackson (Grown-ish) and Sherry Cola (Good Trouble) will be presenting from Disneyland in California.
If you happen to miss the broadcast, then it will be available to stream the following day (December 26) on Hulu.
Sneak Peeks and Musical Performances
If you watch the full broadcast, you will also be treated to a few extras, including sneak peeks at upcoming attractions at the various Disney Parks.
For example, you will be able to get an inside look at the Star Wars: Galactic Starcruiser experience (which mixes together a theme park trip, a hotel stay and role-playing activities all into one package), preview a voyage on the all-new Disney Wish cruise ship and take a glimpse behind the scenes at films like Encanto and West Side Story.
There will also be the following musical performances during the Disney Parks Magical Christmas Day Parade.
Derek Hough and Julianne Hough – "Santa Claus is Comin' to Town"
Jimmie Allen – "White Christmas"
Kristin Chenoweth – "Have Yourself a Merry Little Christmas"
Darren Criss – "Christmas Dance"
Meg Donnelly – "Jingle Bell Rock"
Brett Eldredge – "Rudolph the Red-Nosed Reindeer"
Norah Jones – "Run Rudolph Run"
Pentatonix – "I Saw Three Ships"
Gwen Stefani – "Cheer for the Elves"