Granddaughter of Disney Cofounder Dumbfounded After Large Crowds Gather at Magic Kingdom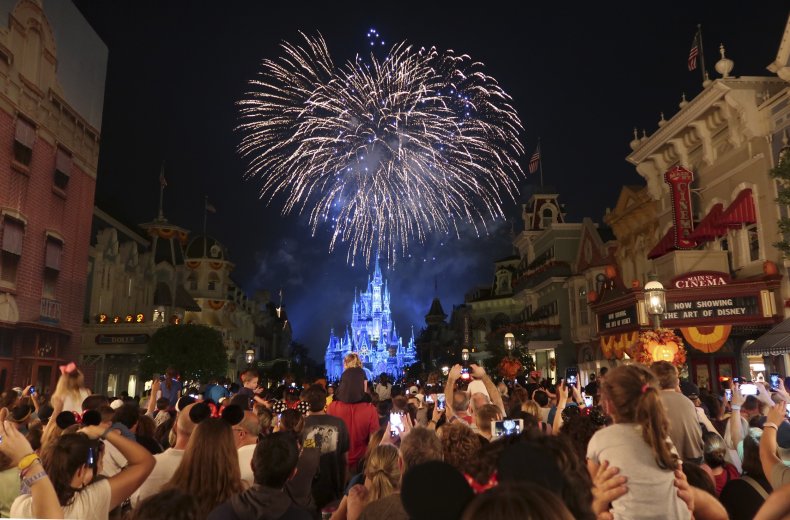 Despite the surge of confirmed coronavirus cases in the United States, plenty of people still attended the final showing of the "Happily Ever After" fireworks show at Disney World's Magic Kingdom over the weekend, sparking outrage from Abigail Disney, the granddaughter of the Walt Disney Company's co-founder, Roy Disney.
The filmmaker and philanthropist was shocked to see photos of the Florida park so crowded on Sunday. "Are you f**king kidding me??" Disney wrote on Twitter in response to a report on the crowd size.
The huge turnout on Sunday marked the final Magic Kingdom fireworks show and visitors' last chance to see Mickey, Minnie and all of their friends before Disney parks were officially shut down.
On Thursday, the Walt Disney Company announced it would close all of its theme parks as of Sunday, in response to the growing concern surrounding the spread of coronavirus.
"In an abundance of caution and in the best interest of our guests and employees, we are proceeding with the closure of our theme parks at Walt Disney World Resort in Florida and Disneyland Paris Resort," the corporation said in a statement.
The company added that more of its properties—including park hotels, restaurants and shopping centers—would also close in Downtown Disney in Anaheim, California, and Disney Springs in Orlando, Florida, as of Tuesday. Walt Disney World Resort and Vero Beach Resort are also expected to close on Tuesday, along with all Disney stores in North America.
The closures are expected to last throughout the remainder of March.
Disney isn't the only amusement park closing its doors in light of the coronavirus outbreak. Universal Studios in Orlando and the Universal Orlando Resort announced its closure on Thursday. Meanwhile, SeaWorld said it would shut down its properties on Monday and remain closed for the rest of the month.
"During this time, essential personnel, including animal care experts, will continue to look after the health, safety and nutritional needs of the animals in our care," SeaWorld said in a statement." "Our animal rescue and rehabilitation operations will also continue to operate."
SeaWorld also said it would pay full-time "ambassadors" during the shutdown.
Coronavirus cases in the U.S. increased sharply over the weekend. As of Monday, there were more than 3,485 cases of the virus confirmed across 49 states and 65 deaths reported.
The rapid spread of the disease has interrupted the way of life for people all across the country as state officials have announced closures of schools and restaurant and bar service in an effort to prevent any further spread.