When Disney+ launched on November 12, 2019, one year ago, it was seen by many as the start of the "streaming wars."
Of course, we have had multiple major streamers like Netflix, Amazon Prime Video and Hulu for years, but the difference with this new batch of streamers is that they were seen as the giant of entertainment getting into the streaming game, with Disney preceded by Apple TV+ (which launched November 1) and then followed by NBCUniversal's Peacock in April and WarnerMedia's HBO Max in May.
Plus, of course, Quibi, already the cautionary tale of the streaming market.
Though direct comparisons are difficult in a sector where the biggest players do not reveal a lot of data, Disney+ has definitely been one of the winners of the early battles of the streaming wars.
As of October 2020, Disney+ has 73 million global subscribers (as seen in the below chart from Statista), a milestone it took Netflix four years to hit, with Wired predicting that they will hit 100 million by 2025.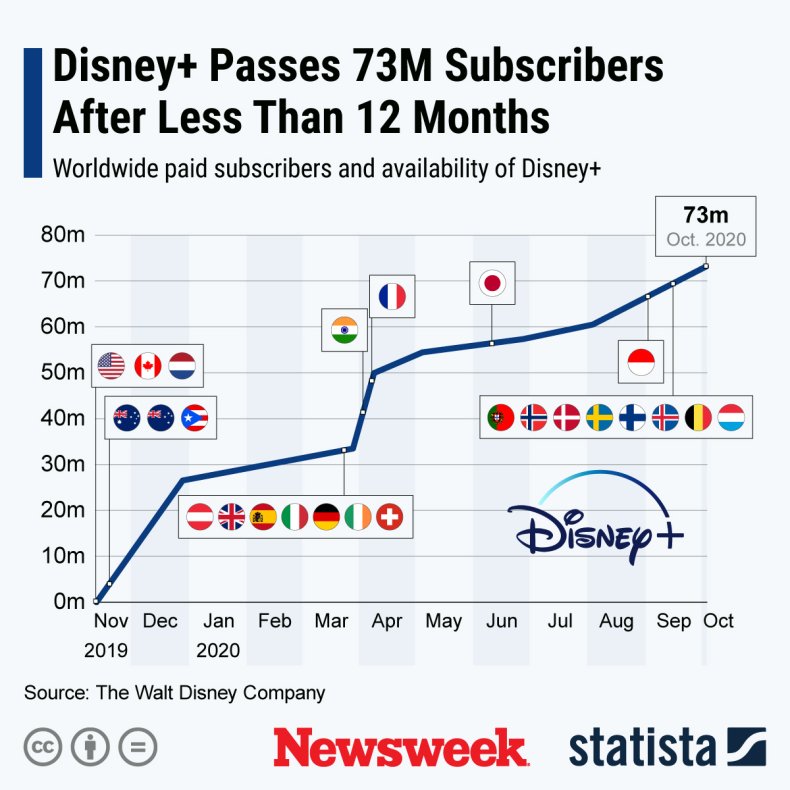 HBO Max meanwhile has nearly 40 million subscribers (as of October per CNN) while Peacock had 15 million by September (per CNBC). Of course, it should be noted that HBO Max and Peacock are U.S.-only services compared to the worldwide Disney+, and that it has a six-month headstart, but even so, Disney+ has a greater reach than those two streaming rivals combined.
In part, Disney+'s higher numbers are due to the way the service has managed to grab headlines every month or so with a major release. While Netflix has settled into a 'throw hundreds of series at the wall and see what sticks' approach, with many shows getting canceled early and huge hits like The Crown and Stranger Things few and far between, Disney+ has managed to create something that streaming was supposed to have killed: genuine cultural events, that everyone watched together.
Chief among these was Hamilton, which Disney secured in a fierce bidding war and then released a year early. Though Disney likely took a financial hit on this compared to their plans to release the musical into cinemas in 2021, it provided worldwide coverage for the young streaming service.
In fact, this has been a pattern for Disney+ this year, which was the beneficiary of a number of big movies that would have surely made bigger money for the streamer had they been released in cinemas. These include Onward, the Pixar movie released early to Disney+ after cinemas shut due to the coronavirus, the upcoming Soul, skipping theaters to come to the streamer on December 25, and Mulan, with which Disney risked the ire of movie theaters across the world by bringing it to the service early as premium content, costing an additional $29.99 on top of the usual $6.99 a month. The service also released films like Frozen II and Star Wars Episode IX early onto the streamer, which surely boosted subscriber numbers in the early coronavirus lockdown period.
This, however, means that the first year of Disney+ is not a good predictor of how the service is doing—of course, the service is successful due to it being the only place to see these huge movies, and it remains to be seen what it means for the service when cinemas reopen and it starts to rely again on a lower tier of movies like its live-action Lady and the Tramp (released to celebrate the launch of Disney+) and fare like The Secret Society of Second-Born Royals which once upon a time may have headed straight to The Disney Channel.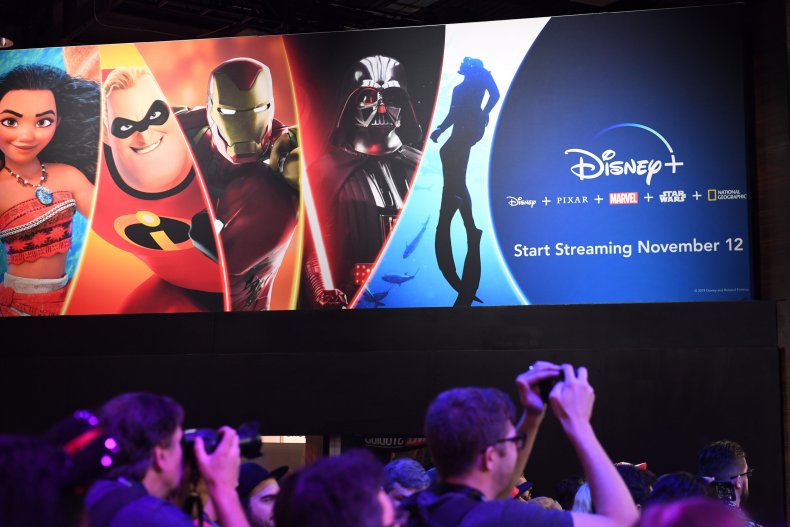 There is another way that the coronavirus stops us from getting a good picture of Disney +'s true success. The pandemic has caused most of the streamer's biggest upcoming projects to be delayed. Disney+ might lose future movies like Mulan to the cinemas, but it will soon have exclusive TV shows from the two biggest pieces of intellectual property (IP) in the entertainment industry, Marvel and Star Wars.
Among the upcoming shows that viewers can expect from Disney+ are new shows built around Loki (Tom Hiddleston) and Nick Fury (Samuel L. Jackson) from Marvel and Ewen McGregor's Obi-Wan Kenobi from the Star Wars prequels, which are sure to bolster subscriber numbers for years to come.
Disney's Marvel plans have already had a huge impact on the streaming landscape. Disney's decision to focus on TV shows featuring characters from the Marvel movies effectively led to the end of Marvel TV, bringing Netflix and Hulu's forays into Marvel shows like Daredevil and Inhumans to an ignominious end.
Disney's extensive use of its IP is likely to characterize the next set of battles of the streaming wars. When Warner, Disney and NBC entered the streaming race, they did it with the rights to hundreds of big-name properties, and if the first wave of streaming was all about new and original programming like Netflix's Orange is the New Black and Amazon's Transparent, the second wave will be all about remakes and reboots.
Among the upcoming programming nostalgia fans can look forward to are reboots of Battlestar Galactica and The French Prince of Bel-Air on Peacock, reimaginings of Gossip Girl and the long-awaited "Snyder Cut" of Justice League (plus the delayed Friends reunion) on HBO Max. Disney+, meanwhile, will also be raiding its IP vaults for new versions of Lizzie McGuire, The Mighty Ducks and Willow among many (many) others.
Viewing figures, however, suggest that the future of the streaming wars will actually be less about who is releasing what but more about who has what—that is, what old content each service has.
You can see this with Disney+'s most-viewed content over the last year. Per ratings aggregator FlixPatrol, Hamilton is the only "new" movie (that is, movie that was not released in cinemas first) in the 10 most-watched films on the service this year, with the remainder being a mix of recent films like Toy Story 4, Frozen II and Avengers: Endgame and older fare like Hocus Pocus, The Nightmare Before Christmas and the original Frozen.
Its TV top 10 reveals the same thing. Even though Baby Yoda felt like he was everywhere after the release of The Mandalorian onto Disney+, by far the most-watched thing on the service was its full catalog of episodes from The Simpsons. Though the Disney+ TV top 10 does include new content like Mandalorian and the final season of The Clone Wars, it also includes older shows like Once Upon a Time and Hannah Montana.
This, incidentally, could be one (of many) reasons for the failure of Quibi: It's complete lack of archive content meant that it had to have a massive breakout new show to bring in viewers, and though it tried to do this with recognizable stars rather than recognizable IP, clearly it was not successful.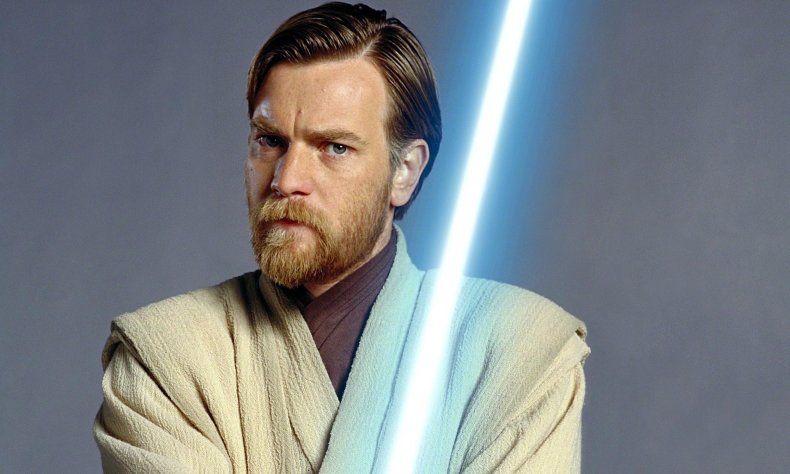 Of course, this could just be a sign of the small amount of new content available on the service, and may change once Disney starts releasing its Marvel shows.
However, it also seems to suggest that archive content is the bedrock of any streaming service. This could be bad news for Netflix and good news for major corporations who want to start streaming services. After all, the more companies that start streamers, the more archive content Netflix is set to lose to its original makers once its contracts start lapsing. This has already started to happen. The service lost Friends to HBO Max at the start of 2020, and in recent months has lost series like That '70s Show and Parks and Recreation.
The loss of the former is particularly notable, as it was not made by the companies behind HBO Max and Peacock. Instead, the show left Netflix because they were unable to make a deal with the production company behind That '70s Show, suggesting that the company asked for more money for the show now that Netflix has many upstart competitors.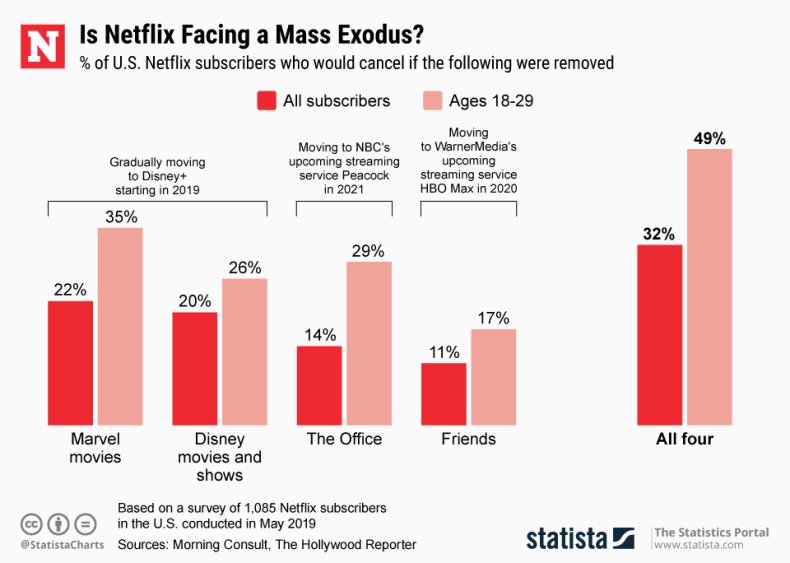 It remains to be seen what the loss of archive content will have for Netflix. Though the streamer's daily top 10s are dominating by Netflix original series, archive content clearly provides big viewer numbers for them (particularly in the movie charts).
The first indicator will be when Netflix loses The Office in January 2021, as that is probably their biggest archive show, which regularly makes the Netflix daily top 10s. The streamer's roster of CW shows like Riverdale, All American and The Flash also are regulars on this chart, and while Netflix has a contract to air these for now, that will not last forever.
All of this, however, will be good news for Disney+, whose only real rival in archive content is HBO Max. As the service has the rights to the grand majority of content made by Disney, ABC, Marvel, Star Wars, National Geographic and Fox, the streamer will always have an impressive roster of legendary movies, and could also potentially become the home of long-running family-friendly hits like Modern Family (from ABC).
It will also likely keep adding movies from over 100 years of 20th Century Fox as deals with other streamers lapse. Movies like The Sound of Music and The Princess Bride are already on the service, and they are sure to be joined in the future by major movies like Home Alone (expected in November 2020), Titanic, Night at the Museum at countless others.
Clearly, it has been an unprecedented year for Disney+, which found itself delaying much of its own content and becoming a last-resort home for a summer of Disney and Pixar movies, as well as major cultural events like Hamilton and Beyonce's Black is King movie. The service, however, seems in a strong place for the next battles of the streaming wars, with an unbeatable vault of archive content and some of the most hotly anticipated shows ever.
Update 11/13/20: This article was updated to include the latest numbers from Disney.