Disney Removes 'Ladies & Gentleman, Boys & Girls' From Welcome as Part of Inclusivity Push
Fireworks returned to the Magic Kingdom at the Walt Disney World Resort on Thursday night, but what did not return was the familiar phrase "Ladies and Gentlemen, Boys and Girls" from the pre-show announcement. A Disney spokesperson confirmed with Newsweek on Friday that the line was removed as part of the company's ongoing effort to promote diversity at its parks.
Fans posted clips of the new greeting on social media, which now states, "Good evening, dreamers of all ages." The new greeting will continue to be rolled out across all the company's parks, including the original Disneyland in Anaheim, Calif. Earlier this year, the new greeting already began preceding the fireworks show at the Tokyo Disney Resort.
The new pre-show message is part of Disney's Diversity & Inclusion policy. The company first announced the new initiative in April, emphasizing the importance of everyone feeling welcome and included at its parks.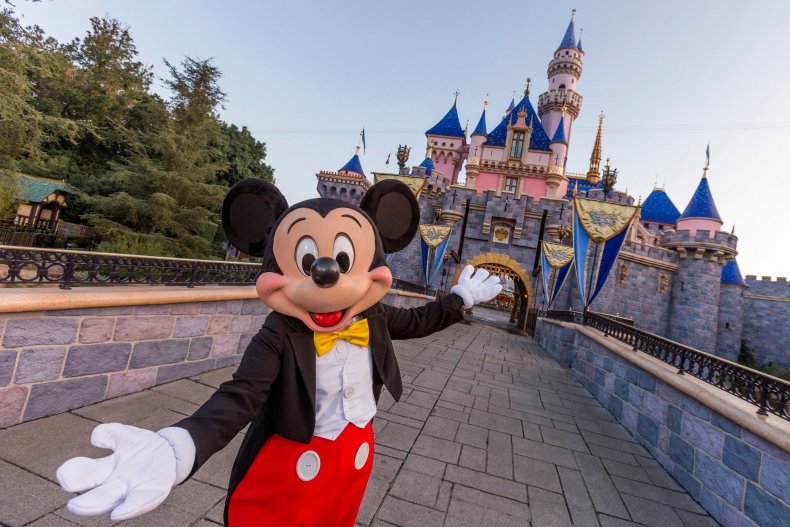 Josh D'Amaro, chairman of Disney Parks, Experiences and Products, wrote a blog post in April called "A Place Where Everyone is Welcome" on the company's official website regarding the new policy. In it, he wrote, "Inclusion is essential to our culture and leads us forward as we continue to realize our rich legacy of engaging storytelling, exceptional service, and Disney magic."
"We want our guests to see their own backgrounds and traditions reflected in the stories, experiences and products they encounter in their interactions with Disney," he continued. "And we want our cast members—and future cast members—to feel a sense of belonging at work."
The Magic Kingdom's current fireworks show is entitled "Happily Ever After," which debuted at the park in 2017. The show built upon past fireworks spectacles by adding projection mapping across Cinderella Castle, as well as lasers, searchlights, and additional pyrotechnics. Various characters also make appearances, with Tinkerbell being a crowd favorite, and popular songs from various Disney films are used in the show.
Due to the pandemic, "Happily Ever After" was suspended for more than 470 days. Thursday night's return of the show was met with much enthusiasm by Disney fans, with some on social media calling it a return to normalcy.
Days before the official re-start of "Happily Ever After," a Twitter user under the name Showcase of Wishes posted a video that reportedly captured a sneak peek of the new show given to Walt Disney World workers on Tuesday night. The new amended intro can be heard in the brief video, which prompted some people in the comments to complain the change was unnecessary, while others cheered the move as a sign of progress.
People visiting Disney theme parks can likely expect to see more similar changes in the future. As D'Amaro wrote, "the world is changing, and we will change with it...We'll never stop working to make sure that Disney is a welcoming place for all."