Disney Walkouts and Unhappy Actors Leave Company in Crisis Before Oscars
Disney has been hit with a barrage of bad press at perhaps the worst possible time, as the entertainment industry prepares for the Academy Awards this weekend.
Disney employees are due to walk out on Tuesday because of the company's response to Florida's controversial "Don't Say Gay" bill. Adding to Disney's woes, Rachel Zegler has publicly expressed her disappointment that she wasn't invited to attend the Oscars, despite playing the lead in the nominated movie West Side Story.
In an effort to quell the backlash it faced for the lack of response to Florida's Parental Rights in Education bill, Disney+ issued a public statement on Tuesday confirming it stands by its LGBTQIA+ employees, colleagues, families, storytellers and fans.
All of this comes just a few days before the 94th Academy Awards, which is hosted on the Disney-owned network ABC. Between the likes of West Side Story, Nightmare Alley, Encanto and The Eyes of Tammy Faye, The Walt Disney Company has 23 nominations this year.
Why People Are Disappointed in Disney
The Disney Do Better Walkout issued a public letter explaining its reasons for being frustrated with the company. It claimed that recent statements made by Disney's leadership regarding the "Don't Say Gay" bill "utterly failed to match the magnitude of the threat to LGBTQIA+ safety represented by this legislation."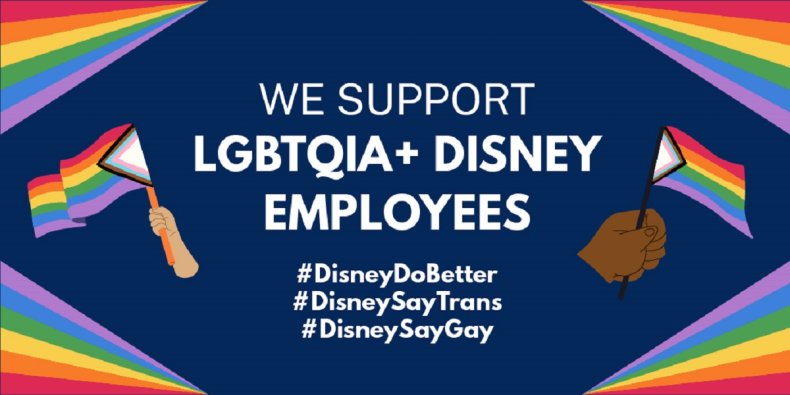 Disney initially angered fans and employees by not publicly commenting on or speaking out against Florida's much-publicized "Don't Say Gay" bill.
The response eventually led Walt Disney Company CEO Bob Chapek to apologize for not being a "stronger ally in the fight for equal rights." He also announced that Disney would increase its support to advocacy groups to combat legislature in other states, whilst also pausing all of its political donations in Florida.
The company's streaming service Disney+ also attempted its own reputational damage control on Tuesday with its own statement, speaking out against "legislation that targets and harms young people and their families."
Another person hoping for a change at Disney, but on an altogether different scale, is actress Rachel Zegler, who played Maria in Steven Spielberg's West Side Story. While she's not nominated for a prize individually, she is the lead in the musical which is up for seven prizes.
Zegler expressed her disappointment publicly on social media when she wrote on Instagram that she has not been invited to the Oscars ceremony, but she will "root for West Side Story from my couch and be proud of the work we did so tirelessly did 3 years ago."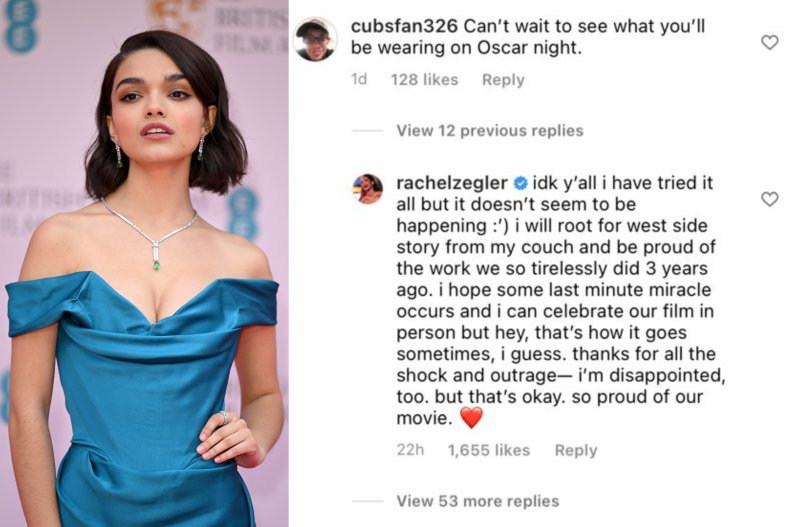 Zegler's fans have flooded social media with overwhelming support for the actress and criticism of Disney producers who couldn't find an invite for her. Zegler responded to the reaction and thanked her fans for their "shock and outrage."
Zegler's legions of fans have expressed their fury at the Mickey Mouse company across social media. @AnAntLife wrote on Twitter: "yea why invite Rachel Zegler when you can bring DJ Khaled," who is presenting an award this year. Journalist Ashley Spencer called the situation "truly wild" that no one noticed Zegler was missing an invite.
Damage to Disney's Reputation
Chapek has "made the move he needs to make" but the question is, will he be more sensitive when it comes to the next controversy? That's what PR and brand expert Eric Schiffer asks when it comes to how Disney should proceed through this episode.
The chairman of Los Angeles-based firm, Reputation Management Consultants, told Newsweek: "Walt is going through contortions in his grave right now. This is a reminder to investors and to the employees that [former CEO Bob] Iger is gone. Chapek will need to further increase his sensitivity and his political antenna or Disney will continue to be whipsawed.
"This issue is a lightning rod, and they they chose a safe route at the expense of inflaming a lot of employees and creative talents. Some of the public who who felt the Disney had run on them."
Oscars Hosted by Walt Disney Television
Adding another layer of complication to Disney's reputation is the fact that Sunday's Oscars are being aired on ABC, the Disney-owned television network. Hosts of the Oscars, this year Amy Schumer, Wanda Sykes and Regina Hall, often make jokes relating to topics in the news. With the amount of controversy surrounding The Walt Disney Company at the moment, it may become the butt of the jokes on its own network.
The 94th Academy Awards will air on ABC from 6:30 p.m. ET/3:30 p.m. PT on Sunday, March 27.