Disneyland Rise of the Resistance Opening Date, Full Details for Ride at Star Wars: Galaxy's Edge 'Unlike Anything You've Ever Experienced'
More details on Disney's new Star Wars ride—Star Wars: Rise of the Resistance— have been unveiled.
The highly anticipated attraction, due to open at Disney's Hollywood Studios in Florida on December 5 and in Disneyland Park in California on January 17, 2020, will be "one of the most ambitious, advanced and immersive experiences ever undertaken" by Walt Disney Imagineering, Disneyland stated in its official press release.
The massive attraction promises to be "unlike anything you've ever experienced at Walt Disney World Resort," the Disney website adds. It will be one of the largest attractions ever created by Disney, "housing two full-sized AT-AT walkers and a Star Destroyer hangar bay—complete with a TIE fighter and a garrison of Stormtroopers," Walt Disney Imagineering confirmed.
Guests will be whisked away in a full-sized transport shuttle on a ride that will "blur the lines between fantasy and reality on a scale never seen before in a Disney attraction," the company claimed.
The story premise of the attraction sees riders departing from Batuu on a spaceship to meet General Leia Organa, before they are intercepted by the First Order and taken as prisoners in the hangar bay of the Star Destroyer. They end up at the center of an epic battle between the First Order and the Resistance.
Made from a combination of multiple ride systems, one sequence of the ride features a simulator experience that promises to give guests "the sensation they are falling from space to crash land on Batuu," Walt Disney Imagineering said in a statement.
Guests will also race through a Star Destroyer in a trackless ride vehicle with an "onboard droid that reacts to its surroundings" in another sequence of the ride.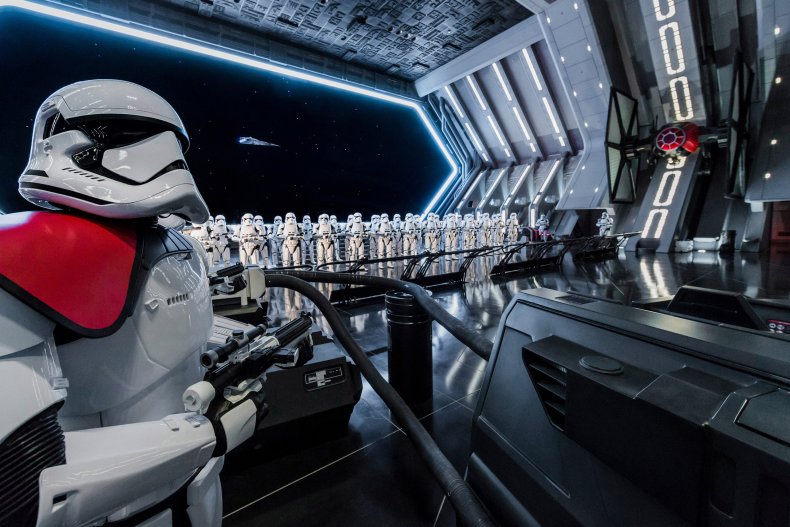 Star Wars enthusiasts can expect to have face-to-face encounters with their favorite fictional characters from the series including Rey, Poe Dameron and Finn (Designation FN-2187) in addition to Kylo Ren and General Hux of the First Order, the company stated.
Lasting around 15 to 20 minutes from start to finish, one of the climaxes the ride features a dramatic drop sequence with guests experiencing a drop that feels much longer than the near 20 feet stretch that it is in reality, The Orlando Weekly reported.
Rise of the Resistance forms part of the Star Wars: Galaxy Edge park complex and includes the Millennium Falcon: Smugglers Run ride, which has already opened to the public at the Disney parks in Florida and California.
Disney reportedly has plans to replicate the latest Rise of the Resistance attraction at Disney Studios Paris, where a mini-Star Wars land has already been confirmed for development, according to Travel + Leisure. Talks are also reportedly in place for replications of the ride in Asia's Disney parks, according to The Orlando Weekly.
Newsweek has contacted Disney for comment.