Disney Is Trying to 'Woke-wash' its Complicity in China's Human Rights Abuses | Opinion
As part of its self-proclaimed commitment to diversity and inclusion, the streaming service Disney+ recently announced that it will be reviewing its library and adding advisories to content that include negative depictions or mistreatment of people or cultures. Per the directive, children under seven will not be allowed to watch beloved classics such as Dumbo, Peter Pan, Swiss Family Robinson, and The Aristocats.
But one title that is noticeably absent on this blacklist of films is Disney's 2020 remake of Mulan, a film that has been associated with China's human rights abuses on multiple fronts.
Liu Yifei, the main actress who plays the titular character in Mulan, posted on social media in support of police brutality against pro-democracy protestors in Hong Kong, which led to a popular international hashtag campaign to boycott the film. Worse, at the end of the credits for Mulan, Disney gives special thanks to several government entities in Xinjiang, which operate internment camps that contain over a million members of the country's Uyghur minority.
If Disney wants to acknowledge how "some communities have been erased or forgotten altogether," then it sure has a strange way of showing it.
And it's not like what China is doing in Xinjiang is a secret; it has been described as the worst human rights crisis in the world. A 2019 report published by the New York Times exposed over 400 pages of internal CCP documents that provide a breakdown of how China created and organized re-education camps in Xinjiang in 2017. Following this disclosure, the International Consortium of Investigative Journalists published a collection of Chinese Communist Party documents detailing the repressive inner workings of detention camps in Xinjiang.
In March, the Newlines Institute for Strategy and Policy released the first independent legal analysis on China's documented human rights' abuses of its Uyghur minority. The report concludes that the CCP is in breach of the 1948 Convention on the Prevention and Punishment of the Crime of Genocide.
Surely the CCP's state-sanctioned police brutality of Hong Kong protestors or its genocide of the Uyghurs are also worthy of Disney+ warning labels?
Not according to Disney. As Singaporean journalist and activist Melissa Chen has argued, this is part of a wider pattern of how the Walt Disney Company—as well as Hollywood writ large—kowtows to the CCP in order to be permitted to access China's very profitable market.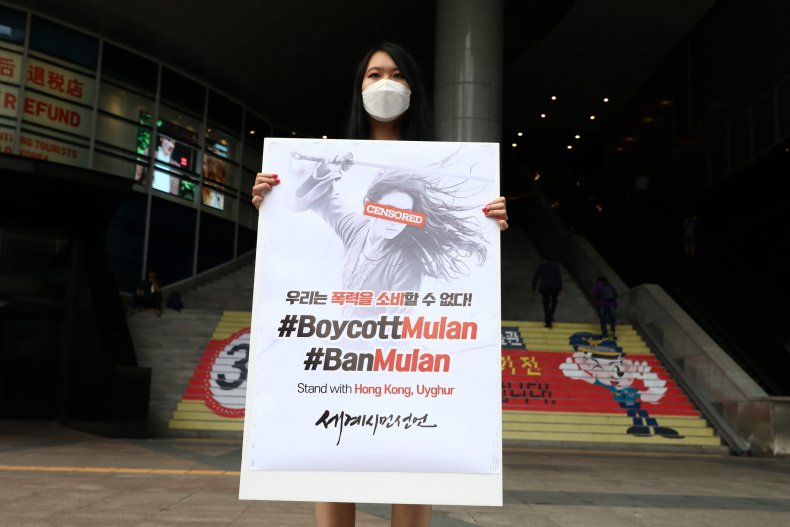 The truth is that the Walt Disney Company does not care about social justice or equality. Whether it is firing Gina Carano for her conservative views or shrinking a main Black actor from Star Wars promotional material in China, the company only cares about making money.
The Walt Disney Company's propagation of cancel culture will have disastrous consequences for freedom of speech. Since launching in November 2019, Disney+ recently announced that it has reached 100 million subscribers, making it on track to becoming the largest streaming service in the world.
Given the company's compliance with the CCP's silencing of its critics and dissenters, this effectively means Disney+ will continue to air films and series that kowtow to the CCP. Movies like Kundun, a 1997 epic biographical film produced by Disney that is based on the life and teachings of the exiled 14th Dalai Lama, have absolutely no hope of being streamed or made today due to an overarching desire not to anger CCP censors.
This should disturb anyone who opposes censorship—or human rights violations.
Moreover, the Wall Street Journal has reported that former Disney CEO Robert Iger expressed to the Biden Administration his interest in serving as U.S. Ambassador to China. A longtime donor to the Democratic Party, Iger has contributed $250,000 to now-President Biden's election campaign among a plethora of Hollywood moguls and media titans. Traditionally, major donors of winning presidential campaigns have been rewarded with such highly-coveted posts.
If Iger were to be granted this ambassadorship, it would be indicative of the Biden Administration's willingness to overlook China's human rights violations. In 2011, then-Vice President Biden described China's rise as a positive development for the world while President Xi Jinping went as far to praise Biden as an "old friend." Biden's son Hunter still holds investments in firms and a bank owned by the Chinese government, while the president himself has dismissed China's genocide of the Uyghurs as a different cultural norm. This would make it even more difficult for lawmakers under a Biden Administration to impose effective sanctions against the CCP.
By censoring and banning its films under the guise of diversity and inclusion, Disney hopes that it can "woke-wash" its complicity in the human rights abuses committed by the CCP. In reality, through its continued attacks on free speech and expression, the company continues to serve as an unapologetic propaganda arm for China's repressive totalitarian regime. Disney's lip-service for equality cannot be allowed to continue unchallenged.
Bradley Martin is the Executive Director for the Near East Center for Strategic Studies.
The views in this article are the author's own.