The Disney Tsum Tsum April 2018 calendar event is just days away. Find out everything to expect from the Tangled Storybook event, here.
The Disney Tsum Tsum April 2018 event is right around the corner and despite rumors that Fantismic would be coming to North America, recent leaks indicate the April 2018 event will be a Tangled event. The female-centric celebration will introduce five new characters, among which are Mulan Pochahantas and Happy Rapunzel. Find out everything we know so far about the upcoming April Tsum Tsum event kicking off April 5.
Everything to know about the April 2018 Calendar Event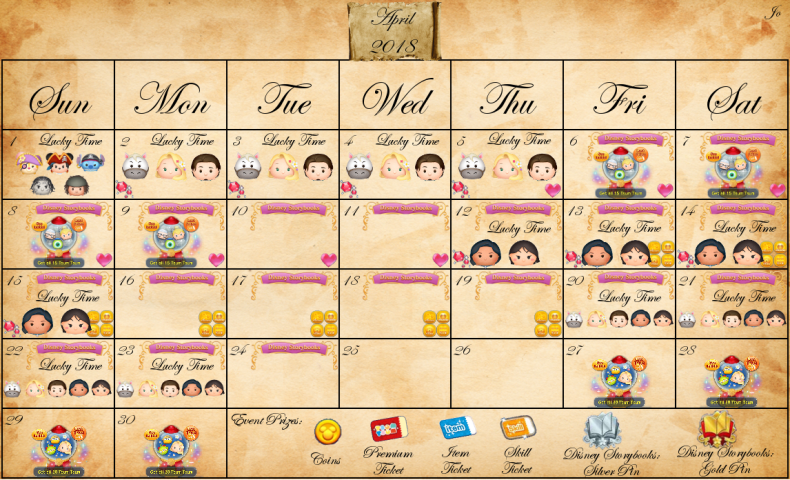 When does Tangled Storybook Event begin? How long does it last? According to a leaked international calendar, the April 2018 Tsum Tsum event is expected to kick off April 6 in North America and run through April 24.
UPDATE 04/05/18: The Storybook Event is now live! If you need tips for completing any of the challenges, check out our complete guide, here.
How does the April Tangled Storybook Event work?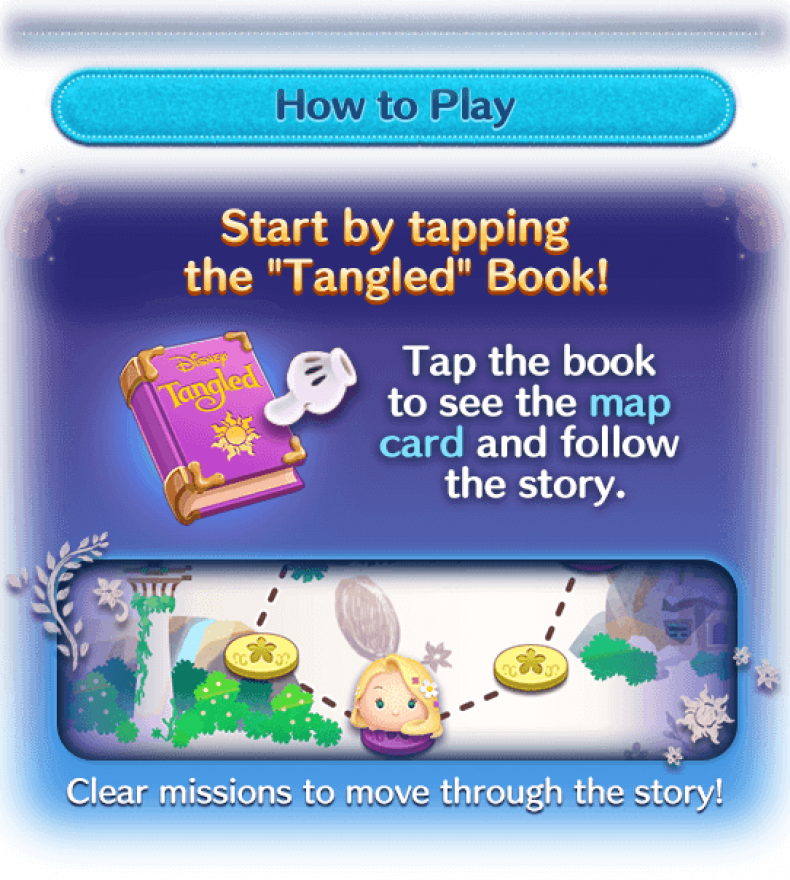 The Tangled event will be a map-style event, similar to the previous Pirate Treasure Chest event. Players will tap on the Tangled storybook to begin their quest. The quest is laid out on a map card or mission path. Once all missions on a card are completed, players will receive rewards and a key for opening the next book or mission card, leading to the final difficult Extra Book for the gold pin prize.
Gold Chests - During a mission a player may see a Gold Chest appear in the Tsum Tsum puzzle. Use bubbles or skills to clear these and get extra coin and item rewards.
Which new Tsum Tsum are coming to the game in April?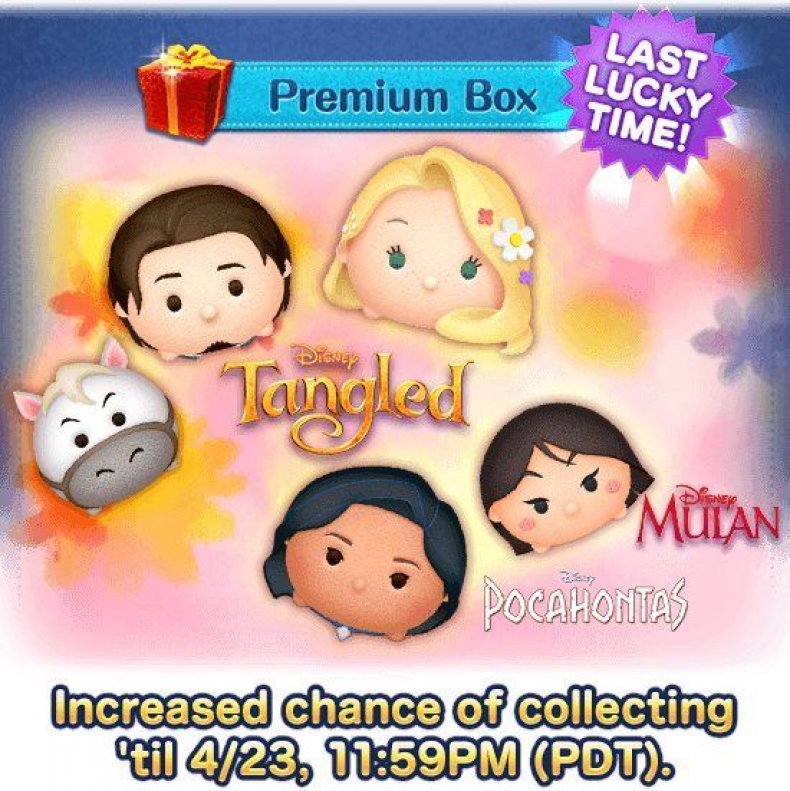 The Tangled Storybook Event will add five new Tsum Tsum players can acquire through completing missions or by purchasing Premium boxes. If you use any of these Tsum Tsum during the April event, you'll receive extra character bonuses. The new characters and their related skills are as follows:
Mulan - Pings appear that can be connected to Mulans which can be cleared for big points (Lucky Time: April 12-15).
Pocahontas - All Tsum Tsum connected while the time is stopped are cleared as one chain (Lucky Time: April 12-15).
Flynn Rider - Rapunzel's appear that can be connected to Flynns, which can be cleared for big points (Lucky Time: April 2-5).
Happy Rapunzel - Lets you connect different types of Tsum Tsum and clear the surrounding Tsum Tsum (Lucky Time: April 2-5).
Maximus - Clears a diagonal line of Tsum Tsum (Lucky Time: April 2-5).
April 2018 Event Pickup Capsules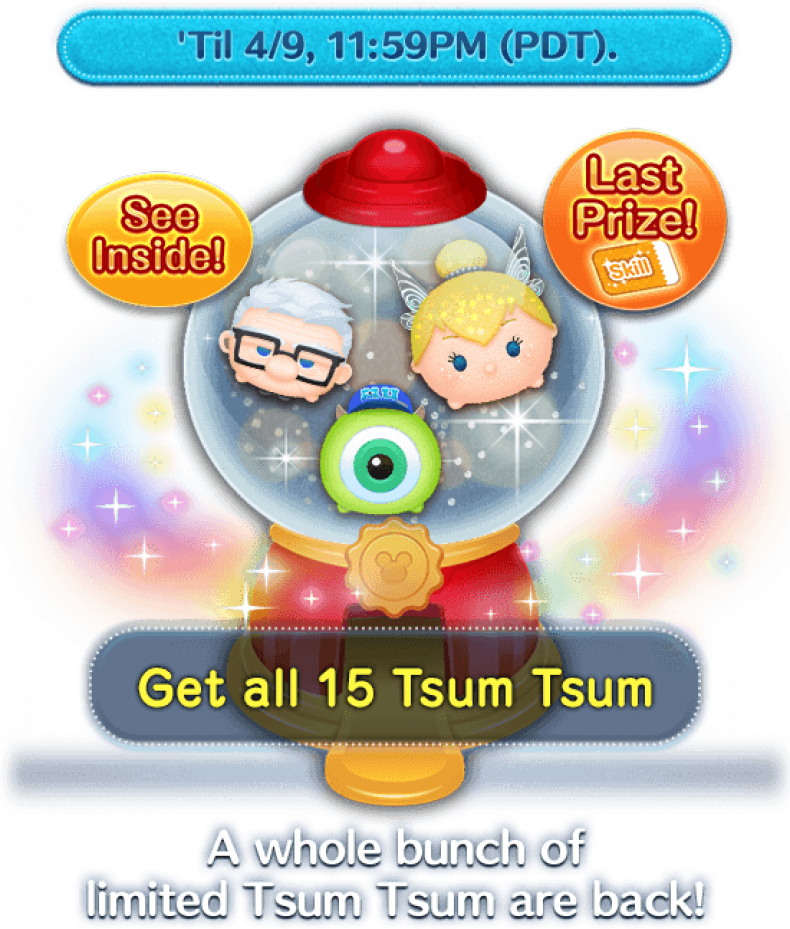 Week 1 (April 6 - 9)
Parade Tinker Bell (2)
MU Mike (1)
Carl (1)
Romance Ariel (2)
Baymax (2)
Scuttle (2)
Abu (3)
Dumbo (2)
Week 2 (April 27 - April 30)
Happy Rapunzel (1)
Cruz Ramirez (2)
Jet Pack Alien (2)
Scrooge (3)
Prince (2)
Snow White (2)
Wonderland Alice (2)
Mad Hatter (1)
Queen of Hearts (1)
Mater (2)
Genie (2)
Pete (1)
What rewards can you earn in the March 2018 Tsum Tsum event?
No information of event rewards has yet leaked. Once it becomes available, we'll update the post.