'Disney Tsum Tsum' February 2019 Event: Bride Jasmine and Ariel Lead The Next Storybook Event
The "Disney Tsum Tsum" February 2019 calendar event is just days away. Find out everything to expect from the upcoming Storybook and Sticker Book events, here.
Leaks for the upcoming February 2019 Disney Tsum Tsum events have begun cropping up on Reddit and it appears the main event will be a Storybook event — a favorite among Disney Tsum Tsum players. The event introduces five new Disney Princess Tsum — Bride Ariel, Tiana, Bride Jasmine, and Merida that give players special advantages during missions and unlock the ability to complete the sticker event later in the month. The event is one you won't want to miss so we've put together a complete guide of everything to expect along with dates for pick-up capsules, lucky times and more. Check it out below.
Disney Tsum Tsum Storybook Event: Everything To Know About The February 2019 Calendar Event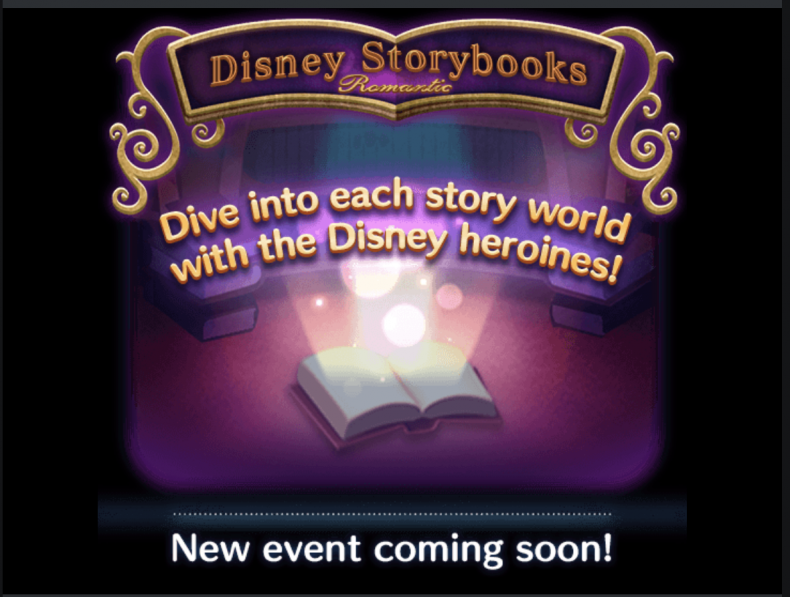 According to a leaked international calendar (subject to change), the February event will kick off Tuesday, Feb. 5 and run through Feb. 24. The first lucky time for this month's special event Tsum Tsum starts Feb. 1 and will run through Feb. 3. Specific dates for Lucky Times, Pick-up Capsules and Select Boxes can be found at the bottom of the article.
How Does The February Storybook Event Work?
The main Storybook (Feb 4-24) is similar to a map-style event. During the event, there will be four different storybooks to unlock — the first is Little Mermaid. There are three types of missions players may encounter:
Normal Mission - this is where a player is given an objective to complete in one turn or over a series of turns (ex: gain 400 Exp in one play using a Tsum Tsum with White Hands)
Key Missions - this is a Mission you must complete to unlock the next storybook. It isn't generally harder than a Normal Mission, just essential. This mission will also likely come with some kind of small reward.
Treasure Box Missions: These missions are similar to Capsule missions in that players must use skills or magical bubbles to break open the treasure box. Treasure boxes will be filled with coins and items.
How Does The Sticker Book Event Work?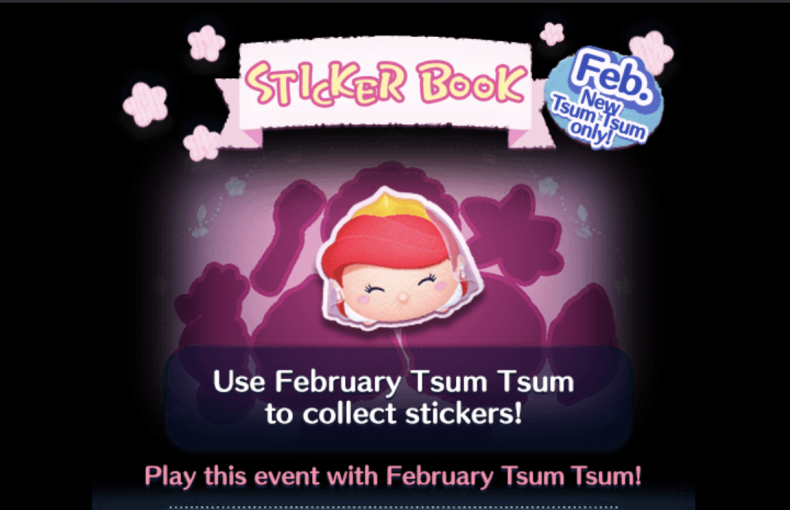 The Sticker Book event (Feb. 25-28) is a second monthly event only available to players who managed to unlock one of the five new princess event Tsum Tsum. The event works like a standard card event, with players completing missions to earn a sticker on their card. Once a card is filled a player will enter a special stage mission to earn a ton of coins and unlock the next card. There are four Sticker Books in total to complete.
Which New Tsum Tsum Are Coming To The Game In February?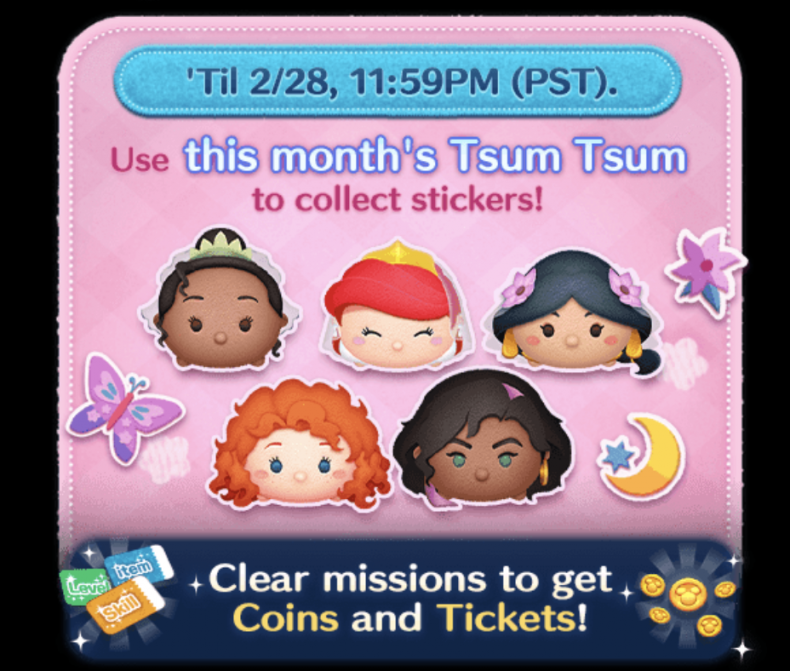 The February Storybook event adds Five new princess Tsum Tsum players can acquire through completing missions or by purchasing Premium boxes. Players who use one of the new Storybook Tsum Tsum during the February event will receive extra character bonuses. The new characters and their skills are as follows:
Esmeralda - clears a diagonal line of Tsums. Her base radius is SS. Base Score: 170
Tiana - clears a vertical line of Tsums. Her base radius is SS. Base Score: 120
Merida - turns random Tsums into will-o'-the-wisps that are cleared as a single chain. Her base number transformed is 13. Base Score: 110
Bride Ariel - summons Eric. They can be connected to each other for large points. Her base score is 2.2x and her base time is 4 seconds. Base score 100
Bride Jasmine - creates fireworks and clear random areas of Tsums. Her base radius is SS. Base score: 100
February 2019 Capsules, Select Boxes and Lucky Times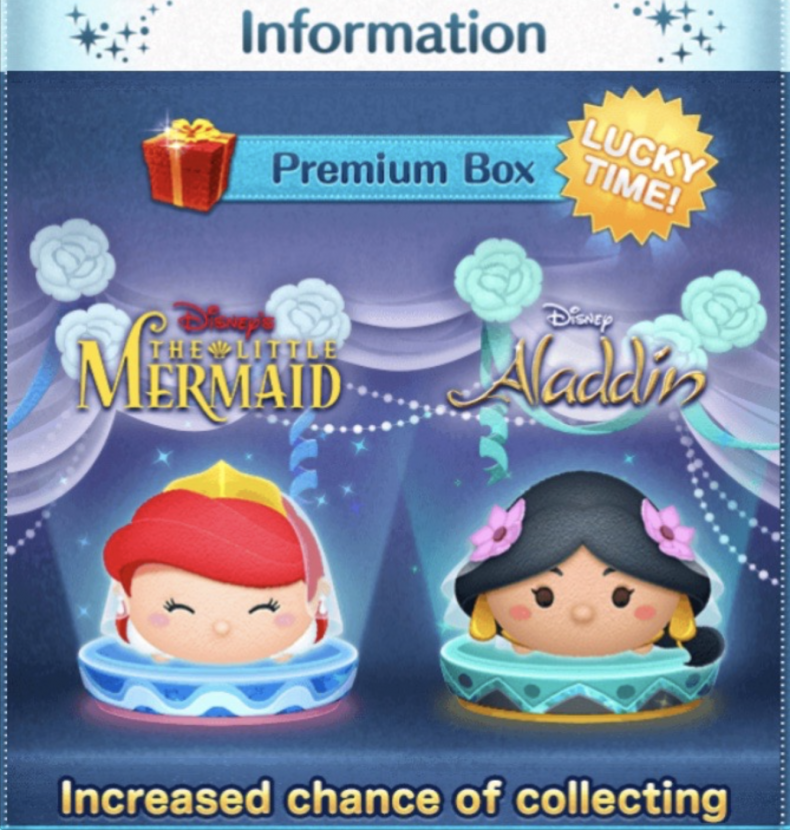 Premium Box Lucky Time #1 (Feb. 1 - 3)
Select Box #1 (Feb. 4 - 6)
Cinderella
Bride Rapunzel
Romance Belle
Jasmine
Young Elsa
Young Anna
Rapunzel
Ariel
Snow White
Princess Aurora
Premium Box Lucky Time #2 (Feb. 8 - 10)
Pick-Up Capsule #1 (Feb. 11 - 14)
Valentine Minnie (3)
Valentine Daisy (3)
Romance Ariel (2)
Maleficent Dragon (1)
Thumper (2)
Nala (2)
Tramp (2)
Select Box #2 (Feb.15 - 17)
Peter Pan
Beast
Maui
Prince
Prince Philip
Aladdin
Jiminy Cricket
Olaf
Pascal
Flounder
Lucky Time #3 (Feb. 18 - 20)
Bride Ariel
Bride Jasmine
Tiana
Merida
Esmerelda
Pick-Up Capsule #2 (Feb. 21 - 24)
Musketeer Mickey (1)
Baymax 2.0 (2)
Parade Tinker Bell (2)
Bumblebee Pooh (2)
Maleficent (2)
Scrump (2)
Hercules (2)
White Rabbit (2)
What do you think of this month's event? Which new Tsum Tsum is your favorite? Share your thoughts in the comments below!
​