'Disney Tsum Tsum' July 2018 Event: Jedi Luke Returns
The Disney Tsum Tsum July 2018 calendar event is just days away. Find out everything to expect from the World Trip event here.
The July 2018 Disney Tsum Tsum event looks to be a hot one as players prepare to embark on a trip around the world, completing missions and taking photos of their Tsum Tsum as they work toward earning this month's event pins. The event brings with it brand new Three Caballeros Tsum Tsum, and leaks on Reddit indicate fan favorite Jedi Luke could also make an appearance in pick-up capsules and select boxes this month. The event is one you won't want to miss, so we've put together a complete guide of everything to expect from the event, along with dates for pick-up capsules, lucky times and more. Check it out below. UPDATE: 07/09/18: The July event has begun. You can check out our guide with best Tsum Tsum for clearing missions, here.
Disney Tsum Tsum World Trip: Everything To Know About The July 2018 Calendar Event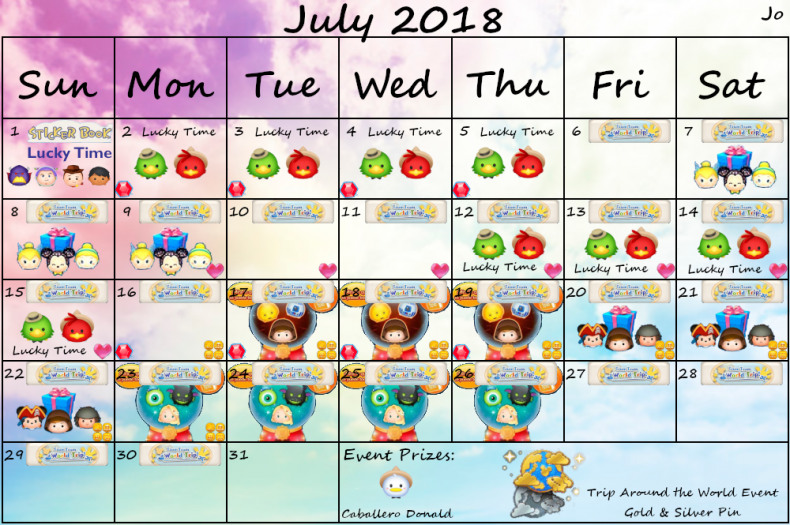 Newsweek subscription offers >
According to a leaked international calendar, the July event will kick off Monday, July 9 and run through July 30. The first lucky time for this month's special event Tsum Tsum started July 2 and will run through July 5.
How Does The World Trip Event Work?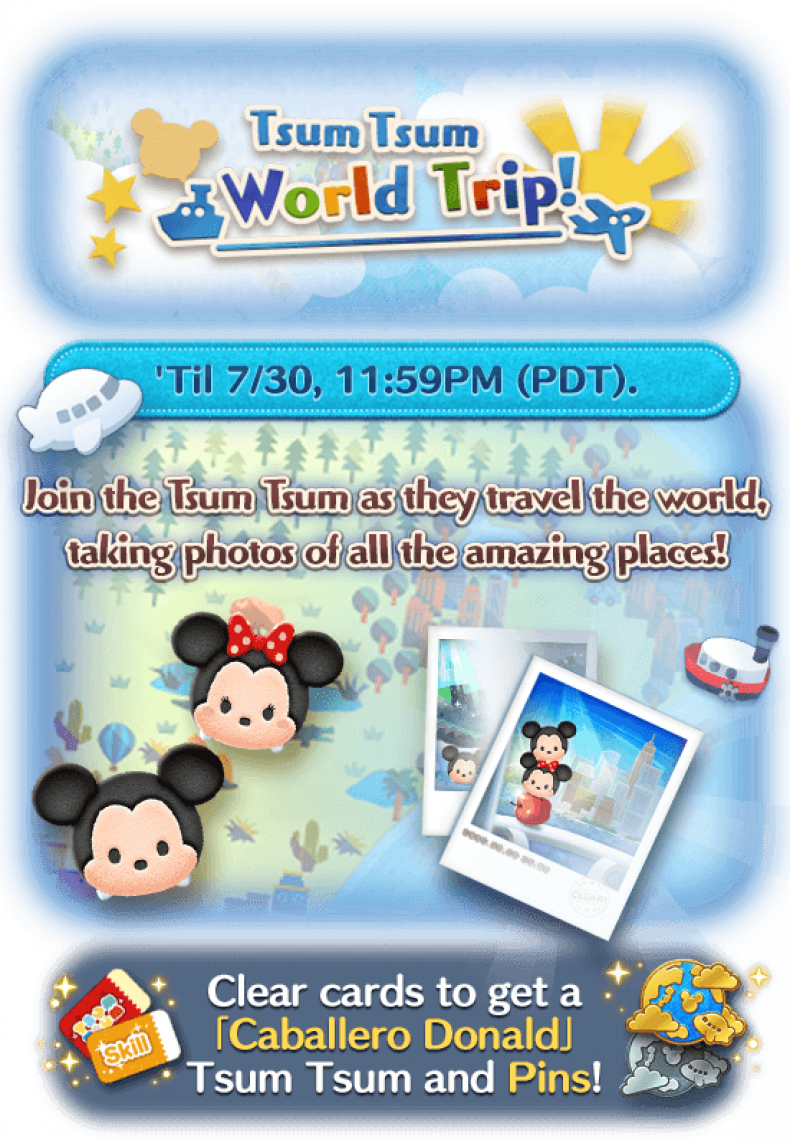 The World Trip event will be a map-style event, where players will have a mission board or card marked with spots they must visit and then complete the challenges there. If players land on a mission that has a Tsum Tsum on it, after they clear the mission, it will be possible to take a picture of their myTsum with the Tsum Tsum on the spot. The photos will then be saved on an in-game photo board.
Newsweek subscription offers >
Some challenges on your card will be marked with a flag. These are called check point challenges and require completing several missions to clear them. Once they are cleared you will receive item like tickets, hearts or coins as a reward.
Which New Tsum Tsum Are Coming To The Game In July?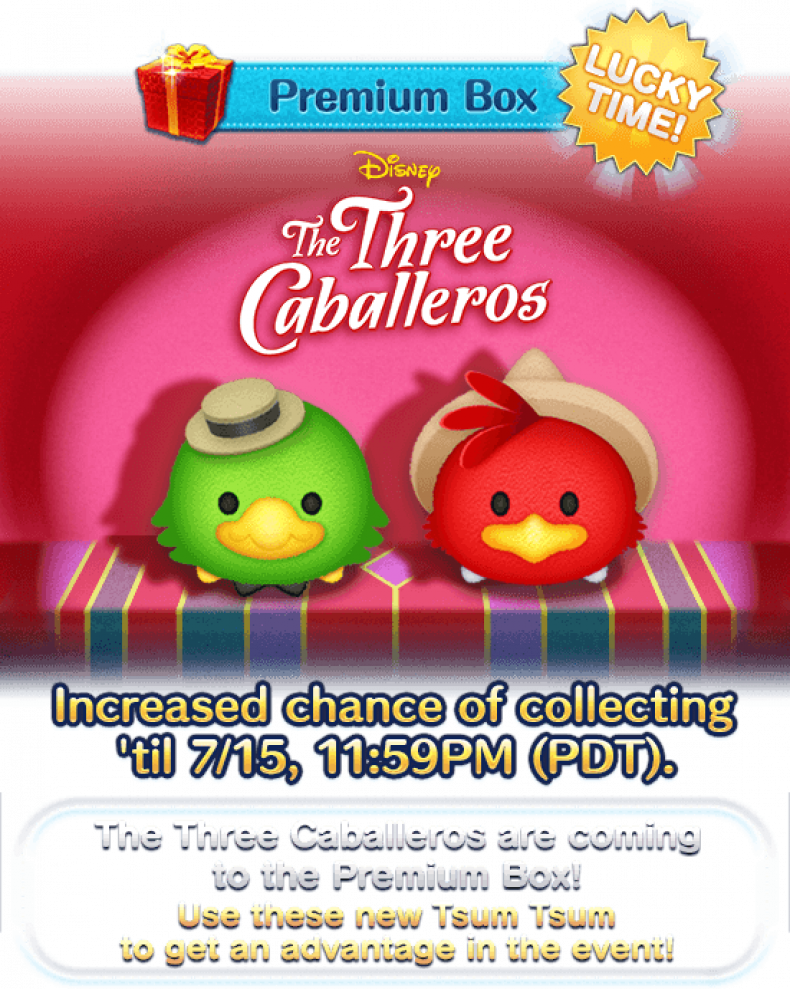 The World Trip Event adds three new Tsum Tsum players can acquire through completing missions or by purchasing Premium boxes. Players who use one of the Three Caballero Tsum Tsum during the July event will receive extra character bonuses. The new characters are as follows:
José Carioca - Premium Box
Panchito Pistoles - Premium Box
Caballero Donald - Prize from Trip Around the World Event
July 2018 Capsules, Select Boxes and Lucky Times
Three Caballeros Luck Time #1 (July 2 - 5)
José Carioca
Panchito Pistoles
Select Box #1 (July 7 - 9)
Parade Tinkerbell
Parade Mickey
Cinderella
Pirate Stitch
Summer Olaf
Baymax
Dory
Crush
Moana
Lumiere
Flounder
Thumper
Three Caballeros Lucky Time #2 (July 12 - 15)
José Carioca
Panchito Pistoles
Capsule #1 (July 17 - 19)
Jedi Luke (1)
R2-D2 (2)
C-3PO (2)
Wall-E (2)
Cruz Ramirez (2)
Angel (2)
Buzz Lightyear (2)
Baymax 2.0 (2)
Select Box #2 (July 20 - 22)
Jedi Luke
Pirate Mickey
Young Jack Sparrow
Steamboat Pete
Carl Fredricksen
Flynn Rider
Nemo
Maui
Blue Fairy
Max
Timothy
White Rabbit
Capsule #2 (July 23 - 26)
Maleficent Dragon (1)
Happy Rapunzel (2)
MU Mike (2)
Nala (2)
Simba (2)
Ursula (2)
Evil Queen (2)
Scrump (2)
'Disney Tsum Tsum' July 2018 Event: Jedi Luke Returns | Gaming