'Tsum Tsum' June 2018 Event: A Toy Story & Coco Mashup is Coming
Update 06/05/18: The June Space Rangers event is now live. You can check out our complete guide to the event along with tips for best Tsum Tsum to use, here.
The Disney Tsum Tsum June 2018 event is right around the corner and recent event leaks found on Reddit indicate the June 2018 event will actually include two parts -- a mission-based event and a sticker book event. The June theme includes a mashup of Toy Story and Coco, bringing with it four new limited time event Tsum Tsum. Here's everything we know so far about the upcoming June Tsum Tsum event.
When does the Coco & Toy Story Event begin? How long does it last?
Based off an international event calendar leaked on Reddit, the Space Ranger mission event will kick off Tuesday, June 5 and run through Monday, June 25. The second Sticker book event will run from June 27 - 30.
How do the June Events work?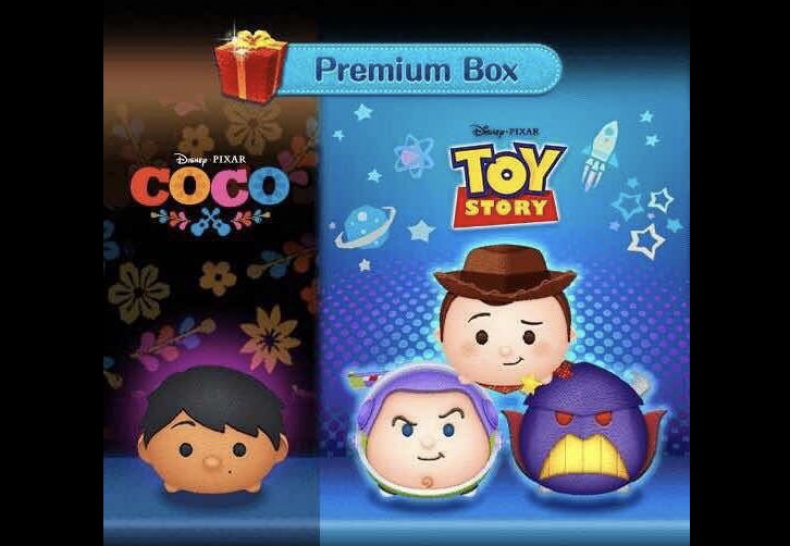 The first event, Space Rangers, is a mission-based event where players will complete several different types of missions to collect points and prizes. Once you've collected 100,000 points, you'll be awarded a silver event pin. There are three distinct mission types to choose from:
Ranger Mission - this type of mission requires you to complete four mini-missions. Once they are finished you will report back to Star Command for your points and a new mission.
Alien Rescue Mission - it is unclear how this mission works exactly. The leaked description says "You must use bombs or skills to rescue aliens." Based on the leaked image, it appears to be a capsule mission where you must hit the capsule with the entrapped alien three times to free him.
Suppress Zurg Mission - These missions are one-hour timed missions to defeat Zurg. There aren't tons of details on this yet, but the leaked images suggest this will also be a capsule-type mission, but it will require a bunch of hits over multiple games to defeat Zurg. This mode also adds a new "support" feature that allows players to send friends hearts to support them in their battle against Zurg.
The second Sticker Book event is only for players who managed to nab one or more of the Special Event Tsum Tsum. These missions require using an event Tsum to complete various goals to clear a card. Once a card is completed, players will be rewarded with coins and tickets for items, skills and leveling.
Which New Tsum Tsum are Coming to the Game in June? When Are The Lucky Times?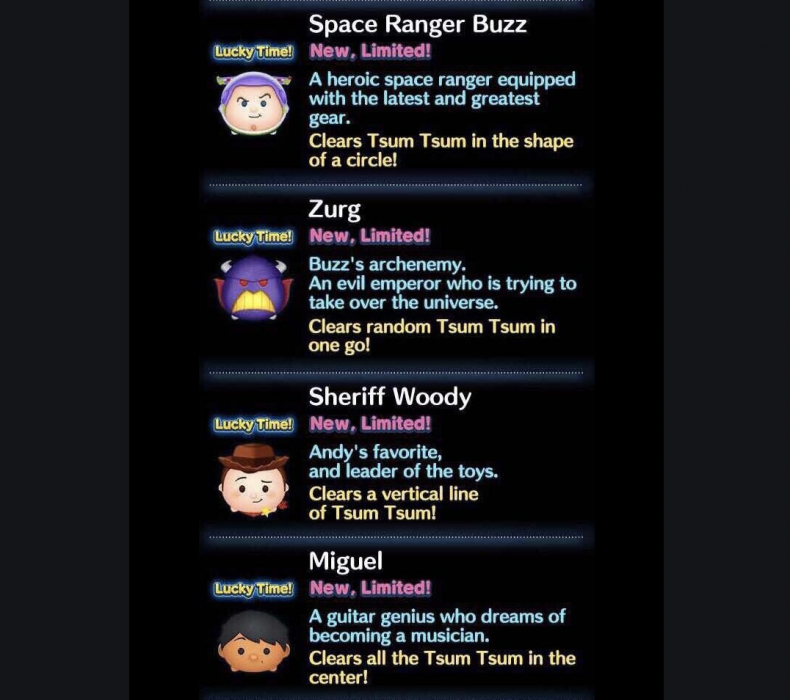 The June event will bring 4 new Tsum Tsum -- three Toy Story-themed and on Coco themed. The new Tsum Tsum, their skills and lucky times are as follows:
Space Ranger Buzz - Clears Tsum Tsum in the shape of a circle. (Lucky Time: June 1-4)
Zurg - Clears random Tsum Tsum in one go. (Lucky Time: June 1-4)
Sheriff Woody - Clears a vertical line of Tsum Tsum. (Lucky Time: June 5-8)
Miguel - Clears all the Tsum Tsum in the center. (Lucky Time: June 5-8)
June 2018 Event Capsules and Select Boxes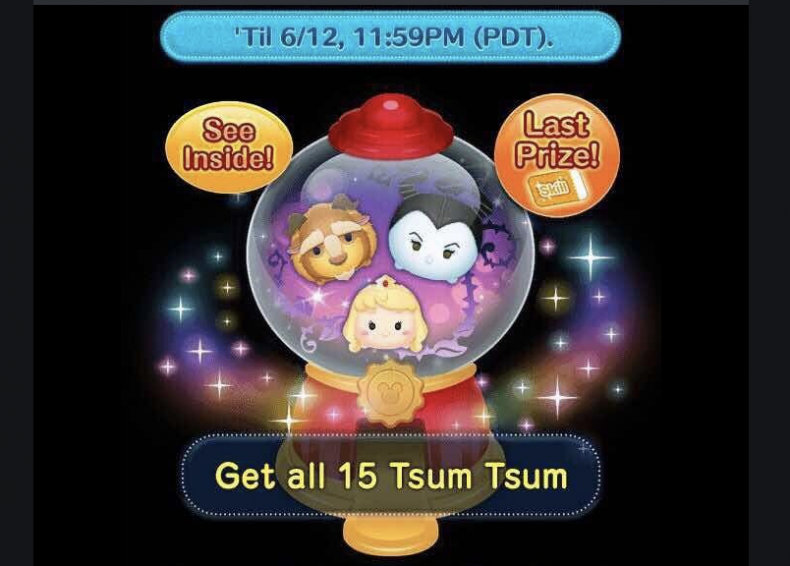 Capsule Round 1 (June 9 -12)
Maleficent (2)
Princess Aurora (2)
Beast (2)
Belle (2)
Lumiere (3)
Gaston (2)
Mrs. Potts (2)
Capsule Round 2 (June 14 -17)
Bride Rapunzel (1)
Snow White (2)
Princess Aurora (2)
Belle (2)
Jasmine (2)
Ariel (2)
Rapunzel (2)
Cinderella (2)
Select Box Round 1 (June 19 -21)
Davy Jones
Maleficent Dragon
Theatrical Mad Hatter
Clarice
Hiro
Lightning McQueen
Pinocchio
Surprise Elsa
Simba
Sebastien
Pascal
Baymax
Select Boz Round 2 (June 23 -25)
Cinderella
Young Anna
Scar
Steamboat Pete
Mowgli
Flounder
Crush
Rex
Miss Bunny
Dory
Angel
Ariel
What do you think of the June Tsum Tsum event? Which character(s) are you hoping to snag? Share your thoughts in the comments below!