'Tsum Tsum' Space Ranger Event: Best Springy Hair, Burst Skill, Pointy Ear and Other Character Tips
Disney Tsum Tsum's June 2018 Space Rangers event kicked off Tuesday, June 5 and runs through June 25. This event is quite a bit different from any we've had this year as it involves a general point goal and a social component. During the event, players will work towards the goal of reaching 100,000 points in order to earn a silver event pin. Throughout the event, players will be given three different mission types to complete. Below we've offered a walkthrough of all the different missions types and the points and rewards you earn with each. We've also provided a list of Best Tsum Tsum to use when trying to clear the Space Ranger Missions.
Tsum Tsum Space Rangers: Defeat The Emperor Zurg Event Guide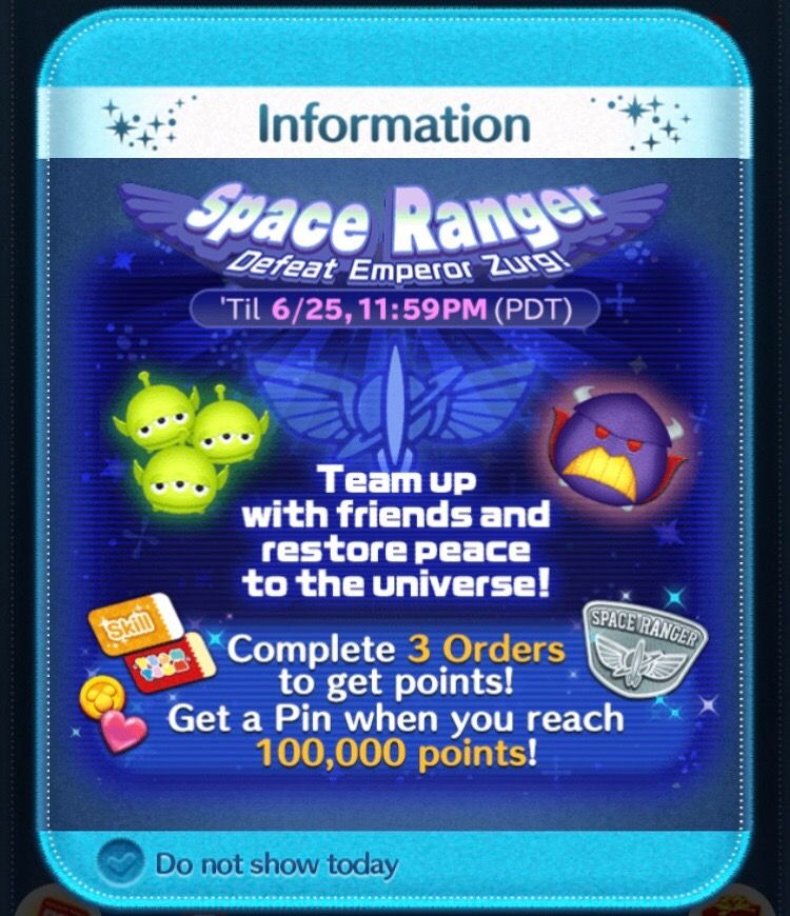 As mentioned above, there are three types of missions players will encounter during the event and completing them yields the player points toward the 100,000 point goal. At different point thresholds players will win the following rewards:
1000 = 500 coins
3000 = 1x Level Ticket
5000 = 2x +Score Tickets
7000 = 1,000 coins
10k = 1x Premium Ticket
15k = 2000 coins
20k = 2x +Time Tickets
25k = 1x Level Ticket
30k = 3,000 coins
35k = 3x Hearts
40k = 4,000 coins
45k = 1x Level Ticket
50k = 2x +Bomb Tickets
55k = 5x Hearts
60k = 5,000 coins
65k = 1x Level Ticket
70k = 8x Hearts
75k = 6,000 coins
80k = 2x 5>4 Tickets
85k = 7,000 coins
90k = 1x Level Ticket
95k = 8,000 coins
100k = 1x Skill Ticket, Silver Pin
Every 10k points from 110k pt = 3,000 coins
Ranger Missions
this type of mission is similar to card or puzzle events. A Ranger mission will require you to complete four mini-missions. You only get one chance at each mini-mission though. Once they are finished you will tap on the spaceship in the middle of the card to report back to Star Command, at which time you will receive points for the mini-missions you successfully completed. If you have a mission that is particularly difficult for you, as long as a friend has completed it you can move forward. A List of different Ranger mini-mission can be found at the bottom of the article, along with suggestions for best Tsum Tsum to complete them.
Alien Rescue Missions
In this type of mission, you use bombs and skills to burst capsules that contain aliens. You'll keep replaying the mission until a set number of aliens have been rescued. You'll earn a given number of points based on the number of aliens rescued.
Level 1 Save 10 Aliens (300pt)
Level 2 Save 20 Aliens(600pt)
Level 3 Save 25 Aliens (750pt)
Level 4 Save 30 Aliens(900pt)
Level 5 Save 35 Aliens(1,050pt)
Level 6 Save 40 Aliens(1,200pt)
Level 7 Save 45 Aliens(1,350pt)
Level 8 Save 50 Aliens(1,500pt)
Level 9 Save 55 Aliens(1,650pt)
Level 10 and thereafter Save 60 (1,800pt)
Suppress Zurg Missions
These missions are one-hour timed missions to defeat Zurg. These missions are similar to the Alien missions in that you will use bubbles and skills to hit Zurg. Every time you hit Zurg you lower his HP by 150 points. Once you've lowered his HP to 0, the mission will be completed and you'll collect your points. The various levels for Zurg Missions are listed below. As with the other mission types, friends can help you complete or send you hearts during the mission.
Level 1 - 2,200 HP
Level 2 - 2,600 HP
Level 3 - 3,000 HP
Level 4 - 3,300 HP
Level 5 - 3,700 HP
Level 6 - 4,100 HP
Level 7 - 4,500 HP
Level 8- 4,800 HP
Level 9- 5,200 HP
Level 10 - 5,600 HP
Level 11 - 6,000 HP
Level 12 - 6,300 HP
Level 13 - 7,100 HP
Level 14 and up - 7,500 HP
Disney Tsum Tsum June 2018 Event Help: Every Ranger Mission and Best Tsum Tsum For Beating Them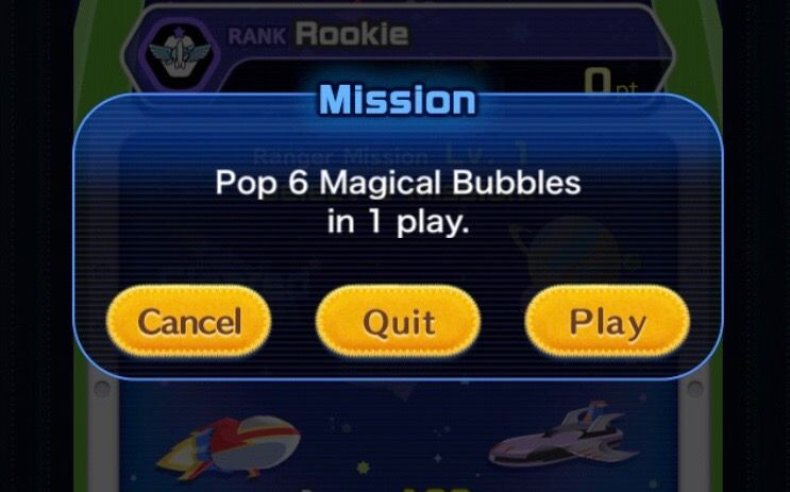 Ranger missions are made up of mini-missions that fall in a variety of categories. Below we've compiled all the types of missions we've encountered so far and best Tsum Tsum for completing them. We'll continue to add to the list as we unlock more.
Magical Bubble Missions
Make a Chain Missions
Best Chain Tsum Tsum (General): Eeyore, Elsa, Gaston, Rapunzel, Sulley
Clear Tsum Tsum Missions
Best for clearing Tsum Tsum (General) - Any event Tsum Tsum (Zurg, Buzz Lightyear, Miguel). Burst Tsum like Beast, Maximus, Pirate Mickey or Surprise Elsa work well also.
Clear 30 Black Tsum Tsum in one play
Clear

70

M-initial Tsum Tsum in one play
Clear

100

Black Tsum Tsum in one play
Clear 110 Black-Nosed Tsum Tsum in one play
Use a

Tsum Tsum with Springy Hair

to clear 860 Tsums
Clear 90 Green Tsum Tsum in one play
Clear MyTsum Missions
Best For clearing MyTsum (General): Angel, Eeyore, Gaston, Oswald, Sulley.
Clear 80 MyTsum in one play with a P

ointy-Eared Tsum Tsum

Clear 90 MyTsum in one play with a Burst Skill Tsum Tsum
Activate Skills Missions
Best Tsum Tsum For Activating Skills (General) - Eeyore, Thumper, Pascal, Maleficent, Sulley. Burst Skill Tsum Tsum work well too.
Use a

Black-Nosed Tsum Tsum's

skill 3 times in one play
Use a

Hat-Wearing Tsum Tsum

Skill 5 times
Use 4 skills in one play with a Round-Eared Tsum Tsum
Use 5 skills in one play with a Burst Skill Tsum Tsum
Create a Combo Missions
Best Tsum Tsum For Combos (General): Donald, Holiday Donald, Rabbit, Surprise Elsa
Use a

Happiness Tsum Tsum

to reach a 60 combo
Fever Mode Missions
Best Fever Tsum Tsum (General) - Parade Tinker Bell, Lumiere, Parade Mickey, Fantasmic Mickey. Pumpkin Mickey, Surprise Elsa. Burst Skill Tsum Tsum work well too The strategy with burst Tsum Tsum is to save their skill and use it once a fever ends so that you can trigger another fever quickly.
Start fevers 4 times in one play with a

Boy Tsum Tsum

Use a Burst Skill Tsum to trigger 5 fevers
Use a

Tsum Tsum with Eyebrows

to trigger 5 fevers
Start fever 5 times in one play with a Random Burst Skill Tsum Tsum
Start fever 5 times in one play with a D-initial Tsum Tsum
Earn Points Missions
Use a T

sum Tsum with Eyebrows

to earn 1,750,000 points

Best Tsum Tsum: Miguel, Sheriff Woody, Beast, Cinderella, Jasmine, Scar.

Get 750,000 points in one play with a

Black Tsum Tsum
Earn Coins Missions
Best Coin Earning Tsum Tsum (General) - Jasmine, Simba, Scrooge, Jack Sparrow. Most Burst Skill Tsum Tsum are good for getting more coins as well.
Get 550 coins in one play with a Pixar Tsum Tsum

Best Tsum Tsum: Miguel, Sheriff Woody, Space Ranger Buzz, Zurg. You can see a full list of Pixar Tsum Tsum, here.

Get 230 coins in one play with a Tsum Tsum with Eyelashes
Earn Experience Missions
Best EXP Tsum Tsum (General): EXP is directly linked to score. To earn 400 EXP, for example, you need a score of 1,500,000 during a game. This amount can be lowered by using EXP item or getting star bubbles in a game, but you'll have the most success by making a high score. Best Tsum Tsum for high scores are Cinderella, Surprise Elsa, Jedi Luke, Maleficent, Peter Pan, Jack Sparrow. Burst Skill Tsum Tsum work well for high scores too.
Earn 350 EXP in one play with a

Friend-Calling skill

Earn 400 EXP in one play with a Center-Burst Skill Tsum Tsum