UPDATE 05/04/18: The May Star Wars Puzzle Event has begun. If you need tips for best Tsum Tsum to use for various card challenges, see out guide, here. For information about how the event works, special boxes and capsules, see the article below.
---ORIGINAL POST---
The Disney Tsum Tsum May 2018 event is right around the corner and some recent event leaks found on Reddit indicate that the May 2018 event will be Star Wars themed. The event will integrate 12 limited edition Star Wars Tsum Tsum including a new Stormtrooper Tsum Tsum. Here's everything we know so far about the upcoming May Tsum Tsum event.
When does Star Wars Event begin? How long does it last?
So far we haven't seen any official new or international calendar leaks, but based off of past leaked calendars the May 2018 Tsum Tsum event will likely kick off May 4 in North America and run through May 24. (May 4th IS Star Wars Day, after all.) A leaked International Calender estimates a start date of May 4th as well.
How does the May Star Wars Event work?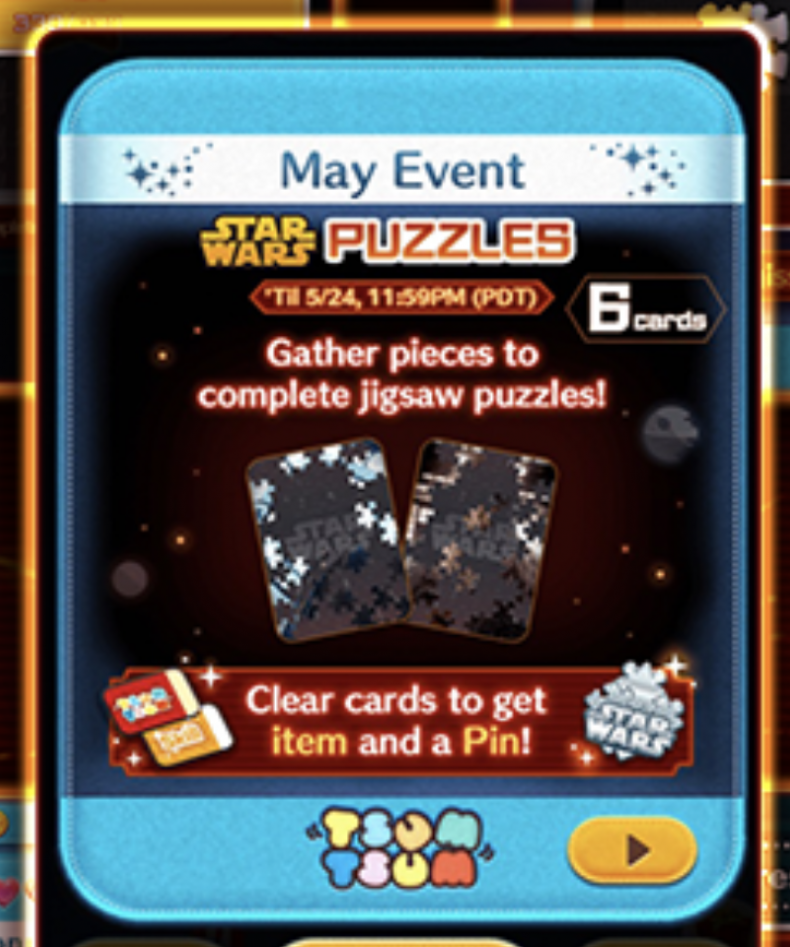 The Star Wars event will be a puzzle event where players will complete different missions to collect pieces of a puzzle. Once all the pieces are collected you'll clear the card and move on to the next. You'll earn items, coins, and pins as rewards for clearing cards. Here are the different types of puzzle pieces you'll encounter:
Normal Piece Mission - this type of puzzle piece adds to the main picture.
Ribbon Piece Mission - this kind of mission earns you a puzzle piece but also Coins or a Level Ticket.
Ball Piece Mission - This is the type of mission that requires using bombs or skills to collect pieces of a ball. Once you collect them, you'll be rewarded a bunch of pieces for your card puzzle card.
Which New Tsum Tsum are Coming to the Game in May?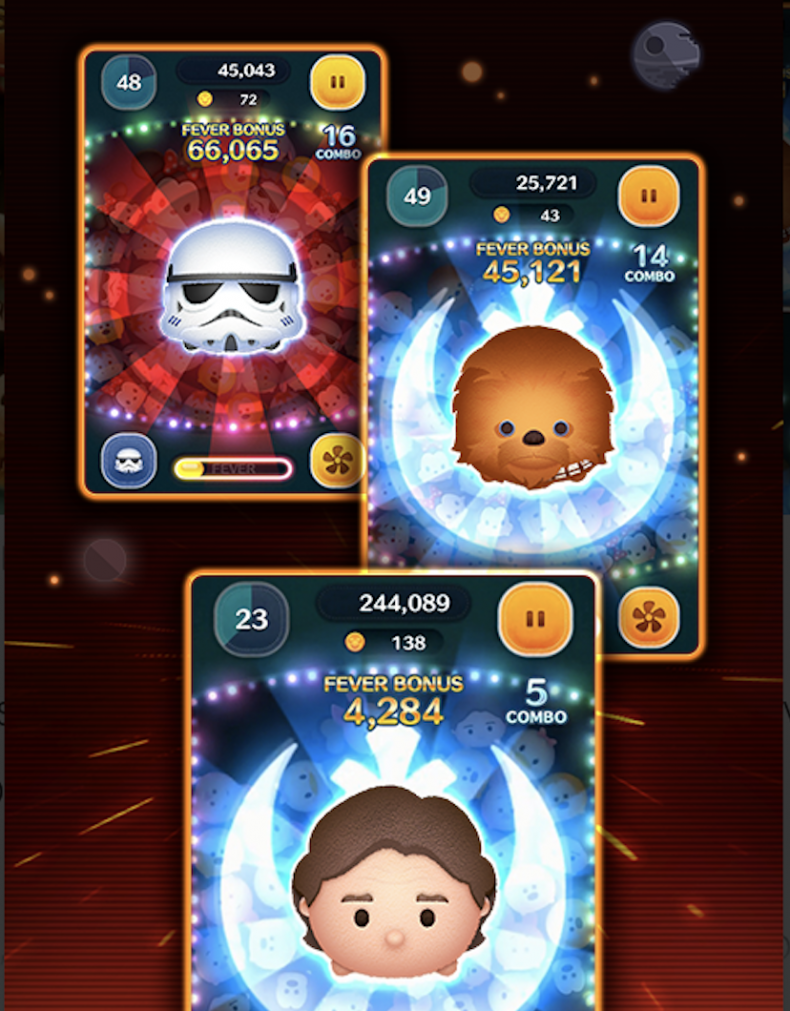 The Star Wars Event will bring 12 Star Wars Tsum Tsum, one of which is a brand new Stormtrooper Tsum Tsum. There have been some additional leaks that suggest we are getting a Ninja Donald and Kimono Daisy as well, although they don't exactly fit the theme. Once new characters are confirmed we'll update this post. Players can acquire the limited time Star Wars Tsum Tsum by completing missions and purchasing Select Premium boxes. Since it is a Star Wars themed event, you'll most likely earn extra character credit on missions when using a Star Wars Tsum. Below are the known dates for select boxes, capsules and lucky times. You can also check out this leaked International Calendar for a visual summation as well.
May 2018 Event Select Boxes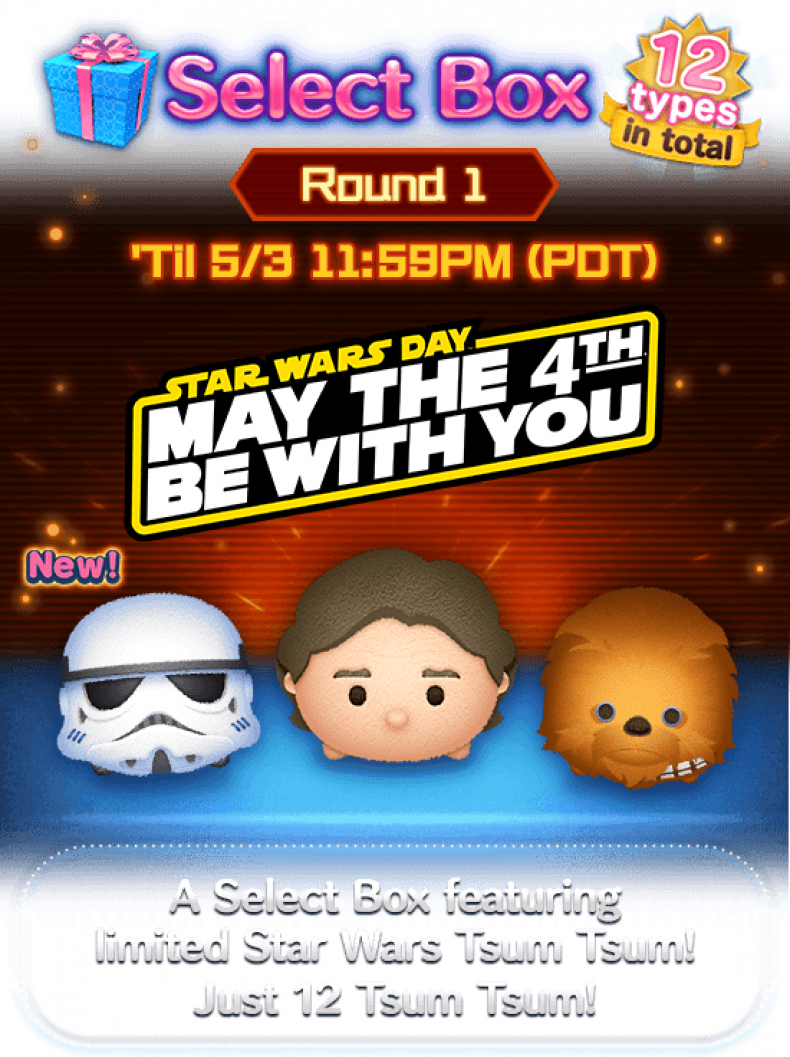 Round 1 (May 1- 3)
Stormtrooper
Han Solo
Chewbacca
Hiro
Baymax 2.0
Lightning McQueen
Pinocchio
Sebastian
Surprise Elsa
Simba
Pascal
Baymax
Round 2 (May 4 - 6)
Stormtrooper
Darth Vader
Luke
Yoda
Prince
Maximus
Nick Wilde
Arlo
Nala
Randall
Dumbo
Sven
Round 3 (May 7 - 9)
Stormtrooper
Rey
Kylo Ren
Juddy Hopps
King Titan
Flounder
Crush
Rex
Miss Bunny
Maximus
Angel
Ariel
Round 4 (ends May 27 - start time unknown)
Han Solo
Chewbacca
Peter Pan
Blue Fairy
Zazu
Birthday Anna
Ariel
Ursula
Princess Aurora
Tinkerbell
Patch
Lightning McQueen
Capsule 1 (May 11-14)
Luke (1)
Stormtrooper (1)
Princess Leia (2)
C-3PO (2)
Rey (2)
Kylo Ren (2)
R2-D2 (2)
BB-8 (3)
What rewards can you earn in the May 2018 Tsum Tsum event?
No information about event rewards is available yet. Once it is released, we'll update the post.
​