'Disney Tsum Tsum' September 2018 Event: Fantasmic Is Next on the Calendar
Leaks for the September 2018 Disney Tsum Tsum event have begun cropping up on Reddit and it looks like International players will finally have a go at the Fantasmic event featured in last year's Japanese version. This event is quite a bit different from the map mission type events the game usually features, as it involves ongoing boss fights and the opportunity to help friends. Players can earn some nice item and ticket prizes as well as several new limited-time Meg Tsum Tsums for maximizing her skill level. Players can also unlock four additional limited-time Tsum Tsum via Premium Boxes. The Fantasmic event is one you won't want to miss so we've put together a complete guide to how the event works, plus dates for pick-up capsules, lucky times and more. Check it out below.
Disney Tsum Tsum Fantasmic Event: Everything To Know About The September 2018 Calendar Event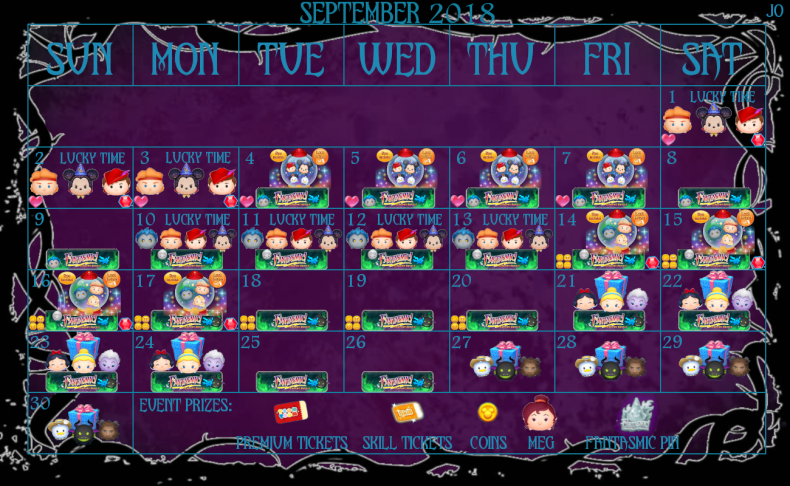 According to a leaked international calendar (subject to change), the September event will kick off Tuesday, Sept. 4 and run through Sept. 26. The first lucky time for this month's special event Tsum Tsum starts Sept. 1 and will run through Sept. 3.
How Does The Fantasmic Event Work?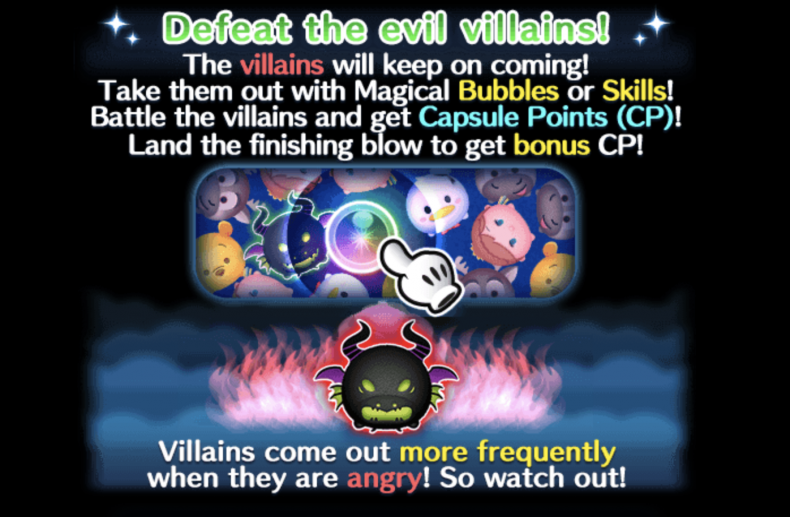 The Fantasmic event is broken into three different phases featuring the villains Hades, Ursula and Maleficent Dragon. During each event phase, players will face off against evil villain Tsum Tsum who will periodically drop into the player's game. The villain Tsum Tsum are similar to capsules in that you will have to defeat them using Magic Bubbles or Skills. At the bottom of your game screen you will see the villain's health bar. Every time you take out a villain Tsum Tsum, the health bar will be depleted and you will earn Capsule points.
How Capsule Points Work - Capsule points will be collected every time you clear a villain Tsum Tsum from your game screen. Once you've gathered enough Capsule points, you can use them for the event Gacha machine. Capsules can contain stamina, items tickets, coins or Meg Tsum Tsum. There are two Meg Tsum Tsum for every boss Gacha machine, allowing players to earn up to six Meg Tsum Tsum. If players successfully defeat all three villains they will receive a silver Fantasmic pin. Players who use the new Fantasmic Mickey, Prince Phillip or Hercules Tsum Tsum during the September event will deal extra damage during battles.
How To Help Friends - during the event, you also have the opportunity to help a friend. You can do this by going to your friend list and tapping on the villain next to your friend's name. You will then play a round of the game, with each villain you defeat contributing to your friend's mission. This is a great way to support newer players who may have trouble finishing a card before the event time ends.
Villain Card Times- Players must defeat a given villain within its event time window. The times are as follows:

Hades: Sept. 4–9
Ursula: Sept. 10–16
Maleficent Dragon: Sept. 17–26
Which New Tsum Tsum Are Coming To The Game In September?
The Fantasmic event adds five new Tsum Tsum players can acquire through completing missions, purchasing Premium boxes or opening capsules. Skills for the new characters have yet to be announced but we'll update the list once they are revealed.
Hercules (Hercules collection)
Hades (Hercules collection)​
Meg (Hercules collection)​
Fantasmic Mickey (Mickey and Friends collection)
Prince Phillip - (Sleeping Beauty collection)
September 2018 Capsules, Select Boxes and Lucky Times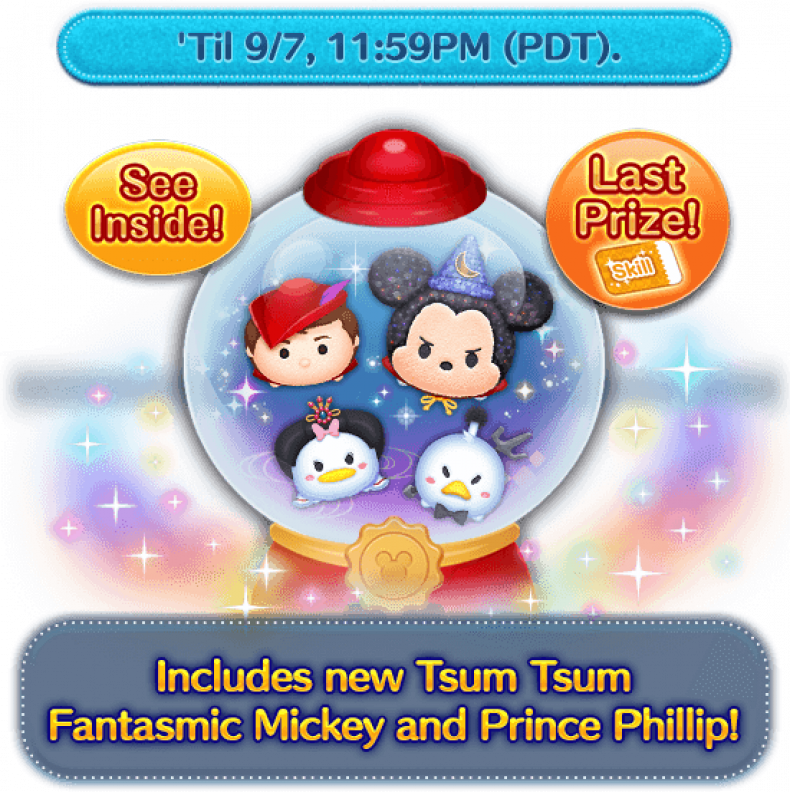 Premium Box Lucky Time #1 (Sept. 1–3)
Hercules
Fantasmic Mickey
Prince Phillip
Capsule #1 (Sept. 4–7)
Fantasmic Mickey (1)
Prince Phillip (1)
Ninja Donald (1)
Kimono Daisy (1)
Timothy (3)
Young Anna (2)
Cruella De Vil (3)
Jasmine (3)
Premium Box Lucky Time #2 (Sept. 10–13)
Hades
Hercules
Fantasmic Mickey
Prince Phillip
Capsule #2 (Sept. 14–17)
Hercules (1)
Hades (1)
Young Elsa (2)
Prince Charming (1)
Happy Rapunzel (2)
Pirate Clarice (2)
Prince (3)
Captain Hook (3)
Select Box #1 (Sept. 21–24)
Ursula
Cinderella
Happy Snow White
Salazar
Romance Bele
Princess Aurora
Wonderland Alice
Judy Hopps
Nala
Lightning McQueen
Jessie
Jet Pack Alien
Select Box #2 (Sept. 27–30)
Maleficent Dragon
Theatrical Mad Hatter
Musketeer Donald
Young Jack Sparrow
Blue Fairy
Romance Beast
Jafar
Nick Wilde
Evil Queen
Aladdin
MU Mike
Pascal