Disney, Universal, Six Flags Set Social Distancing Guidelines Before Parks Reopen, Here's What You Need To Know
Amusement parks that were forced to close their doors in mid-March to prevent the spread of the new coronavirus are incorporating new policies and social distancing procedures before they reopen to the public this summer.
Entertainment industry leaders such as the Six Flags Entertainment Corporation, Universal and Disney have all begun implementing changes to help keep their guests and staff members safe from COVID-19 exposure.
The Six Flags Entertainment Corporation announced an extensive list of upgrades and policies in a press release on Tuesday that includes an online reservation system to purchase tickets and enter the parks, social distancing practices such as face masks and thermal body temperature scanning.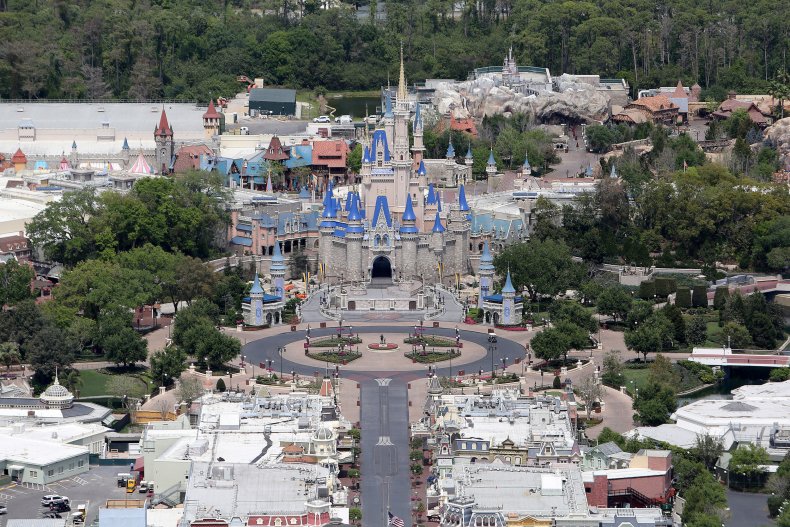 "We have developed a comprehensive reopening safety plan that includes best practices from theme park and water park industry experts, along with top destination parks from around the world, which will allow guests to experience our parks in the safest possible way," Six Flags President and CEO Mike Spanos said in a statement. "This 'new normal' will be very different, but we believe these additional measures are appropriate in the current environment."
Social distancing will be evident to the guests when they are riding rides, attending attractions inside the parks and enjoying the food at many of the park restaurants, the press release said.
Spanos said outdoor venues like all Six Flags theme parks allow for less exposure to the new coronavirus since none are enclosed spaces, which allows for better social distancing among guests.
Six Flags Frontier City, located in Oklahoma City, Oklahoma, will reopen with limited capacity beginning June 5. However, other park reopenings have not been announced.
Universal Orlando announced on May 22 that all three parks will reopen on June 5 at a limited capacity.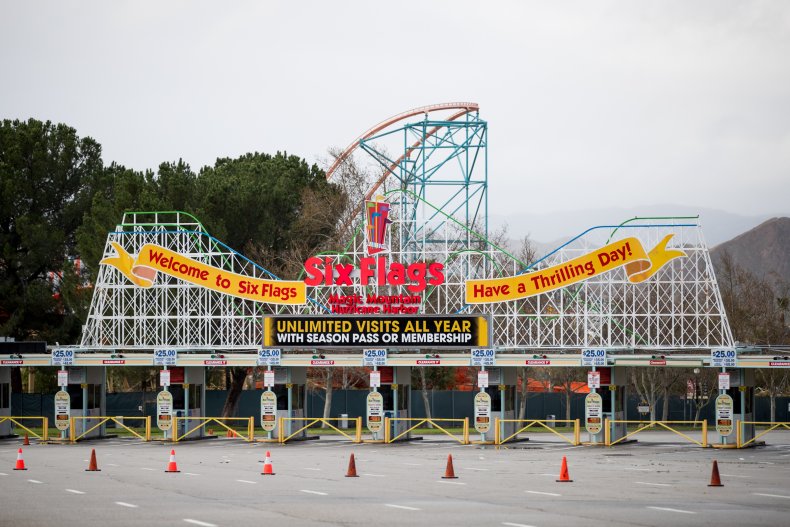 As with other theme parks, Universal Orlando has incorporated strict sanitation and social distancing requirements for their guests and staff that include face-covering requirements, markers for social distancing, and temperature checks before entering the parks.
California-based theme parks, such as Universal Studios Hollywood and Disneyland will reopen as part of phased reopening guidelines set forth by Governor Gavin Newsom in April.
Universal Studios Hollywood will remain closed until at least May 31, according to their website. Visitors to the park can expect similar guidelines for social distancing, requirements for face coverings and temperature checks before entering the parks.
Disneyland Resorts announced on May 20 that an official reopening date for the park hadn't been determined. According to a press release, the phased reopening of the park will include enhanced sanitation, social distancing guidelines in accordance with the Centers for Disease Control and Prevention, retraining cast members, and temperature screening for guests.
"Given the constantly changing global health environment, these practices may evolve as we consider the latest guidance, but we will share more information with you as we look towards reopening," Dr. Pamela Hymel, chief medical director for Disney Parks said in a statement.
"We have already implemented a number of enhanced health and safety measures, such as increasing the frequency of cleaning and disinfection in work areas, adjusting practices to promote physical distancing, and providing cast [members] with access to necessary PPE, including face coverings."
Meanwhile, Disney World parks in other locations are employing a phased reopening that began with a limited capacity reopening at Disney Shanghai on May 11, and Disney Springs in Orlando on May 20.
Disney, which operates amusement parks and resorts all over the world, hasn't announced any other planned reopening, but changes such as requirements for face coverings, and possible implementation of online reservations to purchase tickets and enter the park, which was launched at Shanghai Disney's reopening on May 11, are expected, CBS News reported.
Officials at Walt Disney and Universal Studios didn't return calls for comment.