A division of The Walt Disney Company (TWDC) on Tuesday released a statement supporting the worker walkout in protest of the company's response to a controversial Florida bill.
The statement was provided by Disney Parks, Experiences and Products, the company's theme park division. It said it is "committed to creating experiencing that support family values for every family," so it will not tolerate any discrimination against LGBTQ+ individuals and families.
"We oppose any legislation that infringes on basic human rights, and stand in solidarity and support our LGBTQIA+ Cast, Crew and Imagineers and fans who make their voices heard today and every day," the division wrote.
The statement came amid Tuesday's worker walkout at both of the Disney-operated theme parks in the United States. California's Disneyland and Florida's Walt Disney World are expected to see workers walk off their jobs in protest of the company's conflicting statements regarding its stance on Florida's controversial so-called Don't Say Gay bill.
The bill, which was passed by the state's legislature and is expected to be signed into law by Governor Ron DeSantis, prohibits curriculum regarding LGBTQ+ rights in early education from kindergarten through third grade. Activists fear it could be a stepping stone for further discriminatory bills against the LGBTQ+ community.
"The recent statements and lack of action by TWDC leadership regarding the "Don't Say Gay or Trans" bill have utterly failed to match the magnitude of the threat to LGBTQIA+ safety represented by this legislation," the Disney Do Better Walkout website said.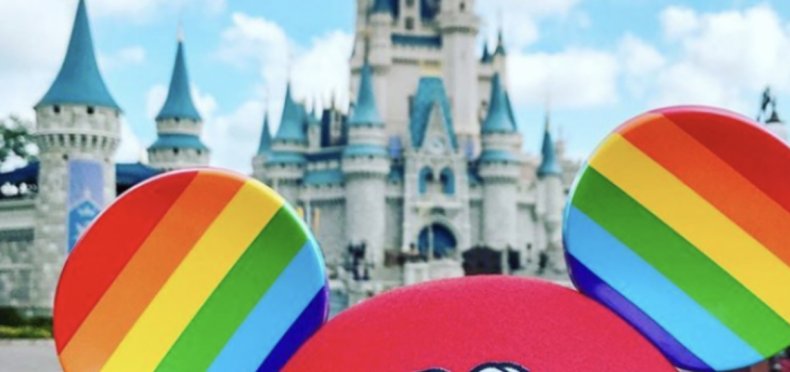 "As a community, we have been forced into an impossible and unsustainable position. We must now take action to convince TWDC to protect employees and their families in the face of such open and unapologetic bigotry."
LGBTQ+ cast members and their allies planned to walk off their positions from 8 a.m. to 6 p.m. local time at both parks.
Organizers said that Disneyland workers who will not be protesting will not be allowed to wear LGBTQ+ merchandise produced and sold by Disney in solidarity with their co-workers.
"They want us to feel 'safe' but then sell our identities as brands for profit while preventing those same identities from existing in their own company," organizers said.
The walkout is gaining major support from critical entities, including the Human Rights Campaign. The nonprofit has been in discussions with Disney CEO Bob Chapek about the company's role in fighting back against the Don't Say Gay bill. In a statement, HRC Interim President Joni Madison said that the walkout represents not only the bill but other discriminatory measures being debated across the country.
"We stand in solidarity with the brave LGBTQ+ employees at Disney and their allies who are calling for more from their leadership," Madison wrote. "These employees know that corporations like Disney have a real role to play in combating discriminatory legislation—not only the 'Don't Say Gay or Trans' bill in Florida, but also the attacks on transgender youth we're seeing in states like Texas and Alabama.
"We are grateful to the brave employees who understand the power of their voices to make real change, and whose actions have already generated progress. We are cheering you on."
The backlash against Disney's response to the bill has already resulted in some internal changes at the company. Key figures and organizations that helped advance the bill had their donations from Disney paused, including the Republican Party of Florida. A same-sex kiss has also been restored in the upcoming Disney-Pixar film Lightyear.
Newsweek reached out to Disneyland in California and Walt Disney World in Florida for comment but has not received a response.
Update 3/22/22, 10:58 a.m. ET: This story has been updated with additional information.