Disney World Attendees Reportedly Waited in Line 7 Hours for $25 Dragon Popcorn Bucket
Walt Disney World attendees recently spent upwards of seven hours waiting in line, but it wasn't for any particular ride.
A time-lapse video recorded by a fan page and posted on Twitter showed what seemed like thousands of attendees at Disney's Epcot amusement park, all waiting to purchase a $25 dragon-themed popcorn bucket based on Figment.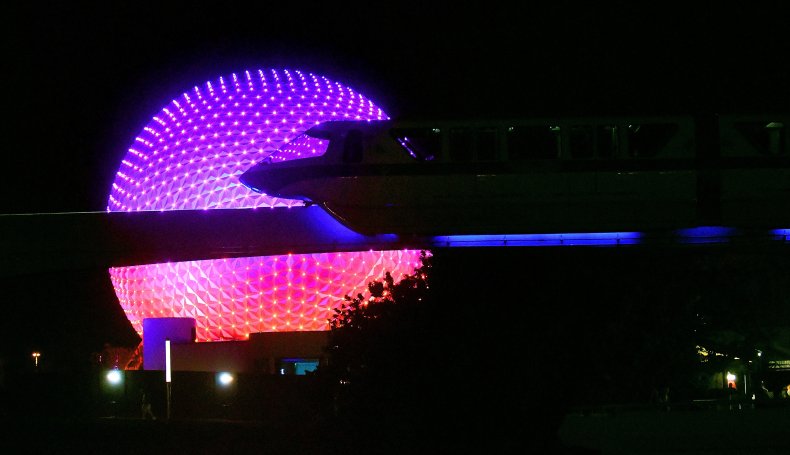 Figment is a purple dragon and mascot of the "Imagination!" pavilion at Epcot at Walt Disney World Resort. He is known for his Epcot presence and for being featured in the park's merchandise.
"The line for the Figment popcorn bucket has a quoted 6.5-7 hour wait, and stretches from Pop Eats to World Showcase Promenade, to Test Track, then to the EPCOT Experience," the tweet said.
The Figment popcorn promotion is part of this year's EPCOT International Festival of the Arts, which began January 14 and runs through February 21 as part of Walt Disney World Resort's 50th anniversary celebration. The festival includes visual, culinary and performing arts from around the world.
Figment's appearance in the form of this collector bucket was originally teased in a January 6 TikTok video that has now been viewed over 750,000 times. The Disney website stated today that the bucket, which includes rainbow popcorn and has a two-per-guest maximum, is already sold out.
The lines at the park were one thing, but demand for Figment and the bucket spread across social media like wildfire.
On the company's TikTok video, people requested extra buckets to become available since they couldn't go to the park in person. Some asked how long the promotion would last because they had already booked trips to Florida for later this year.
Others expressed fervent appreciation for the collector's item, saying it is about time that Figment has his due.
"This is the first popcorn bucket design where I immediately went 'I need that,'" said one TikToker.
The replies on Twitter weren't as supportive or enthusiastic.
"So people spend all that money to get into the park only to choose to wait in line for a popcorn bucket," said one user in reply to the Disney account's video.
"I love Figment, but I wouldn't wait that long for a free bucket with a lifetime supply of popcorn," another person said. "I would be wasting an entire day of my vacation. Most, if not all, of these people are not on vacation though."
One user said this is typical of Disney fandom.
"This is the part of Disney fandom that I legit don't get," he said. "I go to experience the attractions. Not to stand in line for hours for merch. To each their own I guess."
And if you want the bucket and couldn't hop on a plane to Florida to get it (or you didn't want to wait in an hours-long line), you can always try the internet. The popcorn bucket is being sold on platforms like eBay for as much as $200.