Disney World Customers Are Now Flocking to This Amusement Resort Instead
Recently reinstated Disney CEO Bob Iger has long been mindful of the affordability of Disney theme parks. In his 2019 memoir, The Ride of a Lifetime, Iger wrote about how proud he was that Walt Disney World had introduced a "value" resort option "for people who want to come to Disney World with their kids and can't afford to spend hundreds of dollars a night on a room. (Disney's Art of Animation resort) is ninety bucks, and it's a decent, nice, clean, pleasant place."
A little over three years since that memoir was published, accommodations at that very hotel now start at $290.67 per night for parents with one or two kids, and cost $677.33 per night for parents with three children or four. That's seven times the "ninety bucks" Iger wanted cost-conscious families to be spending nightly at the resort.
Indeed, Iger was reportedly "alarmed" by many radical price increases Bob Chapek oversaw at Disney Parks in the nearly three years he ran the show before Iger resumed his role as chief executive at the end of 2022.
In addition to making lodging accommodations less unaffordable, Chapek's tenure famously did away with FastPasses (its replacement costs a family of 4 an additional $60 to $240 per day to stand in shorter lines), dramatically increased the cost of food and beverages throughout the parks, nixed free resort parking and transportation to and from the Orlando airport and increased the cost of a single day peak park ticket to a whopping $189 — up from $129 in 2019.
"Disney got greedy"
While there are rumors that Iger might improve things now that Chapek is gone, (Disney has already reinstated free hotel parking), some predict prices will climb higher still, and many Disney diehards say no matter what the company does at this point, it's "too late" to earn back their business.
"Disney got greedy at a time many families were struggling the most, and they did it all just to placate their investors," Terry Moore, an auto mechanic from Columbus, Georgia, told Newsweek.
Mother-of-three Nicole Thomas also told Newsweek her family has written off Disney for good. "My final straw was spending all day waiting in huge lines because I couldn't afford hundreds of dollars for FastPasses that used to be free," she said. "Tickets and food prices are also outrageous," she added. "We used to enjoy a whole week at Disney World for a couple thousand dollars, but that same amount of money only covers expenses for a day or two now."
Thomas, along with many others, said her family now spends their vacation dollars elsewhere, most frequently at the amusement resort chain Great Wolf Lodge. "Great Wolf offers my family most of what we used to love about Disney, but at a fraction of the price," she said.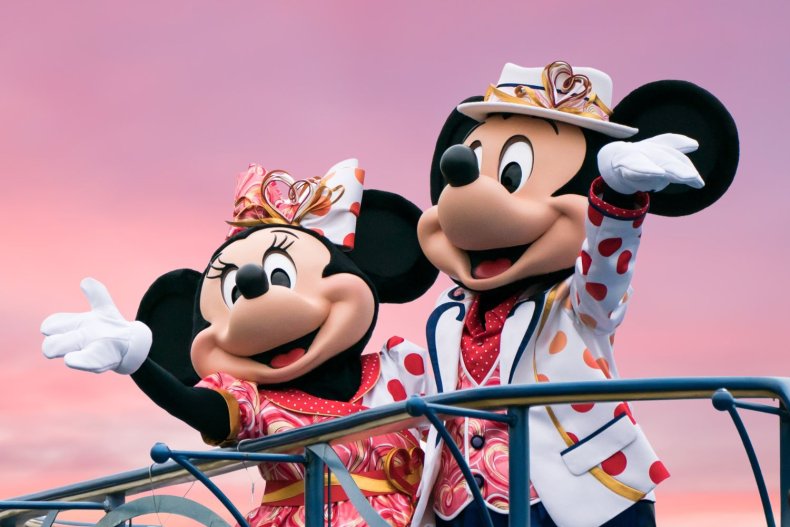 Like Disney, Great Wolf is another family-oriented resort chain that offers its guests entertainment, character meet-and-greets, and thematic lodging and dining. The resorts are known for their indoor water parks and their many amusements and attractions contained under one roof.
The company started in 1997 with its first lodge in Wisconsin Dells, Wisconsin, and today has 20 lodge locations spread across North America. Though Great Wolf fans say they appreciate many things about the company, each locations' expansive indoor water park seems to be the biggest draw.
"Great Wolf has hands down the best water park I've ever been to," Thomas said, "it's even better than (Disney's) Blizzard Beach." She went on to say that she loves that their water parks are indoor, "so bad weather never spoils our vacation," and that there are different levels of attractions and areas for kids of all ages. "They have lots of mild slides for my youngest and many thrill slides I love to ride with our oldest," she said.
"I just couldn't afford Disney World anymore"
Karen Harris, a mom of two from Cleveland, Ohio, said her kids love Great Wolf's water parks as well, but she especially appreciates the resort's themed atmosphere. "I just couldn't afford Disney World anymore," she told Newsweek, "but Great Wolf feels every bit as magical when you step inside and like you've been transported to a different place. The rooms are also much bigger and cost a lot less."
In addition to spacious accommodations, Harris said she loves that many resort activities are included in the cost of lodging. "Great Wolf could nickel-and-dime you the way others do, but their water parks are included for all hotel guests, and if you want to do more, it only costs $60 extra to enjoy everything else for the rest of your stay."
Harris referred to Great Wolf's "Paw Pass" that costs $59.99 and includes unlimited access to the resort's magic quest wand game ("the favorite thing to do in our family," she said), free candy, ice cream, and an arcade pass. Each resort offers other pass options as well that include additional attractions like mining adventures, racing games, laser tag, mini golf, rock climbing, bowling, and various rope courses. Attractions vary from one location to another.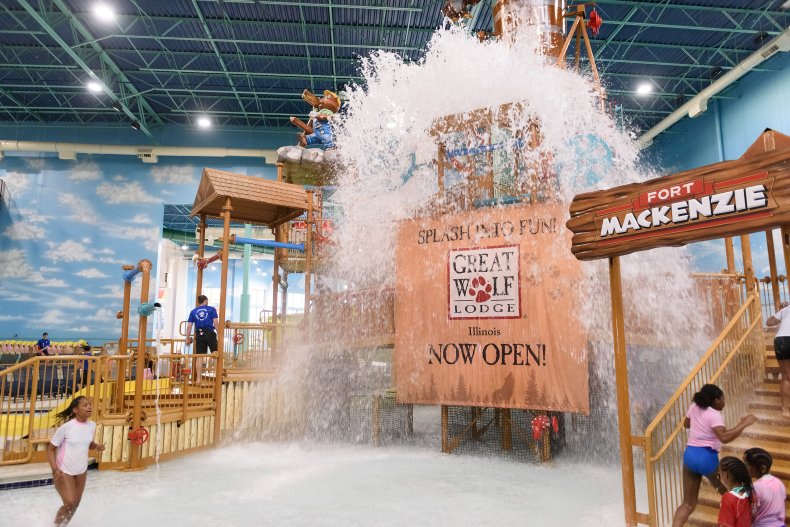 Moore said his favorite elements of Great Wolf is that it's affordable, spread throughout the U.S. with each location near prominent landmarks, and "a lot less crowded" than other amusement chains. "All in with food, our accommodations, and all the attractions, I pay less in a whole week than I paid for only a couple of days at Disney last year, and I never have to worry about it being overcrowded because everything (at Great Wolf) is only open to guests of the hotel."
Though Disney declined to comment for this article, Jason Lasecki, VP of Corporate Communications for Great Wolf Resorts, told Newsweek that his company is aware of the increased demand coming from many quarters, and that they are working hard to keep up.
Since 2014, for instance, Great Wolf has expanded its overall room count by nearly 75 percent, and has opened seven new resorts since 2016. "Next week we will break ground on another new resort in Mashantucket, Connecticut," Lasecki said.
While Lasecki noted several draws Great Wolf offers its customers, he said perhaps the thing guests seem to enjoy most is the resort's "carefree" aspect. "There's no need to do weeks of planning to get the most out of our Great Wolf Lodge experience," he said.
"Unlike some other family destinations, where if you don't plan months in advance you might not be able to get dining reservations or experience your favorite show or attraction, at Great Wolf Lodge you don't need to do any advanced planning...It's as simple as making your reservation, driving to the resort and then relaxing and having fun."
Harris similarly noted the carefree element of what Great Wolf Lodge offers, and said she hopes the resort chain doesn't do anything to compromise its affordably and "stress-free" vacation experience. "Disney has proven that companies can take their customers for granted by losing sight of what matters," she said. "I hope that Great Wolf never makes the same mistake."