Disney World Reopening Florida: How to Get Tickets and Make Reservations
Once upon a time, Walt Disney World Resorts had to close due to the coronavirus (COVID-19), but now the company has announced that it plans to open its doors once again.
According to the company's website, Walt Disney World theme parks will open from July 11, 2020. Magic Kingdom Park and Disney's Animal Kingdom Park will reopen first, followed by EPCOT and Disney's Hollywood Studios on July 15, 2020.
How is Walt Disney World trying to prevent the spread of COVID-19 in its resorts?
To protect employees and guests, Walt Disney has brought in new procedures and health and safety measures to reduce the risk of exposure to COVID-19. These changes are aligned with guidance from health authorities, such as the Centers for Disease Control and Prevention (CDC) and appropriate government agencies, according to the company.
This includes enhanced cleaning procedures throughout resort locations, physical distancing and reduced contact.
According to Disney, extra attention will be given to high traffic areas, which include public elevators and escalators, handrails, benches, tables, handles, restrooms and more. Housekeeping services will be modified at Disney Resort hotels to reflect this.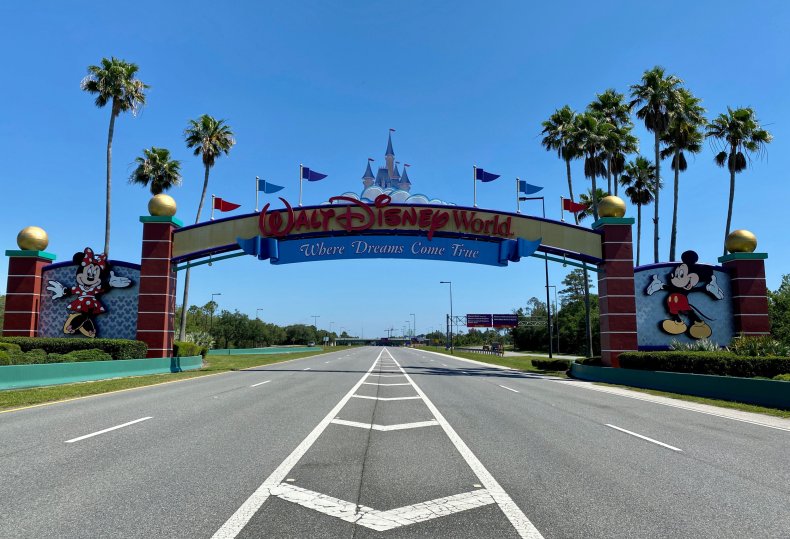 To help with physical distancing, Walt Disney World resorts will have new signage and ground markings installed to help guests navigate common areas. There will also be physical barriers added in select places where it will be difficult to maintain strict physical distancing guidelines such as around cash registers or guest relations areas. Disney also says that it is training cast members to engage with guests and promote physical distancing in common areas and queues.
Walt Disney World has also confirmed that face coverings will be required for all guests (aged 2 and above) and cast members. Guests will need to bring their own face coverings and wear them at all times, except when dining or swimming.
Face coverings are required for all Guests (ages 2 and up) and cast members. Please bring your own face coverings and wear them at all times, except when dining or swimming.
Walt Disney World is also recommending that all guests use cashless payment options such as debit cards, credit cards and Disney gift cards. For guests of Disney Resort hotels, magic bands can be used to charge purchases to their hotel folio.
When can people make reservations at Walt Disney World Resort hotels and theme parks?
Depending on what guest or reservation you have, there are different ways to prepare.
All park attendance will be managed using the Disney Park Pass reservation system. To enter a park, both a park reservation and valid admission for the same park on the same date are required for guests ages 3 and above.
For Disney Resort and other select hotel guests with a valid theme park admission, reservations can be made beginning June 22, 2020. Annual passholders without a resort stay can make reservations from June 26, 2020.
Existing ticket holders can make reservations from June 28, 2020.
Additionally, Disney Vacation Club properties at Walt Disney World and Disney's Fort Wilderness Resort & Campground have already started reopening to members and guests, according to the company's website, such as Disney Springs. Guests need to be aware that theme parks, hotels, restaurants and other services might be modified, limited in capacity and subject to availability or closure.
How can guests prepare for their visit to Walt Disney World?
Ahead of arriving, guests need to remember their face coverings. All face coverings should:
Fully cover an individual's nose and mouth and allow the guest to remain hands-free.
Fit snugly but comfortably against the side of the face.
Be secured with ties or ear loops.
Be made of breathable material, either disposable or reusable.
Disney says that costume masks are not considered appropriate and are prohibited from being worn.
Visitors are also being advised to use the My Disney Experience app, enabling location services and notifications. According to the company, features that can help with physical distancing and reduced contact include:
Mobile order service for dining.
Scannable codes for select restaurant menus.
Online check-in at Disney Resort Hotels.
The app is available for iPhone, iPad and smartphones for Android. Users need to be aware that message, data and roaming rates could apply.
On arrival, temperature screenings might be required for entry to some locations, such as Disney Springs. According to Walt Disney World, anyone displaying a temperature of 100.4 degrees Fahrenheit (F) or above will be directed to another location for rescreening and assistance. These temperatures will mean that guests will not be allowed entry as well as those in their party.
Those traveling to the resorts should check the temperatures of everyone in their party an extra layer of precaution, says Disney.