Disney World Is Reopening in Their Newest Ad, But People Aren't Having It
Some seem hesitant to head back to the happiest place on Earth as the coronavirus pandemic spikes in Florida. As Walt Disney World in Orlando, Florida preps to reopen their parks this weekend, people are skeptical that grabbing your Mickey Mouse ears and heading to the park is a good idea. The theme park is slated to open Magic Kingdom Park and Disney's Animal Kingdom Theme Park on July 11, followed by EPCOT and Disney's Hollywood Studios on July 15.
The park released a video about the reopening on July 8, titled "Walt Disney World Resort Theme Parks Prepare for Their Phased Reopening this Weekend." The ad features shots of the park opening up, as employees in masks and face shields clean equipment, prepare rides, and clean hotel rooms. This welcome back gesture from Disney World has been deemed by critics as more forced and eerie than comforting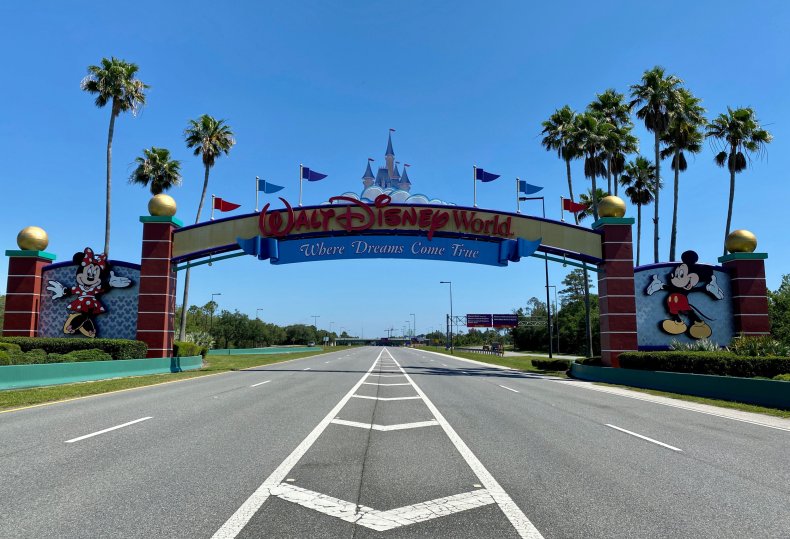 The Disney Parks Twitter account also shared a video of the parks reopening on July 3, featuring Cast Members expressing excitement about returning Disney World. "It's so nice to finally come home," one worked gushed. "I'm really happy to be wearing this again," another said, referring to their uniform.
People took to Twitter to voice concerns about the park opening. Even though Disney World has a plan regarding signage to encourage social distancing, constantly disinfecting often-touched surfaces and performing temperature checks at the park's gates, many slammed the park's reopening.
"It's insanity and irresponsible that you are even considering reopening in the middle of a deadly pandemic in a nation that has not got the virus under control at all," one person posted. "I'm no theme parks expert, virologist, or mathematician, but opening Disney World this week is an alarmingly moronic idea," another chimed in.
"The level of ignorance and greed of Walt Disney World opening The Magic Kingdom is astonishing," a third tweeted.
According to Fox13 in Tampa Bay, as of July 9, the number of known cases of COVID-19 in the state rose by 8,935 since yesterday morning. The Florida Department of Health reported that the total number of cases in Florida is now 232,718.
On July 6, Ron DeSantis, the governor of Florida, said that the theme park would be safer than a private gathering. "Disney, I have no doubt is going to be a safe environment. I think that where you start to see the spread is just in social situations where people let their guard down. Usually like a private party or something like that," the governor said at a press conference.
Disney World previously shut down in mid-March because of the pandemic. The Disney Springs shopping and dining complex in Orlando began its phased reopening on May 20, which is still ongoing.
Newsweek did not receive comment from Walt Disney World at the time of publication.