Disney World Visitors Greeted With Cheers as Park Reopens, While Florida Reports Over 10K New COVID Cases Again
Masked employees greeted dozens of Disney World visitors Saturday morning as two of its parks reopened for the first time since March, despite Florida reporting over 10,000 new coronavirus cases for the third time this week.
"Best day ever!" exclaimed one attendee in the background of a video posted to the Blog Mickey twitter account.
After 117 days of shuttering its doors due to the coronavirus pandemic, the beloved amusement park welcomed members of the general public on Saturday. Those with advanced reservations — a new requirement — could visit Disney's Magic Kingdom or the Animal Kingdom.
Epcot and Hollywood Studios will open again on July 15.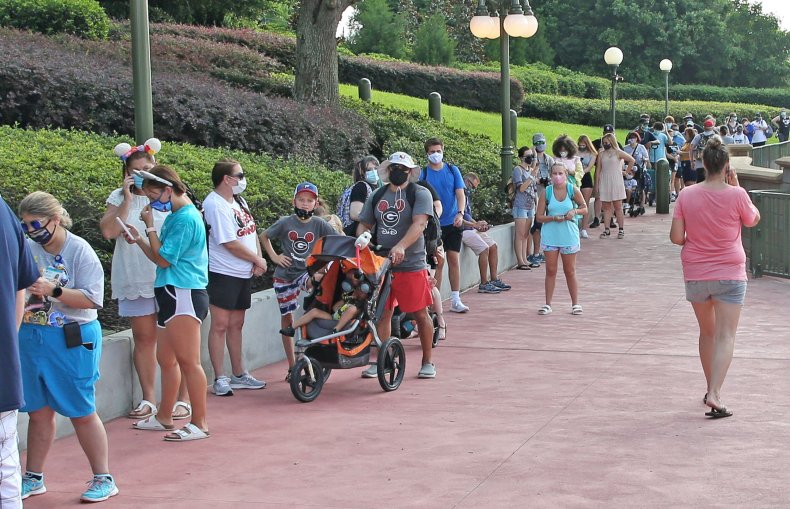 Dozens of cars could be seen lining up to get into the Magic Kingdom 40 minutes before it was officially set to open, the Orlando Sentinel reported.
In a blog post published Tuesday, Disney Parks Chief Medical Officer Dr. Pamela Hymel wrote that staff had "reimagined the Disney experience so we can all enjoy the magic responsibly."
New measures imposed at the reopened parks include temperature checks, a face covering requirement, reduced capacity, and additional hand washing stations placed throughout.
All guests must make advanced ticket purchases and reservations in an effort to keep attendance numbers low, according to the post.
About every 10 minutes, an announcement plays throughout the entire park reminding visitors to "please wear a face covering, wash your hands often and thoroughly, cover your mouth and nose when coughing and sneezing, and maintain physical distancing."
Craig Williams, a producer on The DIS Unplugged podcast, told CNN that he feels safer at theme parks because they put in extra health and safety measures.
"We feel safer at theme parks than we do at any other normal store or restaurant," Williams said.
Everyone seemed to be following all the rules when Williams had visited the park Thursday in advance of its opening to the general public, he said.
But some in attendance Saturday had reported the opposite.
Carlye Wisel, a theme park journalist, tweeted live updates Saturday morning as she tried to make her way into the park.
"Just had to squeeze past a lane of opposite traffic while there's this densely packed line for guest services," Wisel wrote, including two pictures. "This is unacceptable."
Wisel lasted 30 minutes in the park before deciding to leave, she wrote, including a short video to explain the situation.
"This is not good," she said. "This is too many people in too tight of a space. This is not good."
Wisel described a "bottleneck" of people waiting to get inside the park, writing that park staff had directed guests "into a walkway with 3 lanes of traffic smushed together."
Wisel added more footage of the lines to her Instagram story, reiterating that park staff were making "no effort to enforce social distancing."
Newsweek contacted Walt Disney World for comment, but did not hear back in time for publication.
Meanwhile, on the same day the park reopened, the Florida Department of Health reported 10,383 new coronavirus cases, the third time this week that the state has reported numbers over 10,000.
In Orange County, where Disney World is located, health officials reported 482 new cases for a total of 16,630, the Sentinel reported.
Governor Ron DeSantis defended his decision to reopen his state early, countering White House Coronavirus Task Force member Dr. Anthony Fauci's earlier concern. "I think there was really no justification to not move forward," DeSantis said at a news conference in Orlando Friday.