Parents dragged along to Disneyland may now have a reprieve to look forward to: a cold drink.
For the first time since opening 63 years ago, the theme park will offer alcoholic drinks, thanks to the new Star Wars: Galaxy's Edge area. Walt Disney always opposed selling alcohol at Disneyland because he wanted the park to remain a family-friendly outing. Disney's California Adventure does sell alcoholic drinks.
Die-hard fans of Star Wars can experience a cantina-themed bar, likely full of smugglers and the galaxy's most seedy criminals. Oga's Cantina, the name of the bar, will sell themed cocktails along with beer and wine.
Disney Parks Blog announced the bar would open in 2019. "Visitors come to this notorious local watering hole to unwind, conduct shady business, and maybe even encounter a friend…or a foe," author Scott Trowbridge wrote on the blog. "Run by an intriguing alien proprietor, Oga Garra, the cantina adheres to a strict code of conduct that tries to keep its unruly patrons in check.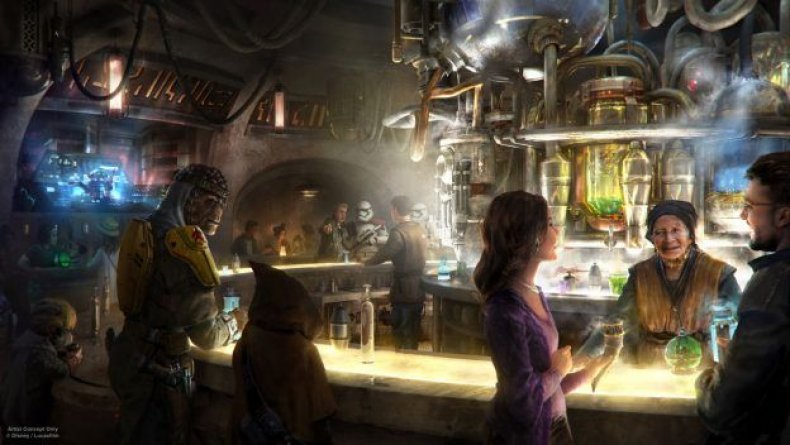 "Oga's Cantina is the kind of establishment that attracts some of the most interesting and disreputable characters in the galaxy. And you never know when a stormtrooper or a familiar face will show up."
The bar will even have the RX-24 droid spinning tracks (so to speak) as the DJ.
Disney purchased Lucasfilm in 2012 for $4.05 billion. Despite claims from George Lucas there would never be another Star Wars moving following Episode 3: Revenge of the Sith, Disney quickly announced a new trilogy, along with a number of spinoff movies under the banner A Star Wars Story.
Star Wars: Episode VII—The Force Awakens was released in 2015 and currently sits third on the all-time worldwide box office grossing list, behind Titanic and Avatar. It is number one on the domestic-grossing list by almost $200,000.
Disney followed up with Rogue One: A Star Wars Story and Star Wars: Episode VIII—The Last Jedi. Although a critical success, The Last Jedi received significant fan backlash. Solo: A Star Wars Story followed and became the first Disney Star Wars movie to flop, pulling in $213 million and falling well short of the film's $275 million budget. It eventually recouped its budget through worldwide ticket sales.
Star Wars: Episode IX will be released in 2019. Disney has put a freeze on all plans for more Star Wars story movies following Solo's lukewarm reception.