Disneyland's 'Magic Key' Program Replaces Annual Pass: Here's What the New Plan Includes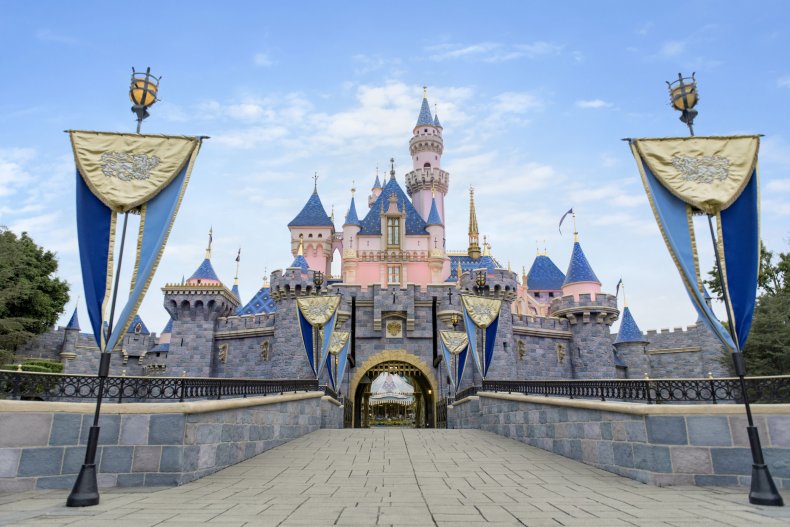 Disneyland announced new "Magic Key" passes as a replacement for its canceled annual pass program on Tuesday.
The new offerings go on sale August 25 and apply to Disney's Southern California parks, according to a release obtained by Newsweek. Like the previous passes, which Disney canceled in January, the Magic Key passes offer tiered year-round admission to both Disneyland and Disney's California Adventure theme parks. However, there are some key differences between the old and new passes.
One major change is a new requirement for pass holders to make reservations in order to visit either park. Although reservations have been required for all ticket types since the parks reopened amid the COVID-19 pandemic in April, pass holders will no longer have the option of confidently visiting the parks on short notice, possibly missing out on using their pass during eligible days if the parks are overbooked.
The lowest priced option, the Imagine Key pass, is available to Southern California residents only and costs $399 to $20 less than the cost of the previous residents-only annual pass equivalent, the Southern California Select pass. The new pass has 218 blackout dates, including all weekends, holidays and most of the summer. Holders receive a 10 percent discount on select merchandise and dining and can hold up to two reservations at a time. Parking is not included.
The Enchant Key pass, which costs $649, is available regardless of residency and offers some additional access to the parks. There are 149 blackout dates—including major holidays, most of June and all of July. However, some weekends and a modest number of summer dates are available at this tier. Like the Imagine Key, no parking is included but pass holders receive a 10 percent discount on select merchandise and dining. Enchant Key pass holders are allowed up to four reservations at a time.
The $949 Believe Key pass includes only 49 blackout dates per year, mostly around the Thanksgiving, Christmas and New Year's holidays. Pass holders can maintain to six reservations simultaneously and receive a 10 percent discount on select merchandise and dining. This option includes a 50 percent discount on parking during days that pass holders are eligible to visit the parks while using the pass.
No blackout dates are included for the most expensive Magic Key pass option, the $1,399 Dream Key. Up to six different dates from the full calendar can be held at once using the pass, while holders receive a 20 percent discount on select merchandise and a 15 percent discount on select dining. Parking is included with the Dream Key pass.
The passes all allow holders to make reservations to visit both California parks on the same day, with reservations for admission to each park allowed during separate morning or afternoon sessions. Reservations can be made up to 90 days in advance. However, if pass holders fail to show up three times during the 90-day period without canceling their reservation one day before their planned visit, they are banned from making any further reservations for 30 days.
As with the previous annual passes, Southern California residents will be able to purchase Disney's Magic Key passes using installments. For all tier levels, a $179 down payment is required, with monthly payments ranging from $19 to $102.
Those who purchase the passes within the first 66 days will receive a special welcome package that includes items like pins, buttons and magnets. All pass holders will also be eligible for Magic Key-only benefits, include a pass holder appreciation month.
Visitors to Disney theme parks are currently required to wear masks indoors, regardless of vaccination status. Paused sales for the still-active annual pass program at Walt Disney World resorts in Florida are expected to resume by October 1.